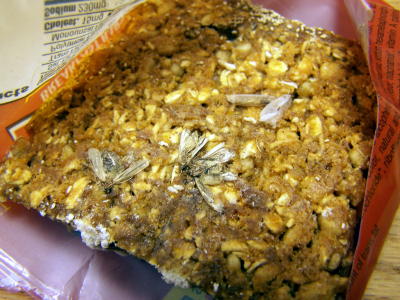 Gag, flying critters are embedded
in Quaker's oatmeal breakfast bar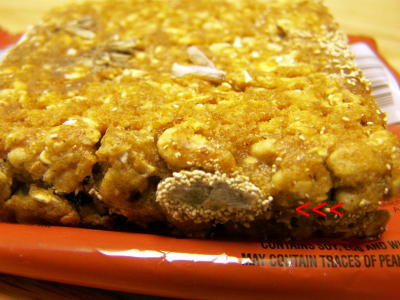 Cocoon-like attachment on end of breakfast
bar with what appears to be tiny eggs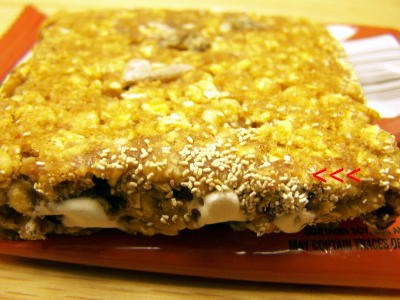 Those little egg-looking things are
mixed with the bars pastry ingredients
By Bob Weaver 2009
Charleston reporter George Hohmann, after learning that salmonella-tainted peanut butter products were was knowingly sold by a Georgia company to consumers, wrote "Our faith is being tested."
"Regulators like the US Food and Drug Administration have failed to protect consumers," he said.
While a special spot in hell should be reserved for corporate owners who shipped the tainted peanut butter twelve times, killing a number of Americans and making hundreds critically ill - we have a local example, while not likely as severe, does cause a gag reflex and possibly could make you sick.
"Now you can enjoy the same health benefits as a bowl of Quaker's Instant Oatmeal in a convenient breakfast bar," says the ad for Quaker's "Oatmeal to Go" breakfast bar.
Calhoun's 911 Director Gary Buchanan said he was sorta fond of the bars, until recently.
On his way to work he started to munch down on a brown sugar and cinnamon bar when he noticed a number of insects embedded on the top of the bar and a number of "other funky looking things around the edges."
Company says "It's just not possible"
While the bar says it "provides 40% of the daily value of fiber," it was obvious it contained some extra added attractions.
Embedded on the surface was several winged insects, and around the edges there appears to be a small cocoon-like pod with lots of what seems to be tiny eggs.
The product was not outdated.
A representative of Quaker Oats told Buchanan that such tainting could not happen to their products, that great precautions are taken.
"We even blow air against open doors to keep insects out of our plant," the rep said, offering to replace the bars.
Of course you could take a positive attitude about the critters, and dutifully add "protein" to the healthy ingredient list.
(The critters identified later as Indian Meal Moths)
Tainted peanut butter products have killed at least eight people and sent 500 to the hospital in 43 states.
Further, in the "loss of faith" department, the feds send 170,000 tainted peanut butter meal kits to disaster-ravaged eastern Kentucky, two weeks after the notice was given to the American people.
They said it was a communication problem.