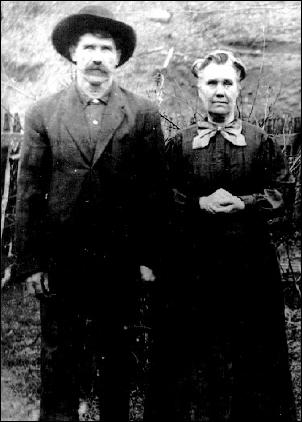 James Riggs (with wife Rebecca Starcher Riggs)
declined to use modern conveniences like an outhouse
By Bob Weaver
Jim Riggs was one-year-old in 1850 when he came to the waters of the West Fork of the Little Kanawha River, making a long trek from Tyler County by oxcart.
He was much too young to remember the death of his grandmother Slider on the journey, buried in an unmarked grave in Ritchie County.
His grandfather, Jacob Slider (1803-1861), and his mother Kisare (1831-1905), with her new husband David Riggs (1827-1859) trudged on, reaching a narrow plot of bottom land along the right fork of Barnes Run, not far from the Village of Hur.
A few years later, George Washington Hardman, Jr. would build his manor house nearby.
Here the Riggs and Sliders built a log cabin near what is now the Slider Cemetery. It was home to Jim until he left to marry Rebecca Starcher(1854-1930) in 1871, moving to the Left Fork of Barnes Run known as Buckhorn, where they raised their family.
Jacob Slider remained, he being the patriarch of all the Sliders that have lived in Calhoun County. His son-in-law David Riggs is the patriarch of all the Riggs that have lived in Calhoun County.
Tragically, Jim's father David Riggs was killed in a accident while rafting logs down the West Fork in 1859, leaving Kisare (Kesiah) a widow. She later married blind Civil War veteran Alexander Buck, and was a well-known medicine woman who practiced midwifery.
The Civil War came to the most remote hollers of Calhoun, splitting families and neighbors who chose loyalties to the north or south.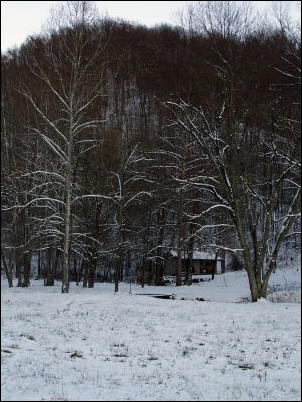 Looking toward hill behind the original Slider-Riggs
homestead on Barnes Run, near Slider Cemetery, where
Jim encountered both Union and Rebel soldiers
During his waning years, Jim told his story about running away to join the Rebel army at age 13 after Union soldiers stopped at his home and took a gun given to him by a Rebel soldier, a family member.
They would not accept him.
The intruders at the Slider homestead were likely one of the regions non-commissioned, blood-letting marauder groups.
Jim's wife Rebecca developed a chronic asthma problem, whose only treatment was herbal medicine by tying an asafoetida bag around her neck, allowing vapors to rise into the nostrils to make breathing a little easier. She died in 1930 at age 76.
Jim tried to maintain himself on Buckhorn following her death, but with age piling on his body, his daughter Mary Virginia Riggs McCoy brought him to her home at Hur, to live with she and her husband John Ira McCoy.
While family members said he settled in, he held to many of his mountain habits, declining to use a modern convenience, the outhouse. He chose to go to the woods and squat on a split-rail fence, summer and winter.
"I remember Jim in 1938, sitting on the porch of the John Ira McCoy homestead at Hur, spinning Civil War and panther tales," said Dr. Charles Albert Stump of Daytona, Florida, who was about 11 at the time.
"Sometimes they had me churning a little butter while Jim told his stories," he said.
Dr. Stump said the old man would preface his comments by saying "Says I."
He passed on in 1940 at age 90, to be buried beside his wife in the Hur Cemetery.
Jim was my great-grandfather.