UPDATE 3/2023 - It's been 19 years since I wrote this story about Grantsville, fading from its former glory as a bustling rural town. I was saddened to read it, mostly because I discovered it has further faded, some buildings and businesses gone. Compared to many fallen WV towns in many counties, it still looks pretty good. In the bigger picture, fading is people of place, connected to their roots and origin, a few volunteers. - Bob Weaver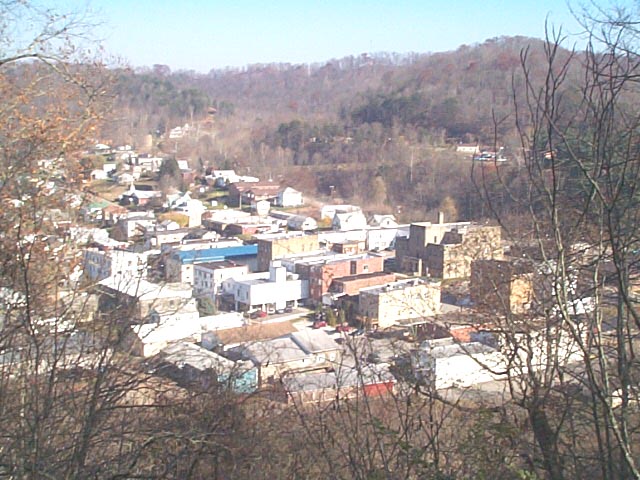 View of Grantsville, 2001 high atop Pine Creek Hill
By Bob Weaver 2004
I nostalgically recall Grantsville and Sunny Cal.
A few times a week while walking and driving around Grantsville, I experience faded images of what used to be.
It was my destination as a child each Saturday, and later when I got my driver's license. I took myself there to see what was going on, the country folk mixing with the town folk.
Nostalgia is the longing to go back to the "good" old days.
In my older years it has become a curse, extending myself the luxury to write about times past, at the same time tiring of my elders speaking about the good old days. How cheap things used to be.
As a small child I vaguely remember my family members leaving for World War II, the dropping of the atomic bomb on Japan, soldiers returning to the farms of Calhoun County, life in the Village of Hur and "going to town."
Now entering my old age, my memory grows shorter and my reminiscences grow longer about the 1940's through the 60's, indulging readers with fanciful recollections, without apology.
The tales are about the characters, street life and glory days of Grantsville and my frequent treks to the West Fork, where I swam, fished and played.
If the truth be told, I couldn't wait to get away from this place fast enough, but my spiritual consciousness remained rooted in the tiny Village of Hur and the "bigger than it really was" town of Grantsville.
My journeys have taken me many places over the years, but I always wanted to come back, despite the admonition "you can't go home again." My associate Norma Knotts Shaffer has always said there are three kinds of people, those who left a place and never looked back, those who left and wishfully desired to return and those who left and do return, as I have done.
Grantsville, not unlike many towns in rural West Virginia, is but a shadow of its former self.
My mellowed memories recall a slower, more prosperous and connected time when the streets were full of people, socializing and taking care of their daily needs.
It was a real community.
In 1940 the town had 1200 residents, most of whom had built or owned their own homes. Today it is less than 500, mostly folks who rent property.
Laid out by Simon Stump in 1866, it became the county seat in 1869 and was officially. chartered as a town before the turn of the century.
It was my "Mayberry" and I loved it.
I was fascinated with the dozens of stores and their businessmen with white shirts and ties who stood in front of their emporiums to welcome customers or just talk with those passing by.
A bustling place six days a week, with businesses open until ten o'clock in the evening. Law and order was maintained by the town cop on Saturday nights when things could get a little out of hand.
We liked watching Saturday night action. Sometimes the Jones Boys got the best of rotund police chief Bryan Ward, but most of the time they "fought the law and the law won."
It was sorta like a game, street fighting, not serious crime, usually requiring a single night in jail to solve the problem.
I couldn't believe how bright the town was at night, those large street lamps hanging from poles. There was no electric during half of my childhood in downtown Hur.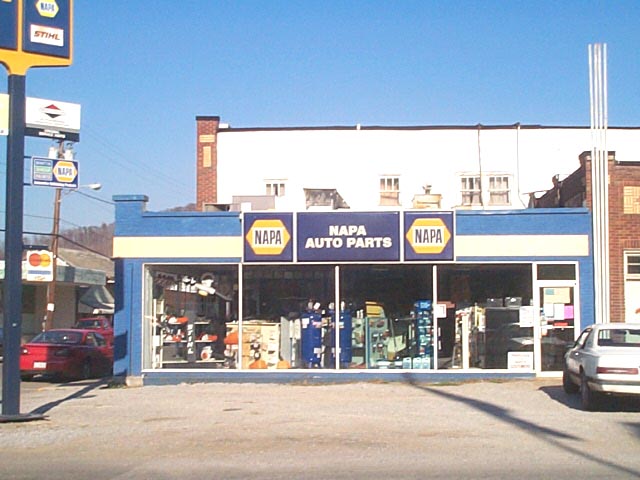 Early site of Thompson's Drug, later to become J & B Rexall whose business has survived through the years, now the site of the NAPA Store
Country people would drive into town after supper and park, usually in a "claimed" spot and spend the evening people watching, loafing on the street or hanging out in one of several restaurants or pool halls.
Many chose to go to the movie house on Main Street, the Kanawha Theatre, or get sundaes or sodas at Thompson's Drug Store, later the J & B. It was there I remember the joy of chocolate dripping over vanilla ice cream in a metal sundae dish. A dip of ice cream was five cents (now I'm doing it), which seems to have been a bargain after paying $2.40 for two dips at Baskin-Robbins. By golly, that's 48 dips by the old price, don't ya know.
Then there was Doc Smith's Drug Store on Main Street, packed with all the necessary items.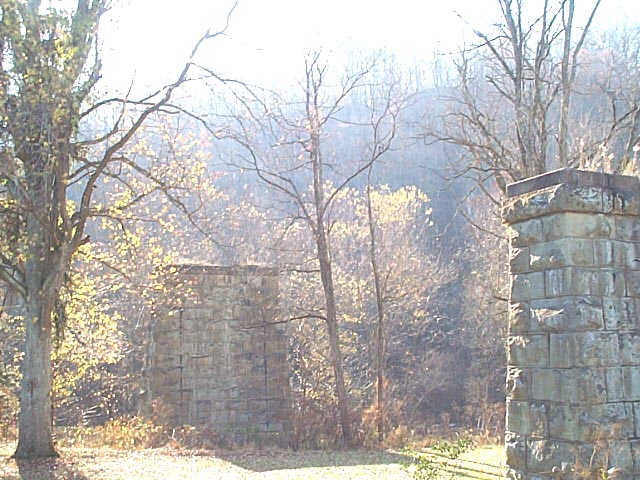 Remnants of the old Grantsville Bridge at the lower end of Main Street
Most impressive was the narrow steel bridge which spanned the Little Kanawha River, connecting "South Side" with main Grantsville, built in 1912. Its wooden floor loudly clattering when cars drove across, later to be asphalted and one-way traffic lights placed at either end.
At times holes would appear in the flooring and you could look straight down into the Little Kanawha.
Life in the town centered on the Methodist and Baptist churches, but all Calhouners were connected with the high school, a center of activity every day. When the old school closed and moved to Mt. Zion, the lifeblood of the town died.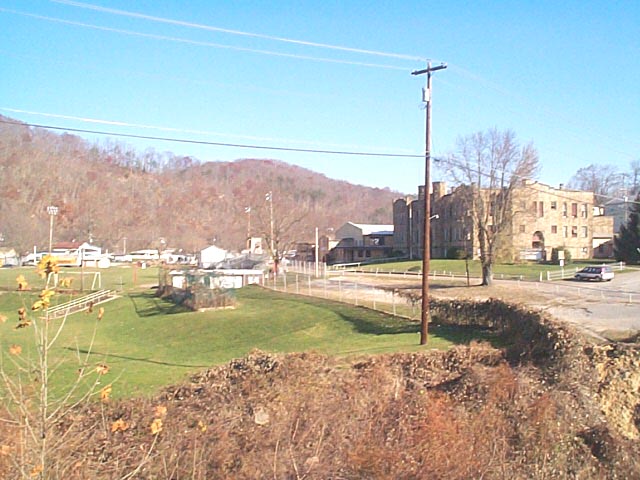 View of old Calhoun High and football field from "the fill,"
which connected Route 16 to the southern end of the old Grantsville Bridge near the Hope Office
Walking back and forth across the bridge during lunch hour at Calhoun County High School, clinging to the iron rails to stay out of traffic was invigorating, pausing to stare up and down the river in the change of seasons. Once in a while, my walking buddies would break loose with youthful energy and climb the trusses to the top, until better heads would come along and threatened to harm them if they didn't come down.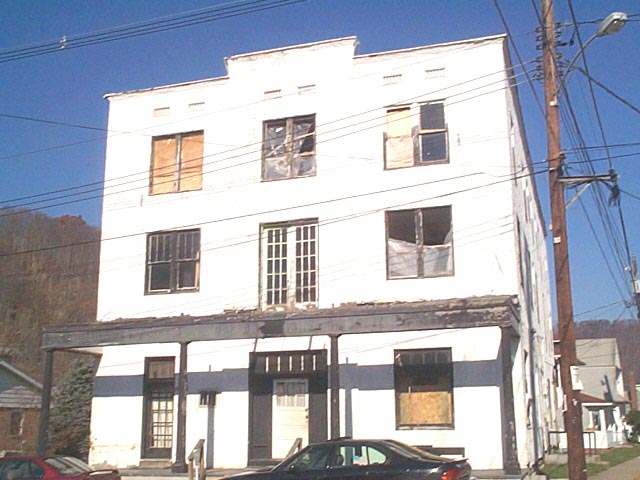 "The Rainbow" was prominent gathering place, now an empty shell
The Rainbow Hotel, during some of those years operated by the Lowe family, was bustling with porch sitters and diners, traveling salesmen renting the rooms to break-up their back road journey.
It was on this porch Robert Kennedy met with local attorney Lorentz Carr Hamilton on the hotel's swing, planning on how JFK could carry the Calhoun vote.
Francis Hardware, during those early years was located at the end of the bridge, with Dr. Howard Toepher's office upstairs and the Boling Clinic up the street, the health care team at mid-century, to be followed with a stay by my cousin Dr. Charles Albert Stump.
The Stump Hotel (now restored) was acknowledged with Aunt Nettie sitting on the porch, of Spavy Stump wandering around town with his push cart.
Dr. Toepher delivered me in our tiny four room house at Hur, but to later be taken to his office for various afflictions and be startled by the fetus of infant child housed in a clear glass jug, sitting on his desk.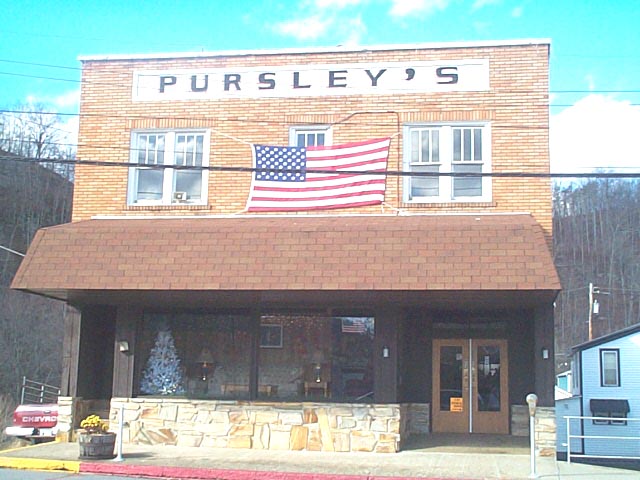 Once Francis Hardware and later Consolidated Supply and the office of Dr. Howard C. Toepher (who helped birth half the county), now Pursley's Furniture, directly across the street from the Bridge ESSO Station, all at the north end of the old Grantsville bridge.
I remember taking eggs, for barter, in Grandma McCoy's green basket to the A & P Store, to be cheerfully greeted by George and Local Lambiotte. The energetic couple bustled around the store with smiles and chatter, filling the list as if you were the most important customer in the world.
You could run next door to the diner, operated variously by Laura Kelley and Nell Welch, and get a ten cent hot dog. It was a hang-out for Allie Hardman, one of the counties prominent citizens and bank officers, who must of liked the cuisine (or the cheap prices). The diner, built against the A & P Store, was an old riverboat owned by Johnny Sampson, pulled up the bank after river transportation collapsed.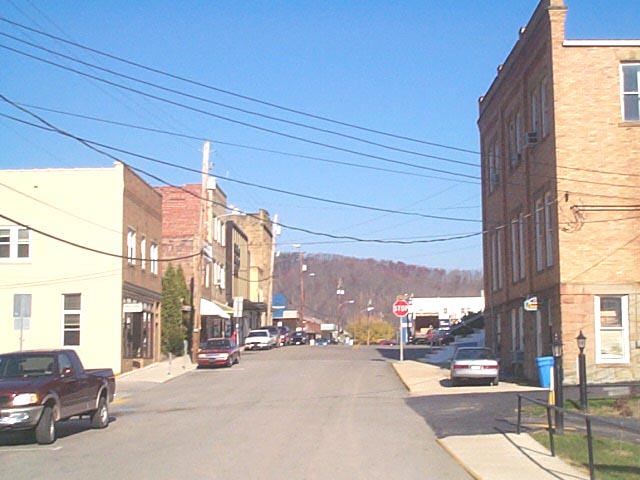 Left to Right: The town's hot dog diner (open space), the old A & P Store (now Loren Howley's law office), the Amos Gibson/Godfrey's Store location (now Dr. Khoury's office), Pearl Kelley's Store (now Minnich's Florist) and the General Electric place, Grantsville Appliance (now John Oshoway's law office). On the other side of the street, the old Grantsville Bank building, the basement the long-time home to The Calhoun Chronicle, the upstairs for many years the Grantsville Post Office.
Next door was Amos Gibson's barely standing country store (later owned by the Godfreys), a 19th century remnant, thriving on honest credit and scripture verses. Amos was known to burst into a sermon in mid afternoon. Next door was Pearl Kelley's Store with freshly produced meat products from her own unapproved butcher shop. I can remember buying sugar maple candy for a nickel in the dimly lit store with its long row of showcases.
Pearl's heart of gold helped virtually every poor family in the area when they were down on their luck, or supplied a glass of spirits to cheer a soul on cloudy days or frigid nights. Pearl "minded" the store when she was not out fishing on the Little Kanawha. She was a sight to be remembered, her bulky frame covered by a many-pocketed apron, with strings of catfish and bass on a chain, walking up Main Street in early afternoon. Next door was the Grantsville Appliance GE Store, a forward enterprise "known for service" that graced the town for many years, operated by Yoak and Siers. They really knew how to fix things, a rarity now days. Von Yoak is still surviving and singing with his beautiful voice, out Pleasant Hill way.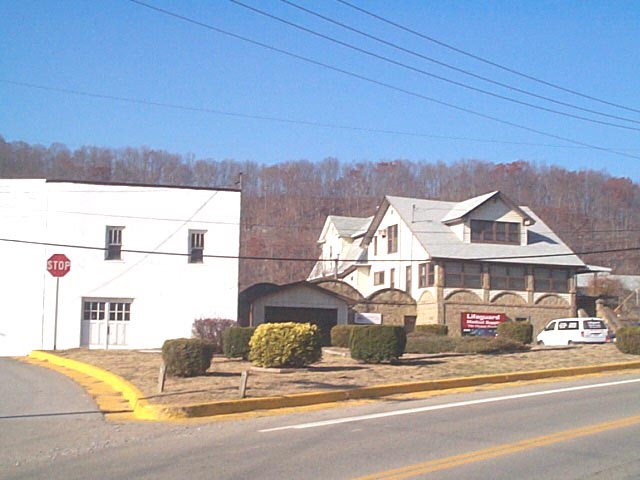 Stump's Service Station (right), owned and operated by Albert and Gladys Weaver Stump for many years, adjacent (left) to the Calhoun Super Service, which carried virtually everything from automobiles to coffee tables. At Stump's "We'd get up in the middle of the night when people would honk their horn," said Gladys.
One of Grantsville's great characters was Charter Shaffer, whose store was often moved around the town, but first remembered beside the Mollohan house, a rough building containing household items and junk. Out front he hung bananas, from which you could shake and collect your take for a nominal fee. Charter maintained a "slop wagon," an old truck with mounted tank, with which he went door-to-door collecting garbage to feed his hogs. Inside Charter's store you could play checkers and dominoes to your hearts content.
Charter was remembered for being the lone occupant of the men's restroom in the county courthouse when the boiler blew up in the 1950s. Worse for wear, Charter stumped up the steps, out of the rubble, and proclaimed an atomic bomb had been dropped by the Russians. It was the days of bomb shelters - fear of impending nuclear Holocaust.
The Stump family had a funeral home on Mill Street in a small house, but was then moved to the Pell property, where it has been vastly expanded. The male descendants of Stump have performed the burial rites of most Calhouners for well over a century, but they may best be remembered for "coming out to get dad" when he was sick with their combination hearse-ambulance in dastardly weather, a service provided the county for many years, before EMS.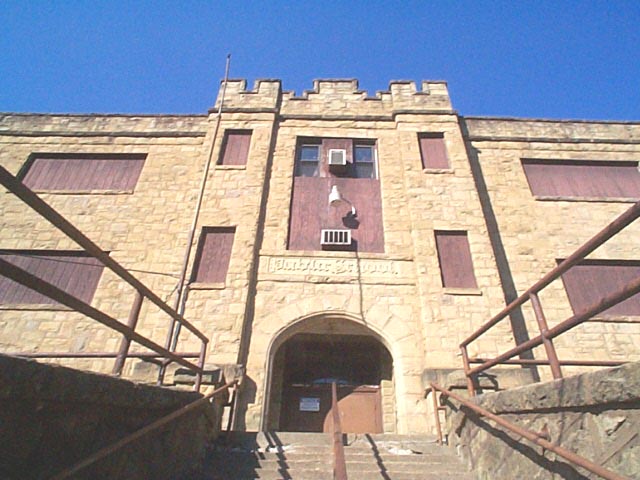 Grantsville Graded School
The town's grade school, still standing at the top of High Street was a center of activity for many years. The cut stone building surrounded by its cut stone walls was impressive in its day. Hundreds of kids went through the grades, with teachers and principals like Leah Ball, Thelma Stump, Grace Hamilton Long, Oda May Marshall, Elva Yoak, Grace Weaver, Vonda Gunn, Tessie Poling (100 years old in 2004, Wilma Stump, Eloise Hathaway, Iva Brannon, Corel Poling, John Keller, Paul Powell, Joe Haught, Tom Cain, Ira Stemple and many more.
The building, like the old high school, stands vacant.
Grantsville was an early comer with phone service in the late 1800's. By mid-century the Citizen's Telephone Company had their switch office over the Terminal Restaurant, still a hand-cranked system. The switch operator would tell long distance callers where residents could be reached, when not at home.
Near by was the cab stand and Dink Sturm's Barber Shop. Across the way was long-time barber Harvey Stout, first remembered for hand-cut clippers.
The town was plentiful with department and clothing stores. Notable was Gladys Weaver Stump and Lonnie Oles "Quality Shop" with the finest in women's apparel. Wiant and Barr, Strader's,Gunn's, James, Richards, Howe and others maintained department stores.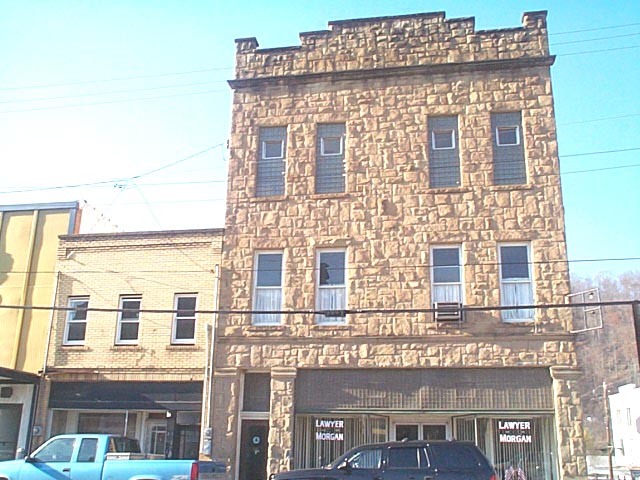 Strader's Department Store was housed in the Masonic Lodge building for many years, later to become the James Department Store
Well, we hope a few of you have enjoyed this "tip of the iceberg" trip to the bigger then it really was town.
Note: There are many of old Grantsville pictures on the Herald, many of them collected and displayed by Norma Knotts Shaffer.