FLASHBACK 2008
The awesome duo with Grantsville businessman Keith Smith
(Photo courtesy of Richard Westfall)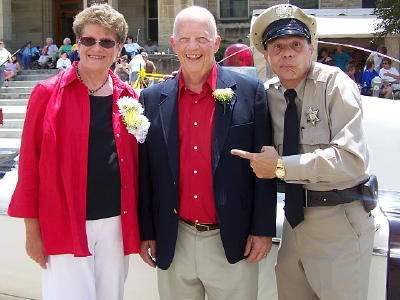 Parade Marshals Sue and Randall Jones clown it up
(Photo courtesy of Terry Harris)

By Bob Weaver 2008

One of the highlights of the 46th Calhoun Wood Festival was the appearance of entertainers Scott Epperson and Bruce Newman as Barney and Gomer, two of America's best-loved characters from the Andy Griffith Show.

Perhaps their impersonations touch people because they grew-up with the TV characters, recalling a kinder and gentler time in small town USA.

Even more satisfying is the Mayberry police cruiser with its non-electric siren and red light.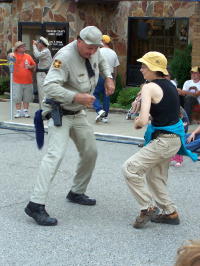 Calhoun Sheriff Carl Ballengee and "Barney" (L)
"Gomer" dancing it up with Maggie Volkwein(R)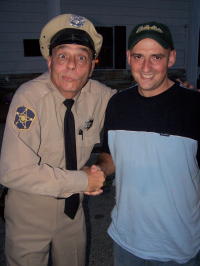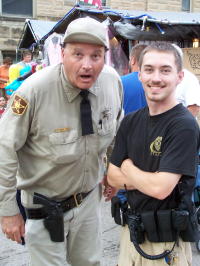 County Commissioner Kevin Helmick gets jaywalking ticket (L)
Grantsville town policeman Jeff Starcher visits with "Gomer" (R)
Epperson, a theatre actor, voice talent, entertainer and comedian, frequently pulled out his "bullet" to let people know he's still on the job.
Newman entertained Wood Festival audiences with his 'Gomer' sounds, clowning around and "dancing" during the street entertainment.
Both are great showmen and comedians, mixing and mingling with just about everyone at the festival and having their photo taken
During the conclusion of Saturday night's entertainment, they took time to thank festival goers for their reception, and suggested they would like to come back again.
Minnie Hamilton Health System sponsored the "Mayberry Memories" entertainment.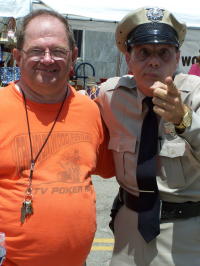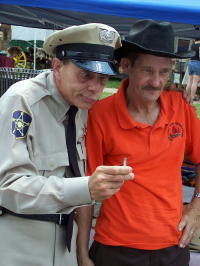 Wood Fest organizer Jim Sullivan gets razzed (L)
"Barney" pulls his single bullet from his pocket (R)
calhounwoodfestival.com