In one 12-day period, Dr. Freeman operated on 225 people during a swing through West Virginia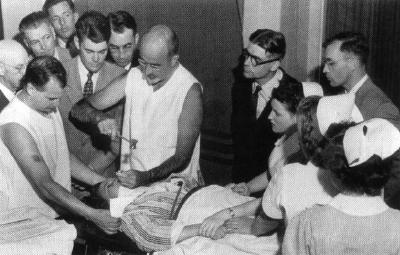 Dr.James Freemen performing a ten-minute "ice pick" lobotomy, having done the procedure on Spencer State Hospital patients and hundreds of other mentally ill subjects in WV institutions in early 1950s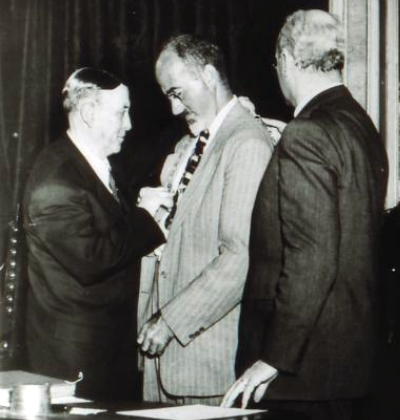 Egas Moniz, M.D. (left) originator of the frontal lobotomy, inducts Walter Freeman, M.D. (center) who did hundreds of lobotomies on WV state hospital patients, being inducted into Lisbon's Academy of Science as a foreign member in 1948. In 1949 Dr. Moniz received the Nobel Prize in Medicine for his work. Victims have called for Moniz's Nobel prize to be recalled (Picture courtesy of the National Library of Medicine)

Hospital once described as the longest building under
one roof in eastern USA, long view circa early 1900s
By Bob Weaver 2007
Spencer State Hospital, during it's 100-plus year history, housed and treated thousands of regional residents who were declared mentally ill or incompetent. It provided employment for hundreds of regional residents, most of which were paid sub-standard wages.
Among the darkest periods of the hospital's service to the community is likely the performing of lobotomies on patients in the 1950s, critically called "ice pick surgery."
Dr. Walter Freeman performed 228 transorbital lobotomies during a two-week period in 1952 in West Virginia, through a state-sponsored lobotomy project dubbed "Operation Ice Pick" by newspapers.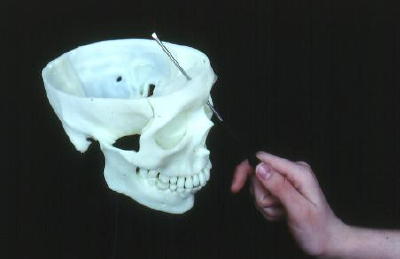 Procedure demonstrated, inserting pick through eye orbit into the brain
Frontal lobotomies were performed by inserting a two-pronged device in the orbit of the eye, and with a sharp blow, driving it into the brain.
The promised result - relief or change from the person's traumatic mental condition.
One account says Freemen did nearly 800 such surgeries in WV, while hundreds of others were performed not by surgeons, but by ordinary doctors with little or no surgical training.
Former employees of Spencer State Hospital claim the surgery was crudely done by a staff doctor and "a thrown-together staff of hospital workers."
Many of the 1200 Spencer patients in the 1950s were unwanted individuals and children. They were cared for by three doctors and 150 psychiatric aides.
In an interview published October, 1980 in the Charleston Gazette, Dr. Thomas C. Knapp, superintendent at Spencer when the first frontal lobotomies were performed, called it "a grim time for our profession."
Dr. Freeman, known as the father of lobotomies in America, just "dropped in" to Spencer State Hospital "without prior announcement," Knapp recalled.
"He was a big name in neurology and he had all the proper papers and signatures-all I could do was watch. It was a real grisly thing."
Knapp recalled that Freeman forgot the surgical hammer he used to pound the spikes into the brain. "We finally found a wooden mallet in the kitchen and that's what he used," said Knapp.
"I was never convinced that the operation was helpful and it appeared to me we were dealing with a sadistic bastard," he told the reporter.
The purpose of performing a lobotomy was to sever the nerve tracks from the frontal lobe of the brain, where ideas originate, and the mid-brain, the seat of the emotions.
Knapp explained the surgery cut off reactions to thoughts. Lobotomized patients became apathetic zombies because they had no emotional feelings.
Dr. Freeman gave statistics from 228 patients upon which he operated during one West Virginia experiment, saying eighty-six had been discharged from the hospital with five returning.
"There are 36 more ready to go home as soon as their families can take them. Another 29 have shown some improvement but still need hospital care. Of the 77 remaining, 73 have shown no improvement and four have died," he wrote.
Knapp said if long-term follow-up was done, the number who actually improved would be practically zero.
Knapp remembered one of the patients died from an inter-cranial hemorrhage. Knapp concluded Freeman "butchered a lot of patients who could have been helped when psychotic drugs came out."
In Jack El-Hai's book "The Lobotomist: A Maverick Medical Genius and His Tragic Quest to Rid the World of Mental Illness," the writer describes Freeman as saying his lobotomy campaign was "a gratifying experience," a successful mass marketing of his desire to radically transform the field of psycho-surgery.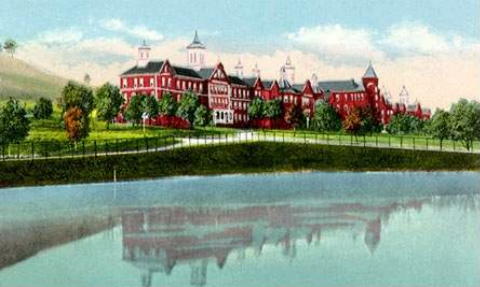 Postcard of Spencer State Hospital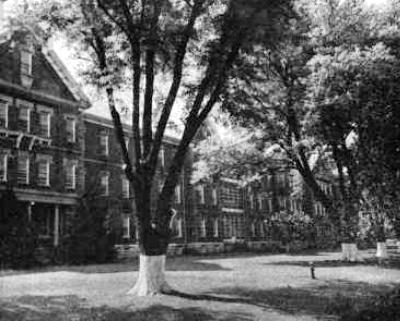 Main entrance to hospital
One account says "Freeman devoted an intensity and energy to his mission in West Virginia that surpassed nowhere else. Over the next four years he frequently visited the state, with the result that its per capita rate of lobotomy was the highest in the nation. In the 1950s Freeman operated on additional patients at West Virginia hospitals in Huntington, Lakin, and Spencer."
"At the hospital in Lakin, a segregated institution mostly for "colored boys," Freeman was pleased when he returned "a week or so after operating upon twenty very dangerous Negroes and found fifteen of them sitting under trees with only one guard in sight. It was the first time that they had been out of the seclusion rooms for anywhere from six months to seven years," the report said.
Newsweek reported the operation had made the mental patients much easier to care for in the institutions, leading to discharging patients from a crowded situation.
The New York Times reported that Dr. Freeman was on a crusade to teach his technique to doctors in America.
Accounts indicate about 50,000 people had the surgery between the mid-1930s and the 1970s.
In a 1952, Time reported that "ice pick" patients suffered from a variety of mental disorders ... anxiety neuroses, while others fought against irrational fears, morbid thoughts, hallucinations and suicidal depression.
"By the time he finished his experiments with patients in West Virginia mental hospitals last month, Washington Neurologist Walter Freeman had supervised or performed more than 200 of these transorbital lobotomies (TIME, May 28, 1951) in two weeks.
He already had more than 1,000 other lobotomies to his credit.
A blue looseleaf notebook was surrendered by the hospital to the archives of the W. Va. Department of Culture and History, containing photographic records of nearly 200 Spencer State Hospital patients Freeman operated on between 1949 and 1952. The photos show each patient before, during and after the surgery.
George Washington University has 77 linear feet of documents regarding Freemen's surgeries, including a section on West Virginia.
The hospital was closed in 1989 and has been torn down.