Republished From 9/2001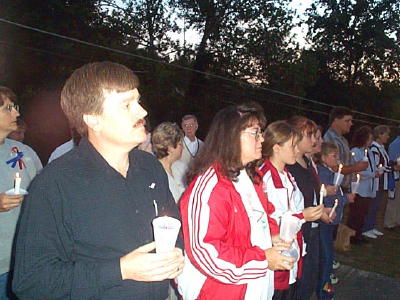 The candle-light vigil as sun sets over Grantsville's steep hill
About 250 Calhoun citizens gathered last night on the grassy lawn of the old Hamilton property, long a landmark in the county seat of Grantsville. Lighting candles and forming a huge circle, they participated in a candlelight prayer vigil for those suffering from loss in the terrorist attacks in New York, Pennsylvania and Washington, and for America and the world, now facing war.
Pastor Mary Zimmer of the Knotts United Methodist Church said she was grateful that pastors and members of many different congregations attended. "We want this to have a spirit of love," she said, after the singing of the National Anthem.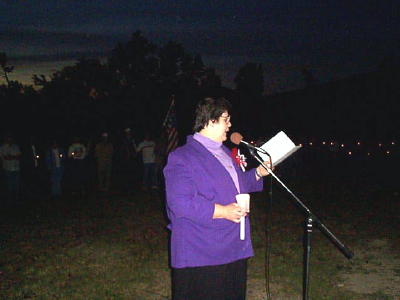 Pastor Mary Zimmer leads the group in prayer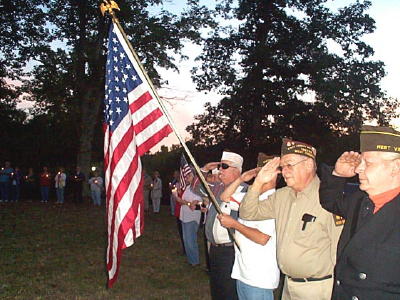 VFW Post 5959 Color Guard
"Tonight we have gathered as a community and a county....to support one another and to lift up prayers for those in New York, Washington and Pennsylvania. We pray for those who are still searching with much hope, those that are grieving, for our President and those who assist him, and for all America," she said.
"We must lean on God for strength hope and comfort," she continued.
Pastor Zimmer then called on people to come forward to share their thoughts and feelings after the tragedy.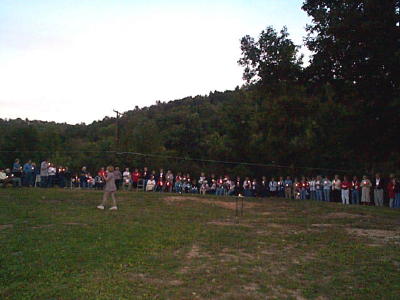 A field of flickering lights
Patty Eisley said "In the county where my mother lives, the people have been very much affected by this tragedy. It is a bedroom community of New York City, with lots of firemen and policemen. Whole towns are missing their volunteer fire departments, for many of them were paid firemen in the city. I pray their families can find peace."
Jo Ann Shock spoke about her grandson Matthew Taylor. "He had planned to be shipped to Italy next week, put he will now be sent to where the battle will be fought. I want all of you to pray for him and all the soldiers. This is devastating."
Bob Weaver recalled what Billy Graham said Friday during the National Day of Prayer, how quickly things can change in life, and how most parents have spent the past years helping their kids feel safe and secure. "That feeling has changed since Tuesday," he said. He then read the World War I poem "In Flanders Fields" and "America's Answer" to John McCrae's poem.
P. Jane Wease said as she watched TV this week she saw "The faces of the people trying to find their loved ones who are missing. I have seen our President trying to hold himself together for this country. We are Americans' and can survive all this with the help of God."
She said I have witnessed unity. "The bible says we have to love those who hate us."
Pastor Zimmer said "We must become instruments of peace." She said "The wounds and hearts will not be easily healed. Let us in the days be a praying church."
She said we have become the walking wounded these past days.
Pastors from around the county spoke these words.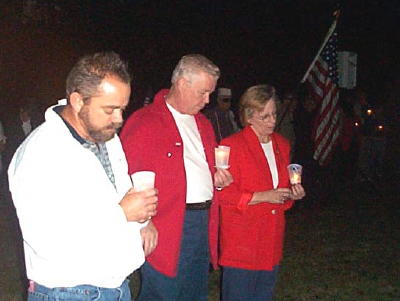 Pastors share prayers on Hamilton Field
"Almighty God, we pray for the children, lost family members, whose homes have been touched by this terrible event."
"God we hold up these requests, as our government does its job."
"Father, we pray for each one who has lost loved ones, and for the leaders of our nation, that they will make good decisions...decisions for your glory."
"Eternal God, you know our hearts, as we grieve. We pray for healing of hearts and the land. Be with our leaders and strengthen them."
"Let our nation be pulled together by the spirit of God."
"Almighty and wise Father, we pray for one people and one church...Let our light shine across the world, that you are the Father of all people."
"Eternal God, as we hold these candles in our hands, let us be reminded of your word. "Let our light shine. Let us be an example of love."
"We do pray for those who have done this to us and soften their hardened heart."
The gathering then sang "America the Beautiful." Many people from Calhoun's fire departments and Emergency Medical Services attended the ceremony.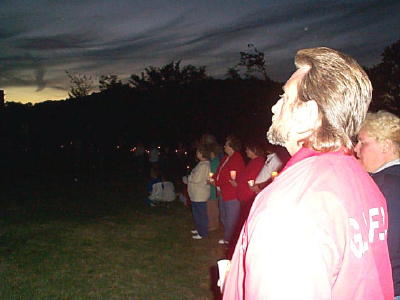 Emergency services attended the vigil,
remembering the many who have died
People came from all church congregations
Under the darkness of a September night, the candles went out and the event was closed by the playing of "Taps," in memory of those whose lives have been sacrificed.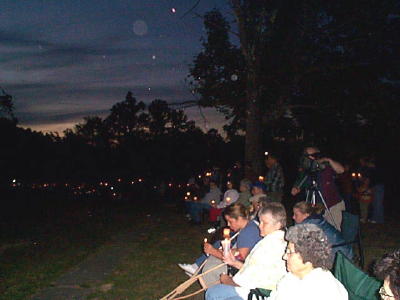 Darkness comes to Grantsville hillside