Published 2003

During most of the 20th Century, Arnoldsburg has been the second biggest community in the county.

It was named for the Arnold family, with many of the descendants still living up and down the West Fork of the Little Kanawha. Arnoldsburg began about 1810 with the counties first permanent settler living a few miles downstream from the village, although the Calhoun history book says he resided in the village.

The post office was established in the 1830's, according to reports.

The villages most prominent resident in the late 19th century was its first merchant and slave owner Peregrine Hays, a descendant of the politically influential Hays family. He was a rebel leader during the Civil War and was the principal participant in wanting the county seat at Arnoldsburg in 1856, although he played both sides of the conflict by purchasing land near Big Bend, just in case. Arnoldsburg was the scene of an actual skirmish in the Civil War in 1862.

At one time the village had a movie house, several stores, physicians, blacksmiths and an undertaker emporium, long before Stump's brought a modern funeral home to the community.

It was a busy and bustling place with most of the activity centered in the village proper. Today, most of the businesses have moved up and down U.S. 33-119 and Route 16. Southern Calhoun, in the beginning of the 21st century, is a quickly developing area, despite the lack of a modern access highway to I-79.

Here are flashback pictures of Arnoldsburg taken in the village during the 1950's. Photos courtesy of Earl Hall.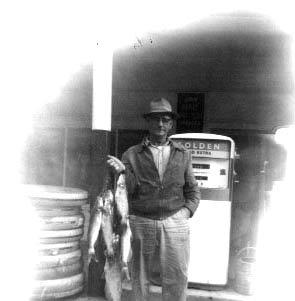 P.D. Hall with the catch of the day (about 1955)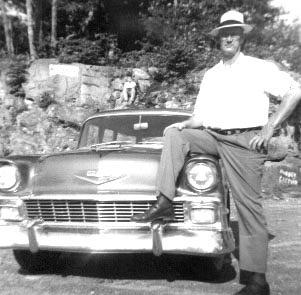 Rex Hall and son Earl (on rock in rear)
with their 1956 Chevy station wagon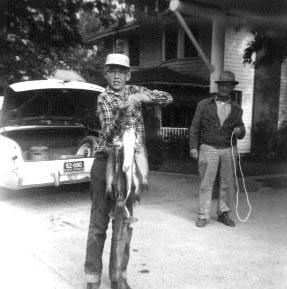 Young Earl Hall with stringer of fish
(L to R) Gene Starcher, Carl Reading, Rex Hall,
Earl Hall, Paul Evans and P.D. Hall,
setting on barrels in front of Rex Hall's Store.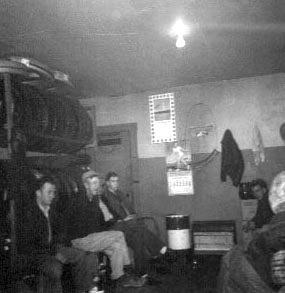 (L to R) Clyde Houchin, Amos Cogar, Vier Hall
and Chin Stalnaker, Halls Store and Service Station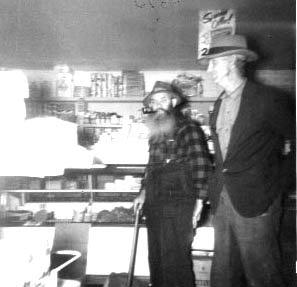 Smith Cottrell (L) and "Gertie" Parsons (R)