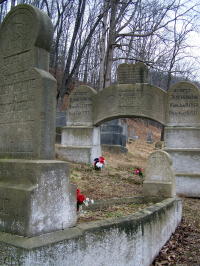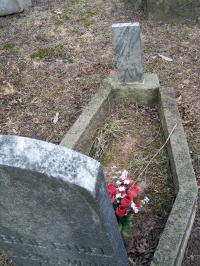 Monuments by Stonecutter Joseph Wayne (1850-1937) "Footprints
of history on the pages of time." - Thomas Babington Macaulay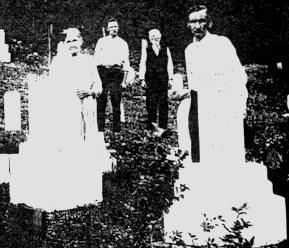 Joseph Wayne is buried beside his wife Elizabeth (Truman)
shown here in the hillside Wayne Cemetery on Beech
By Bob Weaver 2002
It has been said that monuments bind one generation to another, a world of memories, a world of deeds, a world of tears, and a world of glories.
Beyond historical significance to Calhoun's Beech community families, the stone-cut monuments and grave liners found in the old Wayne Cemetery are unique works of Joseph Wayne (1850-1937) the son of Jacob and Christina Parsons Wayne, descendants of Calhoun originals - Tunice and Catherine Propst Mucklewain (Wayne).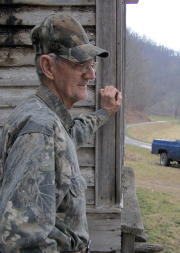 One of the few Waynes still residing in Calhoun, Lloyd Wayne (left) stands beside the old Wayne one-room school on Beech, looking across Beech Fork where the Joseph Wayne homestead once stood
Wayne lived near the hillside cemetery, a stonecutter, wagon maker, blacksmith, and casket maker. He lived in a log house built in the 1800s, until it burned about 1930. Descendant Loyd Wayne, who still lives on Beech, said "When it caught on fire, his first order was to throw he and his wife's hand-made caskets out a second story window."
"Joseph kept a diary every day of his life," Lloyd said, "and when he got too old to write, a family member recorded what he said. It sure would be wonderful if his diary could be found."
The early-settler was described as an individualist, a man of historical vision and vigor, always ready for whatever providence decreed.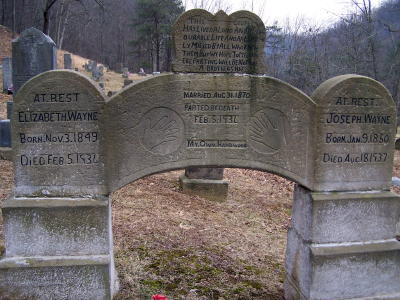 Joseph and Elizabeth Wayne's monument says "This couple has
lived a long and honorable life and are sadly missed by all those
who knew them. But we hope to meet where parting will be no more"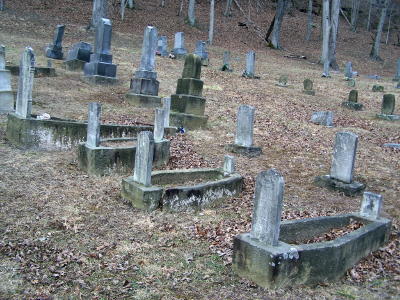 The cemetery has dozens of scattered graves of
infants, from stillborns to less than five years old,
memorialized are some of Joseph Wayne's own children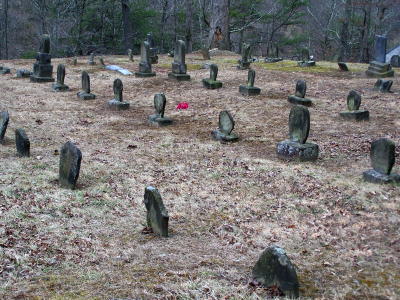 Most graves are simple cut stone or field stone,
still carefully concreted by the monument maker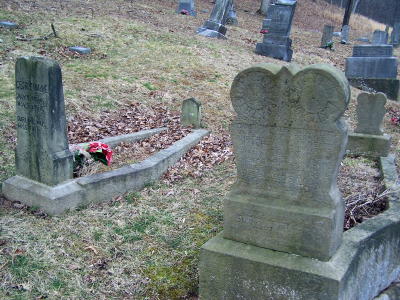 The monuments stand on a flat up a steep,
rugged road above beautiful Beech Fork valley
Among the earliest graves in the old Wayne Cemetery in the 1850s are, Christina Wayne, Daniel Starcher, William Nicholas and Rebecca Wayne (1793-1859), second wife of Jacob Wayne. The cemetery had burials before 1850.
Grave-sites are a who's-who of the Beech Community, many of whose family names have long faded from the county, including, Starcher, Bennington, Griffin, Patterson, Sherry, States, McKown, Bishop, Hall, Hamric, Nicholas, Rishel and Brannon.
ORIGIN OF WAYNE NAME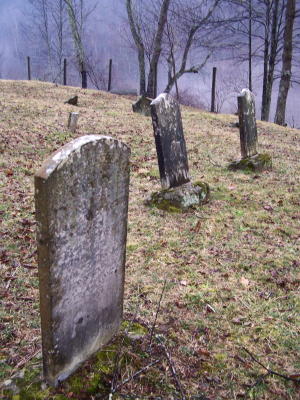 Winner-Ball Cemetery between Altizer-Rocksdale: Grave-sites
of Tunice (1773-1851) and his wife Catherine Propst Mucklewain
(1772-1849), and their daughter Nancy Mucklewain (1816-1871) who
married William "Billy Bluehead" Starcher, son of Phillip Starcher,
noted as the first permanent settler of Arnoldsburg in 1810
Colonel Dewee's "Recollections of Some Lifetime" says that Tunice and Catherine Propst Mucklewain were pioneer settlers in Calhoun, settling at "Lige Hall Falls" on West Fork between Arnoldsburg and Altizer.
Tunice was a Revolutionary War soldier.
The Mucklewain name has various spellings in the 1800s, but ended up being shortened to Wayne, with most of their descendants living in the greater Beech area.
Although there are three Wayne cemeteries, the Mucklewain's are buried in the Winner-Ball Cemetery on the lower West Fork, among the oldest marked graves in the county.
See Wayne Family History www.rootsweb.com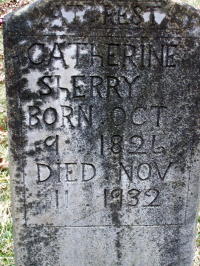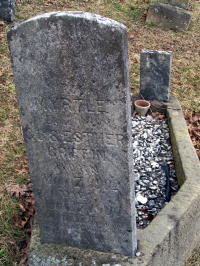 WAYNE CEMETERY MONUMENTS - Catherine Sherry was married to D. L. Sherry (1820-1897) a long-gone family infant Myrtle Griffin (1902) daughter of George C. (1889-1941) and Esther Starcher Griffin (1880-1969)