FALLS CONTINUES TO TEACH YOUNG MUSIC MAKERS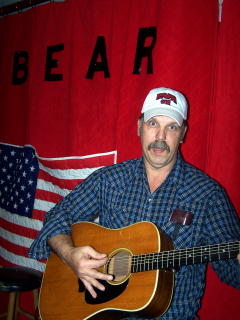 Guitar teacher Rick Falls is one of Calhoun's best old-time
music makers and composers - "Music will change peoples lives"
By Bob Weaver 2007
Calhoun mountain music maker Rick Falls told his guitar class "If you pick from the heart and feel what you play, people will connect with your music."
Falls' guitar class at the Bear Fork Trading Post has about 18 students, some new and some old-timers who share their skills. He also has a beginners class.
The 49-year-old man, a fifth generation mountain musician through the Cottrell family, is not only one of Calhoun's finest musicians, he is a more than credible teacher, passionately passing on the tradition.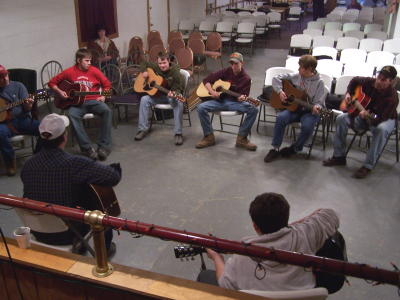 Falls, shown with a few of his students, says his
reward will be if they pass it on to their grandchildren
His mother, Mae Falls Budgen, is proud of her son, who learned to play music when he was four. "On an old plow point with one string he picked Wild Wood Flower," she said, and went on to play mandolin, bass, banjo and a little fiddle.
Falls made his first public performance at seven, strumming "Bile Them Cabbage Down."
While honing his skill for many years, Falls is blessed with natural talent, his grandfather Noah Cottrell and Noah's sister, Pheoba Parsons being the evidence. Both now deceased, they made their mark on old-time music in West Virginia and other states.
The family, not unlike Lester McCumbers, has sprung from or have been mighty close to the Bear Fork wilderness.
"You learned to entertain yourself back on Trace (Bear Fork)," said mother Mae.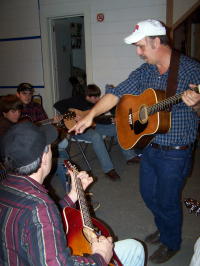 Falls puts passion into teaching students
During a break in his guitar class, Falls said "When they have learned something new and walk out of here, I think their lives are changed, and they'll pass it on to their grandchildren. Besides, they'll be friends."
He said musicians share a special bond that you rarely find elsewhere. "Music satisfies the soul, hearing the music, feeling the music and performing the music," he said.
Some of Calhoun's best old-time music is performed at the Bear Fork Trading Post, a visionary dream of Falls' uncle, Melvin Cottrell and his wife, Patty.
Cottrell praises his nephew for his "heart brighter than gold," saying "He doesn't really know how good he is" (as a musician).
Falls said music has brought great joy to his life.
"I really don't need any other reason," he concluded.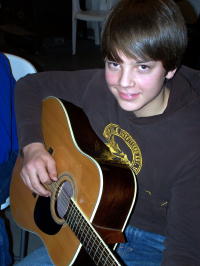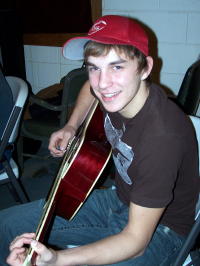 Cam (left) and Cody (right) Cottrell are sixth
generation musicians, sons of Mr. and Mrs. Greg Cottrell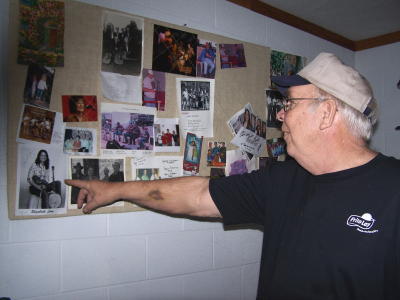 The late Melvin Cottrell talks about some of the dozens of
musicians who have performed at the Trading Post