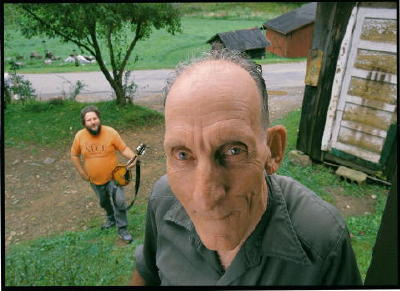 Joker, West Virginia, Basil Carl "Bub" Brown, church musician and
Basil "Junior" Brown, retired timberman (Photo by Gary Gladstone)
By Bob Weaver
Well-known photographer Gary Gladstone, accustomed to meeting magazine deadlines, removed himself from such pressure about eight years ago and began criss-crossing America, traveling about 75,000 miles to produce two entertaining chuckle-producing coffee table books.
He is among numbers of writers, reporters and photo journalists who have come to the Hur Herald corporate office to see if it is really there.
The photo books feature portraits of local citizens in far-flung places in rural America, everywhere from Big Ugly WV to Horneytown NC.
Gary came to the Village of Hur in 2004, looking for the long-gone Village of Joker. Now the Joker "portrait," featuring two local citizens are in his second book "Reaching Climax and Other Towns Along the American Highway."
He had already been to Bonnie Stewart's café in Gas, Kansas, where Stewart said to Gary, "Come down Route 12, but if you blink, you'll pass Gas."
Gary said he had such a laugh, he decided to title his first funny named book "Passing Gas and Other Towns Along the American Highway."
In his story about Joker, Gary drove to Hur and Joker through a two hour downpour, writing "To make things really perfect, we got lost and landed on a red clay road that's narrowing by the minute."
"No big deal for someone who has spent decades squeezing 172-inch cars into 175-inch Manhattan parking spaces," he exclaimed.
Gary wrote about his visit with the Hur Herald, learning how Joker got its name.
"We also learn that Bob's labor of love is running the Hur Herald," he wrote.
With few residents residing in uptown Joker, Gary found Basil Carl "Bub" Brown, church musician and his dad, Basil "Junior" Brown. Their photo is featured on page 21.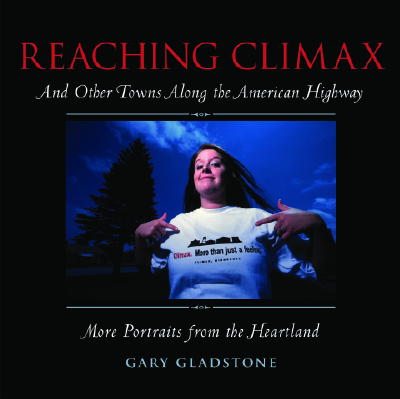 "Bubby" Brown says with pride and passion "he plays the guitar, mandolin and bass in small church groups - No charge, of course. If you love something, God doesn't want you to charge for it."
Gary said he has a deeply renewed appreciation of ordinary people across the American landscape.
Possibly the CBSs Charles Osgood said it best about Gary's work "He has captured some of the crazy wonderfulness of America."
See also "Village of Joker Making Strange Name Book"
* Reprinted with permission from Reaching Climax: And Other Towns Along the American Highway. Copyright © 2006 by Gary Gladstone, Ten Speed Press, Berkeley, CA. Photo Gary Gladstone. Ten Speed Press retains all copyrights.
The book is available from your local bookseller or by contacting
Ten Speed Press at 800-841-2665 or online at www.tenspeed.com