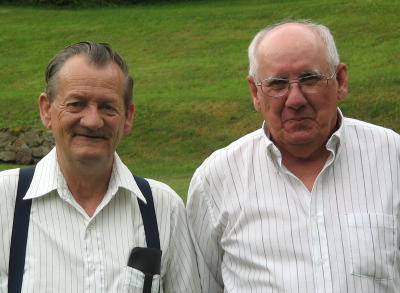 Oceanna resident Robert Brinkley reunites
with Calhouner Joe Yoak after nearly 50 years ...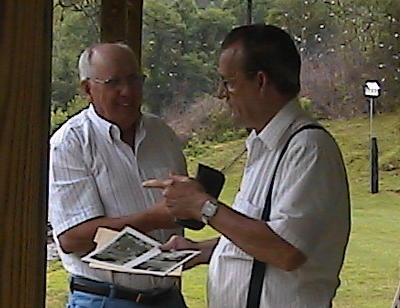 ... spending the day sharing old "war stories" and looking at mementos
By Bob Weaver 2006
"It was a wonderful thing to find out he was alive and then see my buddy after all those years," said Pleasant Hill resident Joe Yoak, after going to a reunion with an old Air Force buddy from the 1950s.
It had been nearly 50 years.
Seventy-year-old Yoak said has found two of his military friends on the Internet, more recently visiting Robert Brinkley of Oceanna WV.
"While stationed with me in Massachusetts, Bob had an accident and broke his neck," said Yoak, and following complications they flew him to a military hospital without the friends saying goodbye.
"I tried really hard for years to locate him and after a time, felt he must have died," Yoak said. He found his buddy's name and address on an Internet search, and called him.
Traveling to Oceanna, he discovered Robert Brinkley was permanently disabled from his 50s accident, but has been a "pretty good survivor." Yoak said "It was quite a reunion, after he disappeared from the face of the earth."
Yoak and Brinkley worked on an Air Force flying tanker that refueled planes while airborne. "They gave me $55 flight pay besides my usual pay," he said.
Yoak said the Air Force allowed him to travel to Spain, Puerto Rico and Alaska, saying a highlight was meeting actor Jimmy Stewart, a World War II vet.
"Stewart was a really nice man, common, down-to-earth. He spent a half-hour just talking with me and my buddies, telling war stories," Yoak said.
Yoak, one of eight children of Elias and Ollie Yoak, graduated from Calhoun County High School in 1954, a year later he enlisted in the Air Force for four years.
After leaving the military in 1959, Yoak went to work for Borg-Warner in Parkersburg for 33 years, before retiring to Calhoun County. He passed in 2015.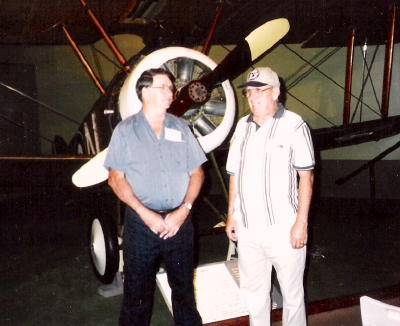 Joe Yoak reunited with Air Force buddy Jimmy Allen from Natchez, Mississippi at 2000 squadron reunion at Wright Patterson Air Force base
Yoak is now deceased.