Friends of the old church purchased it from the Methodist Church and have restored it to use as a community church, and is available for weddings and funerals.

2121 - In the past year, at least nine people from a low populated area who once attended the church have died, the Hur population on a decline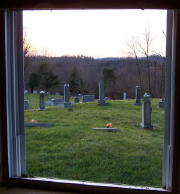 "Often I sing for my friends when death's cold hand I see. But when I am called who will sing one song for me? I wonder who will sing for me. When I'm called to across that silent sea who will sing for me."
So I'll sing till the end and helpful try to be. Assured that some friends will sing one song for me. I wonder who will sing for me ... - "Who Will Sing For Me" (Flatt and Scruggs)
By Bob Weaver
They came to the Mt. Olive Methodist Church at Hur for 130 years, the poorest of the poor and those who had a little more, from every hollow and ridge around the village, some walking for miles.
The church closed after only a handful came to worship.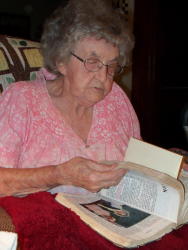 The longest faithful member, Elah Whisman (left) shown at 93, now deceased, remembers her early days coming to the church in the 1930s, with bad weather never holding folks back.
"We would walk, carrying lanterns, singing hymns along the way," she said.
It was equal ground, a gathering of young and old, a community of people and a spiritual connection to a place.
Elah's parents, Marshall and Margaret Blake Starcher, were sharecroppers on the Hardman family property about three miles from the church. She is the last survivor of 11 children.
"I loved seeing the people and hearing the word of the Lord," Elah said, "People would rejoice." It was proclaiming faith - testifin', hymn singin', shoutin', and revivin', revivin', revivin'.
"Boys would wait at the church door until the service was over, to ask their favorite girl to walk them home," she recalled.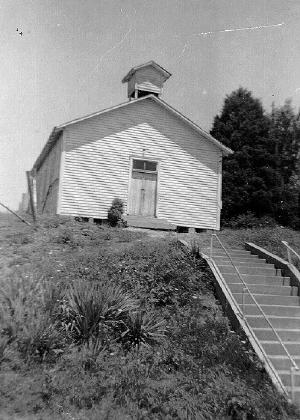 Church photo taken about 1950, the church goes back
to 1879, first a log cabin with a replacement built
about 1900, the current structure was erected in 1924
(Bob Weaver Photo)
Elah and her late husband Marion have sung more hymns than one could imagine, funerals, special occasions and at every church service held in the sanctuary since they got married in 1949.
We wondered who will sing for Elah when she passed on.
"It brings great sadness to my heart to see the church closed. We worked hard, all we could do," she concluded.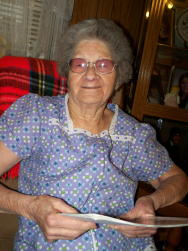 Lula Starcher Hughes, who lived to 103 (left), recalls attending church in an earlier structure in the 1920s during her childhood while living down on Buckhorn.
Lula has been alive for over 100 years of the 130 year history.
Revivals were "protracted," which meant they continued until every possible soul was saved and all the backsliders returned to grace. "I recall one lasting nearly three weeks," Lula said.
Lula came from a family of six children, the daughter of the late Grover and Rosa Adams Starcher, being born in a single-room house built by her father.
Grover was the long-time caretaker of the Hur Cemetery.
"It was a plain looking church, benches and gas lights inside. Oh, I remember the old wooden mourners bench," she recalled.
Lula says she recalls eight churches being on the circuit, Hur, Joker, Barnes Run, Stony Point, Richardson, Sand Ridge, and two churches in Roane County, Pup Run and Egypt Ridge.
"The circuit preacher went to them all," recalling early minister Rev. Dorsey Miller.
She recalled a few of the early families, Smith, Everson, Kerby, Nutter, Roach, Husk, Slider, McCoy, Starcher, Roberts, Sturm, Miller, and Sampson.
"There was a lot of shoutin', and one man who would get happy would throw his song book off the ceiling," Lula said, while others would praise the Lord walking across benches or circling the church outside.
"The place was full of old saints of God," she conclude. There were few diversions, no TVs, computers, no hand helds, no DVDs, no video games, only a few motorized vehicles, none very shiny.
Caught up with passion, a visiting preacher once pounded the side of the church lectern so hard, it cracked and fell off. Some of the younger boys ran out of the church into the woods, knowing they would never measure up.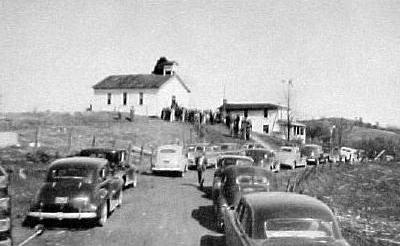 A funeral service being held about 1940
(Photo courtesy of Tom Shock)
The regulars sat in the same seat, week after week, year after year. Most now rest in the cemetery a few feet away.
The long-present Rev. Glendon McKee was a faithful giant, pastoring the church for many years.
All of the parishioners recall the Christmas programs with humorous plays specially written by Pauline Kerby Duskey, the manger scene, lots of singing and treats brought by Santa Claus. The youngest children recited single-stanza verses.
The entire spectacle was produced up-front, the altar was converted to a stage, hidden by view with curtains made of bed sheets strung across a wire, creating two important positions, the curtain pullers.
Until the early 1950s, the production was illuminated by dim gas-fired lights, augmented by a flashlight beamed on the baby Jesus and a crank-driven record player for special effect.
It was the pleasure of being there with family and friends, comforted in the safety of loving arms, touched by kind hands and knowledge of a power greater than all.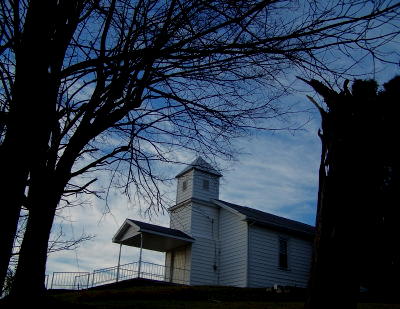 The church now stands as a memory
(Bob Weaver Photo)