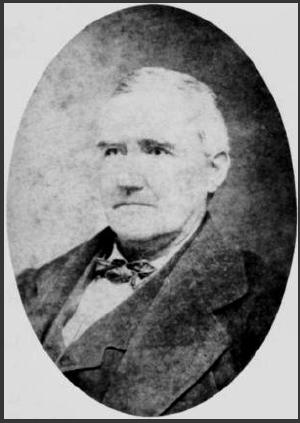 Peregrine Hays is Calhoun's most historic character
By Bob Weaver
The ghost of Peregrine Hays (1821-1903) lingers over the Calhoun landscape over 150 years after its' creation.
His role as a farmer, businessman and Confederate soldier to his political ambitions to carve a new county from the Virginia wilderness, makes him a prominent historical figure.
Peregrine, a childhood playmate of General Stonewall Jackson, was a shaker and mover before, during and after the creation of Calhoun in 1856, with many of his letters and papers revealing his vital personality and contribution to the region.
He was described as a brilliant child, full-of-life, with early records showing him in and out of court in Gilmer County. One John Burk sued 22-year-old Peregrine for "getting his daughter Jane with child," asking $200 for the loss of nine months work by his "daughter and servant."
Peregrine was the son of noted West Virginia politician and businessman, Samuel Lewis Hays (1794-1871) of Gilmer County.
The 29-year-old Peregrine moved to Arnoldsburg in 1840, purchasing land along the West Fork of the Little Kanawha, near the present day Arnoldsburg Elementary School.
The elder Hays was a good role model, having served in the Virginia state assembly as a congressional representative, and sired successive generations of legislators, prominent in the establishment of several West Virginia counties.
Sam Hays was described as an "old Virginia gentlemen and slave holder." Peregrine followed in his father's footsteps, with political ambitions and business acumen.
Peregrine also had house slaves in Arnoldsburg, one of a few slaveholders in the county before the Civil War, some of which are allegedly buried in unmarked graves under or beside the Louisa Chapel United Methodist Church.
During a 15 year period, living on the same tract of land, Peregrine was a resident of three separate counties. In 1840 Arnoldsburg was in Kanawha, in 1845 it was in Gilmer and in 1856 it was in newly created Calhoun.
In 1849, Peregrine was appointed postmaster of Arnoldsburg, a year later he was appointed deputy sheriff in Gilmer, and was elected sheriff in 1852.
PEREGRINE CREATES CALHOUN COUNTY
While a member of the Virginia Assembly from Gilmer and Wirt in 1855-56, he was instrumental in carving the territory that would become Calhoun and Roane counties, trading off and making deals with his political foes and allies.
During the fracas, there was a major movement to create California County (which would include present Roane County), and would have included a goodly piece of land that is now part of Calhoun, or it could have been all of Calhoun.
Phillip L. Crane of Lowell, Ohio, has researched and written "California County, Calhoun County of Roane County?" which shows Peregrine as a principal player.
A petition was circulated, gathering a large number of resident signatures along the West Fork of the Little Kanawha (and from present day Roane County). While Hays may have entertained the California creation, he ended up opposing it.
There were numerous other groups with proposed configurations. Peregrine, being the consummate politician and businessman, went into northern Calhoun below Grantsville and purchased land, just in case the county seat might be shifted in that direction.
During a final showdown, Peregrine was upset about which county his Arnoldsburg property would be situated, after which agreement was reached to create two counties, Calhoun and Roane, Calhoun being carved from Gilmer.
COUNTY SEAT WOES
Peregrine lobbied to make Arnoldsburg the county seat of his new county, a decision that would become embroiled in conflict for many years.
The north-south problem was execrated with the arrival of the Civil War, with most residents of southern Calhoun leaning toward the Confederacy.
The well-recorded dispute between Grantsville and Arnoldsburg over the location of the county seat, shows it shifting back and forth several times.
The animosity is based on some real issues, not the least being what appeared to be a "tilted election" over the location of the county seat in Grantsville.
One-hundred and fifty years later, there are still bad feelings toward northern Calhoun and Grantsville by some residents of Washington and Lee Districts.
In virtually every county election since 1856, would-be Calhoun politicians have used the animosity to their benefit or failure.
In recent years, the telephone company did little to help the situation by creating a north and south telephone exchange 354 and 655.
PEREGRINE - A CONFEDERATE WARRIOR
In 1859 Peregrine was appointed a Major in the Virginia Militia by the Virginia governor. A year later he was elected Sheriff of newly formed Calhoun, a position he held at the outbreak of the war.
He enlisted in the rebel group formed by Arnoldsburg resident Captain George Downs, which later was known as the Nineteenth Virginia Calvary, fighting under the command of Brigadier General William "Mudwall" Jackson, a cousin of Stonewall Jackson.
Peregrine, besides his official appointment, was also linked to the county's rebel group, the Moccasin Rangers, and came to be known as one of the "men of desperate character...who were carrying on a war by a system of marauding and plundering and murdering."
He was captured early in the war and held prisoner at Camp Chase, Ohio, with his long-time friend George Silcott, who was later a Calhoun sheriff. Records indicate Peregrine was paroled from prison and managed to engage in some business dealings while the war continued.
A HISTORICAL PRESENCE
After the war, he returned to Arnoldsburg, although by 1872 he was back in Glenville running the family businesses and helping organize the Glenville Normal School.
In 1873 he purchased the old Gilmer courthouse for $300, to be used for the forerunner of Glenville State College.
In 1877 he represented Gilmer County in the West Virginia House of Delegates.
Peregrine, during his latter years, lived a quiet life in his father's house at Glenville - the "Old Brick," where he died and is buried nearby.
Peregrine's great-grandson, Bernard R. Hays of Arnoldsburg, wrote about the Hays family, they "like many of their contemporaries on the West Fork, had served the lost cause of the Confederacy, and having so placed their sympathy and manhood, denied themselves of any chance of future remuneration from a grateful government."
The distrust of those who supported the Confederacy resulted in discrimination, even excluding many of their names in the Calhoun census records, particularly after the stories of undisciplined blood-letting by the Moccasin Rangers circulated in the community.
Peregrine Hays is a man to be remembered, but even more importantly his many descendants who graced this community with their talents and contributions.
Editor's Note: We barely touched the surface of the Hays story and this important West Virginia family, many of which have made their own important contributions. Much of the family history is deposited in the WV State Archives in Charleston and the WVU Library in Morgantown, including hundreds of documents, mostly donated by the late Bernard Hays.