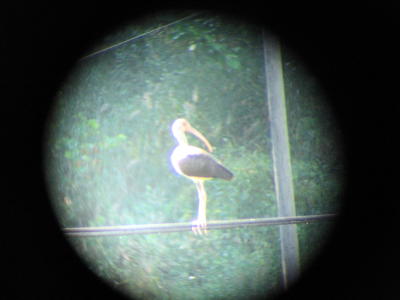 White Ibis spotted on Calhoun River
Ansel Payne of Grantsville spotted a rare bird Monday, at least in this part of the USA, along the Little Kanawha River in 2006.
"My girlfriend and I spotted this most extraordinarily out-of-place bird in the Henrietta area," said Payne.
It is a beautiful, young White Ibis (Eudocimus albus).
Payne took the photograph through a crude combination of a digital camera and a Canon spotting scope.
The White Ibis is native to Florida and the Gulf Coast and are rarely seen any further north than Georgia.
"This is pretty much equivalent to watching a flamingo stroll past the Koffee Kup in Grantsville," Payne said.
How this straggler got to Calhoun County is anyone's guess, but it is hurricane season and a strong Atlantic storm could've blown it in.