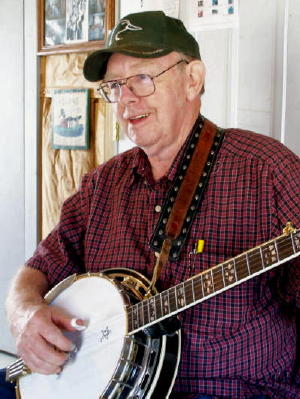 "Tube Check" is a grinnin' banjo picker ...
... has a banjo for every occasion
("Even got some really good ones for sale")
By Bob Weaver 2006
Calhoun's award winning banjo player, Eugene "Tube Check" Parsons of Orma, is having the time of his life, playing his banjo and making music with his friends.
"We have a great time playing music. It's in my blood," said Parsons, referring to his well-known Appalachian musician mother, the late Pheoba Parsons and his uncle, the late Noah Cottrell.
"We have some of the best musicians right here in Calhoun," he said, "And they often don't get their due."
The "Tube-Check" nickname comes from being an early radio and TV repairman. "Remember when you use to fix them when they broke?" he asked.
Sitting in his cozy out-building he built along the creek up Euclid-Nicut Road, he strums "Here Rattler, Here," an old-time tune his mother taught him.
Shortly thereafter, he played "Minnow on the Hook," another old mountain tune. "That was my mom's favorite," he said, speaking affectionately about a dozen or more of Calhoun's mountain music makers, some of which have passed.
The 70-year-old Parsons has named his music shed the Duck Pond, for the dozens of ducks that wander up and down the creek. "We have cookies and coffee for the visitors," who frequent the location for jam sessions.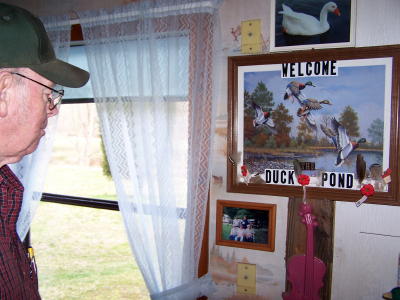 The Duck Pond has an "open door"
for regional music makers to play a few tunes ...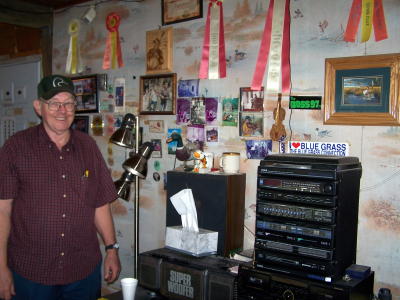 ... the walls are filled with awards, mementos and photos
A frequent visitor to the Carter Family get-togethers and lots of other music fests, Parsons is a three-finger picker "Carter style."
"It has a sound I really like," he said.
Parsons recalls an earlier time in Calhoun when music played a more important role in family and community life. "We went to hear live music whenever we could," at the Orma Theater and the Mt. Zion Drive-in.
They'd book a lot of famous bluegrass and country musicians like Flatt and Scruggs, Ralph Stanley, Little Jimmy Dickens, Buddy Starcher and Grandpa Jones, that era faded by the 1960s.
Parsons has been a winner at such noteworthy festivals as Clifftop and Vandalia.
"I just go and give it my best," he said.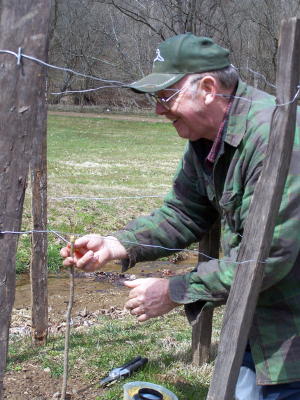 The multi-talented Parsons takes time from
pickin' and grinnin' to graft some fruit trees