This Hur Herald story was picked-up by several newspapers and magazines across USA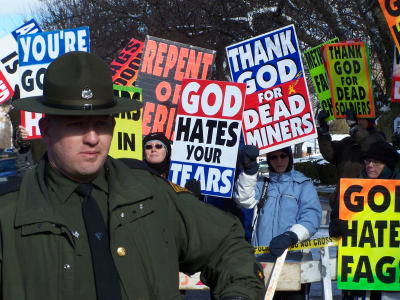 Hate group display signs claiming God's
wrath fell on the twelve coal miners killed at Sago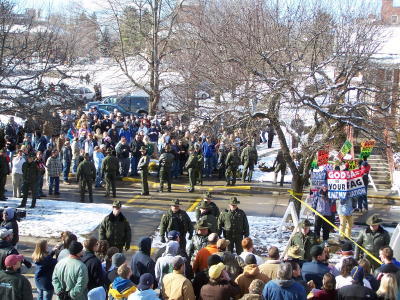 Westboro Church hate group taunts crowd during
protest, with State Police holding tight security line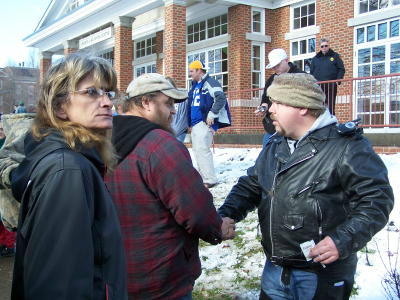 Observers shake hand of man who jumped security line toward protesters
(Hur Herald Photos)
By Bob Weaver
January, 2006
About a dozen members of a Kansas hate group protested yesterday at the memorial service for twelve West Virginia miners held at West Virginia Wesleyan College.
The group, which proclaims hatred for homosexuals and the military, held signs that said the miners are in hell and taunted bystanders, some of which exchanged un-pleasantries. They were standing on American flags.
At least three bystanders became agitated and broke across the security line, causing prompt action by State Police. The protest group quickly broke and ran to their vans, to be escorted from the site by police cruisers.
There were no arrests or no injuries.
Authorities had positioned the group some distance away from Wesleyan Chapel, where services were held without any disturbance.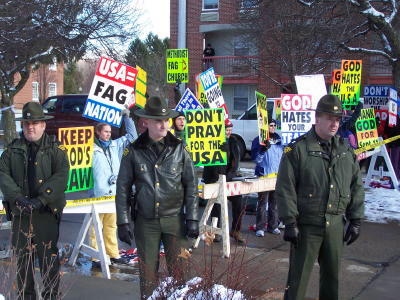 Crowd becomes angry when protesters drop
American flags to the ground, standing on them
The fringe group had circulated fliers announcing the protest, reading: "Judgment in West Virginia! Thank God for His Outpoured Wrath and for 12 Dead Miners."
The Patriot Guard Riders, a non-violent mixture of motorcycle riders from across the nation, were set up some distance from the protesters, but were apparently not asked by family members to "shield" the protest group.
The Kansas group, which has been around for many years, and known as the Westboro Baptist Church, sponsor a hate campaign and website called "God Hates Fags," and have gained national notoriety for picketing at the funerals of soldiers killed in Iraq.
Dr. John Warner, professor emeritus at West Virginia Wesleyan College and a Methodist minister, said "They bring shame to my hometown of Topeka and the Christian religion," said Warner. "They certainly do not represent the teachings of Jesus," he said.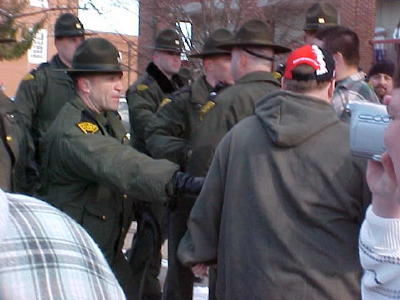 State Police quickly respond when a few
crowd members lurch over security line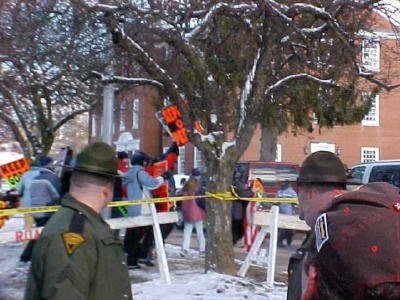 Within seconds the protest group
"packs it up" and dashes toward their vans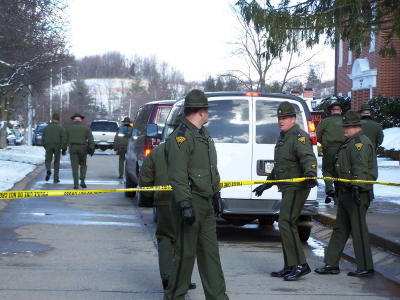 State Police circle protesters vehicles as they drive away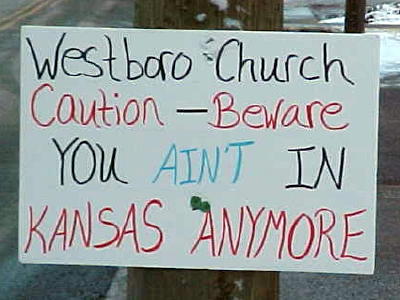 Sign seen on Buckhannon street
(Hur Herald Photos)