Years have now gone by since Ox Johnson was returned to the Calhoun sod (2005), his longtime enthusiasm for Calhoun High School, the athletes, the construction of the football field at CM-HS, and his dedication to establishing the Wayne Underwood Memorial Museum - and his life example giving back to communities

By Bob Weaver 2005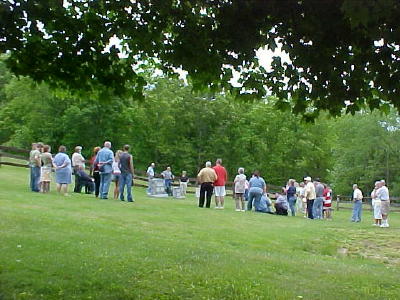 Ox Johnson was brought home to a Calhoun hillside yesterday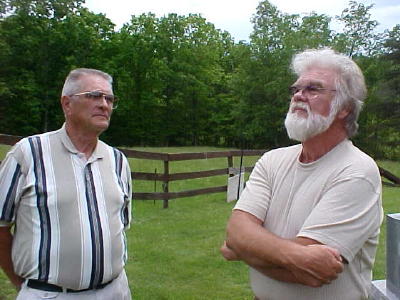 Junior Smith and Loyd Wright, the surviving "Amigos" remembered their life-long friend from the Class of 1955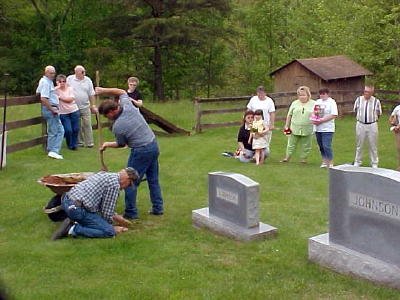 Rick Sampson and brother Howard Johnson return cremated remains
Lee "Ox" Johnson, 68, returned to the Calhoun County sod yesterday.
Family and friends gathered on a hillside near his family of origin, remembering him, praying, listening to music and placing flowers.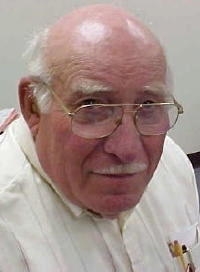 "He was an all-American man, a friend to everyone," said long-time friend Junior Smith, one of the two remaining "Amigos," all well-known supporters of Calhoun High School athletics.
Smith and the other "Amigo" Loyd Wright, attended the service, both being Ox's friends since their days at Calhoun County High School, graduating in 1955.
Wright said he talked with Ox a day or so before he got sick. "He was excited about the upcoming CCHS all-class reunion and was working on a talk that be planned to give. He never lost touch with his roots," Wright said.
"He was a man for all seasons, who gave of himself again and again. When he started something he kept with it. Over at the Washington Volunteer Fire department he was the shaker with their ramp festival for 30 years," said Wright, going to dig 75 bushels up in the mountains, cleaning and cooking them. "Heck, that project was just a drop in the bucket for Ox."
During the last year or so, Ox had been promoting the Wayne Underwood Museum at Calhoun Middle-High School, a building that includes rented box seats to raise funds for athletic programs.
Wright says he and Smith will continue the endeavor.
Ox reveled in his football career, which began at Calhoun with coach Wayne Underwood. He played college sports and had a round with the Berlin (Germany) Bears.
"Ox was a man of many talents and trades," said his brother Howard Johnson of Grantsville. "He never quit going to school and learning new things," he graduated from Salem College and attended Marshall University.
He had a Bachelor's Degree in chemistry, and worked as a research chemist, retiring from GE Plastics. He returned to college in 1974 to get a RN degree in nursing.
"Ox always gave back," said Wright, being the Water Commissioner with his local PSD for 25 years and was a Red Cross volunteer for over 30 years, he volunteered his time in some the country's major natural disasters.
He was a community man, blooming where he was planted, involved with Emergency Medical Services, the Washington Bottom Fire Department, local PTA, Washington Bottom Community Building Association and EMT instructor.
He was a member of the American Society of Safety Engineers, the Moose and Eagles Lodge and the Federal Credit Union Board.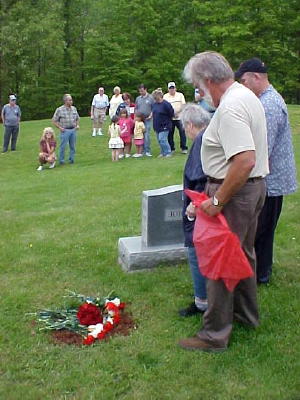 Loyd Wright with Dawn Johnson, paying respects
Family members said he still had time for his children, and more recently his beloved granddaughter Abigail, not to forget his marriage of 44 years to his wife, Dawn. He still managed to operate his 70-acre farm, raising lots of potatoes, which he gave away.
He was a son of the late Willard C. and Opal Harris Johnson of Grantsville.
He is also survived by four daughters, Linda Johnson of Parkersburg, Linnie Johnson, Luinna Sherwood and husband, Gary, and Larene Johnson, all of Washington; one granddaughter, Abigail Lea Sherwood; two sisters; and five brothers.
In addition to his parents, he was preceded in death by three sisters, and three brothers.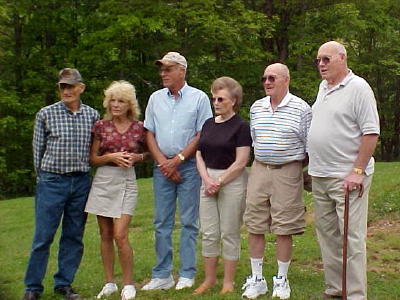 Ox's remaining brothers and sisters gather after service