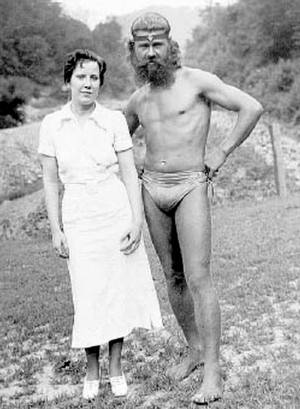 A Clay County legend died at 97 in 2005.
Call him eccentric, free spirited or a folk hero.
Orval Elijah Brown (1908-2005) was an individual who gained notoriety as the "Clay County Wild Man" during the Great Depression, using his untamed physique that included a flowing beard and the wearing a self-made loincloth.
Brown said he was influenced by Edgar Rice Burroughs' Tarzan character, and quit school to pursue his life drawing attraction to himself, saying he had been a hobo in 30 states, going to carnivals and fairs.
Living his early life on his family's farm in the Big Sycamore section of Clay County, he enjoyed various outdoor pastimes, and demonstrated an aversion to clothing.
When he was 17, he fled his parents' farm to walk to the South America's jungles to live like his Tarzan hero, but just made it to the Rio Grande.
By the age of 20, Brown's behavior make him a local folk hero, and visitors flocked to the Brown homestead to have their picture taken with the "Wild Man" for the price of 25 cents. Brown said on some days he earned $30.
Older Clay residents will long remember his striding up and down Main Street in his loin cloth, flexing his muscles for photographers.
Despite his unkempt look, Brown claimed to live a disciplined life free of sex, drugs, and alcohol, and he continually worked to maintain his physical health.
His posing career was interrupted by service in the U.S. Army from 1930 to 1933, where he played football and took up boxing. He also served in the Navy from 1941 to 1943.
Upon his honorable discharge from the Navy, he returned to Clay County. In 1950, Brown was arrested and charged in the killing of his first cousin, Wilford Reedy. "He was coming at me with an ax, so I shot him. He was drunk, a regular outlaw," Brown said.
After pleading insanity, Brown spent 17 years in Weston State Hospital and later lived in exile from Clay County.
In 1995, Brown's health forced him to a veterans' hospital in Beckley. Brown then moved to a retirement home in Roane County.