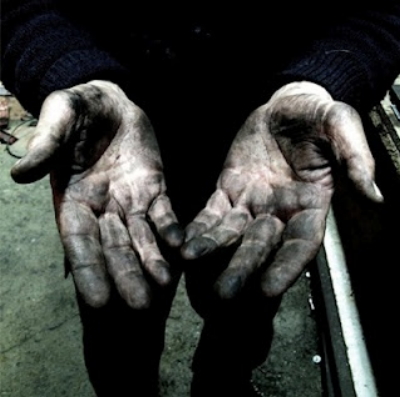 By Bob Weaver
Speaking of the Great Depression, my dad Gifford Weaver said over and over "There were no jobs." Nearly 1000 Calhoun residents obtained bare-bone government employment from the Works Progress Administration (WPA). He frequently walked the 10 miles to Grantsville or other work sites to put in his labor, including the sledge hammering of rock into many of the county's rural roads.
The small weekly check held off starvation.
A short time later this decade of depression survivors marched off to fight in the great war - WWII.
Figures furnished by J. Elmer Hall, chief county timekeeper, in 1936:
Eight hundred WPA workers are employed, and 82 school children are working under the National Youth Administration. The latter are employed on school projects. Included in the list are 38 foremen and 17 superintendents and timekeepers for the various projects.
Projects in the county, with superintendents and timekeepers, are:
Creek and Hollow Road: W.W. Bower, superintendent; Elias Yoak, timekeeper; 18 foremen; 475 workers.
Minnora-Fink Run Road: W.C. Farrar, superintendent; Pascal Bailey, timekeeper; 130 workers.
Street improvement in Grantsville: J.A. Giler, superintendent; R.P. Mollohan, timekeeper; 5 foremen; 64 workers.
School Repair: E.E. Anderson, superintendent; 10 workers.
Sanitation: Artie Gainer, superintendent; 5 foremen; 14 workers.
Emergency Education: W.W. Wallbrown, county organizer; 11 workers.
Recreation: Lenore Burns, Supervisor; 9 workers.
Historical Research: Virgil Little, research worker; Alice Ice, typist.
School Nutrition: Pearl VanHorn, supervisor; Arlene Trippett, timekeeper; 16 WPA workers, 12 NYA workers.
Sewing Project: Mrs. A.E. Weaver supervisor; Geraldine Fox, timekeeper; 1 sewing room leaders; 39 workers.
Beautification of School Grounds: Ralph Hall, supervisor; John Lockney timekeeper; 1 foreman; 70 NYA workers.
Commodities: Horace Haught, supervisor; 1 typist; 1 worker.
Instruction of Crippled Children: Violet Jarvis, instructor.
28 operators of shovels and state road equipment should be included in the two road projects.
Extensive programs of public service and improvements under the supervision of the National Youth Administration (NYA) were placed in action.
Youths between the ages of 18 and 25 were given part-time employment at hourly prevailing wage rates determined by the type of work and the number of hours worked.
They were given the opportunity to learn skills.
NYA boys reconditioned the athletic field at Calhoun County High School. Ditching and draining was done, 5000 yards of dirt was removed and 560 yards of stone and 1600 feet of drain tile laid. Eighty bags of cement were used by the boys in constructing steps and a turntable. A French drain 150 feet long was placed at the back of the field.
Much of that work is still part of Wayne Underwood Field.
At Beech Valley school playground, grading and ditching was done, tile was laid and the ground drained. Over 50 yards of rock, 80 feet of tile and 120 feet of four inch iron pipe were used in the project.
At Orma school the grounds were drained, 400 yards of dirt were moved and an 800 foot waterline was repaired and buried. At Stinson school, the grounds were in very bad condition were improved considerably by NYA workers.
At Beech Grove the grounds were cleared and graded, gas and water lines were repaired and concrete walks and playground equipment built.
At Jesse Run school a retaining wall was built, 40 shade trees were planted and the grounds were leveled and graded.
At Threemile school, grading, leveling and draining was done. The schoolhouse was moved back 60 feet, concrete walks and steps were constructed.
NYA girls assisted on nutrition and recreation projects. Other Calhoun county schools improved by National Youth Administration projects are those at: Knight, Mt. Zion, Bell Hill, Little Creek, Okey, Arnoldsburg, Craddock, Fairview, Lower Nicut, Mudfork, Rush Run, Big Run, Oak Hill, Pine Alley, Pine Grove, Minnora, Hur, Lemuel's Run, Bell, Barnes Run, White Pine, Matheny, Cottrell, Little Leatherbark, Lower Pine, Ayers and Millstone.
The famous cut stone walls and buildings, nearly all still standing, were part of the depression jobs program.
READ "IF WALLS COULD TALK (Part One) - The Fruits Of Labor In The Great Depression"
IF WALLS COULD TALK (Part Two) - Hidden Tunnels, Works Of Art