By Bob Weaver 2004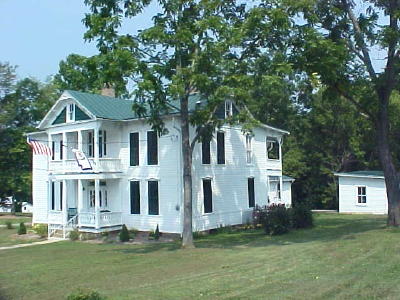 The 17-room Ayer's House of Smithville is one of Ritchie County's historic dwellings, now being restored for the 21st Century. It sits on a 305 acre farm not far from the south branch of Hughes River.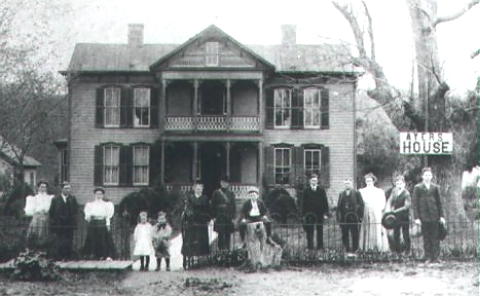 Ayer's House photo taken between 1906-1910 (L-R) Eva J. Howard Ayers, Allen A. Ayers (husband of Eva J. Howard), Alberta Ayers, Thelma Ayers, Michael Ashford Ayers, Mary Smith Ayers (wife of Michael A. Ayers), Major Michael A. Ayers, Howard Ayers, Michael Ayers, Hugh Ayers, Ina Wilson Ayers (wife of Hugh Ayers), Hazel Ayers and Bailey Ayers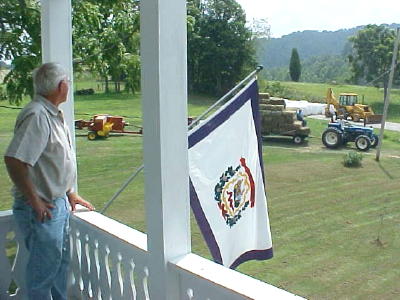 New owner Paul Goodnight, who has been restoring the dwelling,
watches hay being brought from the field from second story balcony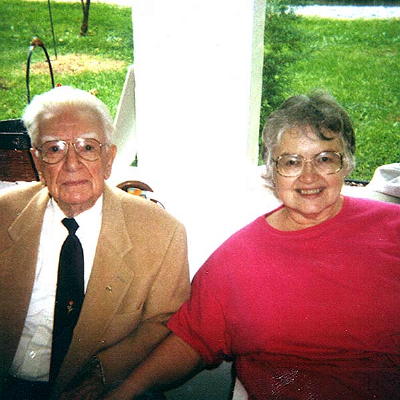 Smithville resident Ashford Ayers, the last Ayers to occupy the historical house, died at age 99. Photo taken at Ayer's Reunion, Mt. Zion in 2000 for Hur Herald when he was 96, shown with his daughter Alice Brown. Ayers, a retired teacher, drove to the reunion in his late model car, spry and alert, lending a fascinating presence to the event
The historic seventeen-room Ayer's House, Smithville's most formidable dwelling, has been restored.
It graces the the 305-acre Ashford Ayer's farm near the meandering South Fork of the Hughes River, originally owned by early settler Issac Smith.
Ritchie County oil and gas businessman Paul Goodnight has spent over a year bringing the sprawling two-story dwelling, adjacent buildings and landscape back to life.
"It has required a lot of work, and we're still not done," said Goodnight. "It is a beautiful working farm," calling attention to field workers who were removing hay from a next door meadow. The house has been re-furnished.
"I'm not sure what we're going to do with it," he said, although it may be put up for sale. Goodnight, himself a fixture of the fading town, has restored other dwellings for members of his family. He moved to Smithville from Macfarlan in 1956.
He lives nearby with his wife, Jeanette Prather Goodnight, whose father was a longtime teacher and principal in the village. They have two children, Cynthia Dale, who is a member of the Calhoun Board of Education and Kenneth Paul Goodnight, who recently married a Calhoun woman, Terry Bell.
Records show the hotel and boarding house has been open for public use since 1828, when it was first licensed as "a house of public entertainment," which Goodnight says likely means a tavern.
Actually, William Cline built the first house at Smithville, on the Ayers site in 1816. This dwelling passed into the hands of James and Benjamin Hardman, two brothers, who came from Gilmer county. These brothers had married the daughters of pioneers Thomas and Phoebe Cunningham, the first settlers in the Frederick's Mill vicinity in 1807. Phoebe Cunningham is buried at Freed in Calhoun County.
There are several living rooms and parlors, two large dining rooms adjacent the spacious kitchen. The house has at least seven bedrooms, a few of which are small rooms used for the hotel.
A notable feature is the a second-story balcony on the front of the house and a second-story porch at the rear of the structure, with a wide view of the meadows.
A large cellar house behind the dwelling housed farm workers, with a detached summer kitchen nearby.
The first Ashford Ayers, a Major in the Union army, returned to Smithville in 1867, having married into the Smith family. He built the current structure.
Major Ayer's grandson, also named Ashford, passed away within the past year or so at the age of 99, having lived in the house until shortly before his death. He was the son of Allen and Eva Howard Ayers.
Union Major Ashford Ayers, who witnessed the surrender at Appomattox, was described as " a pedagogue, farmer, post-master, assessor, justice of the peace, deputy census-taker, and hotel-keeper, and has long been a prominent figure in the Baptist church."
An early history said he was the father of five children, Miss Alberta, C. W., who is in the employee of the South Penn Oil Company, H. B., Allen and Gertrude "the eldest daughter, who is sleeping in the churchyard."
PICTORIAL OF DWELLING AND PROPERTY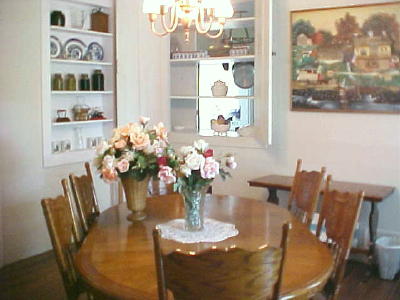 One of two large dining rooms near the spacious remodeled kitchen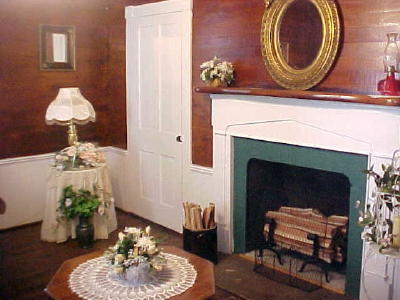 One of three parlor areas in the downstairs section of the house,
one room was likely an office for the hotel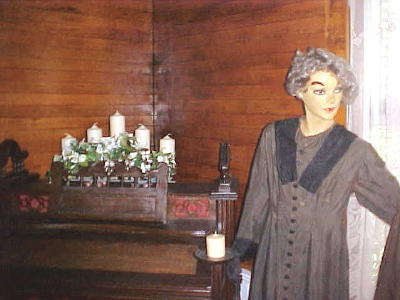 Stoic mannequin welcomes guests in front parlor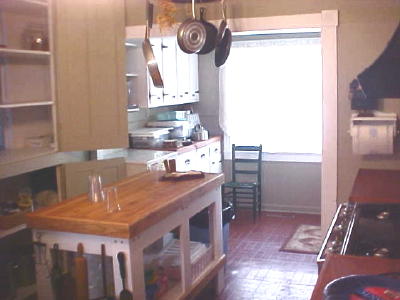 Old kitchen has been brought into the 21st century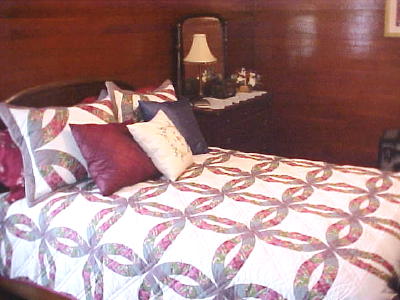 At least seven bedrooms provides plenty of room for rest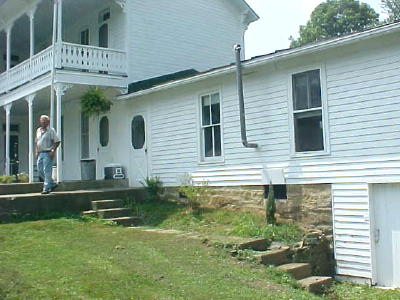 Large cellar house, used to sleep farm workers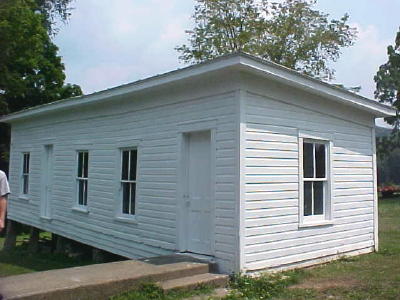 Summer kitchen was used for cooking to keep heat from main house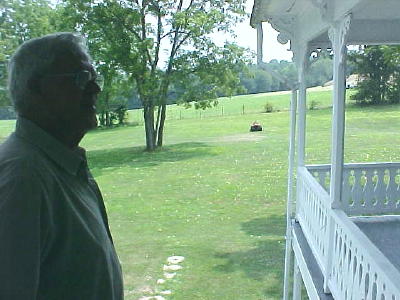 Goodnight stands on large second story porch with view of meadows,
which allows outside entrance to two upstairs rooms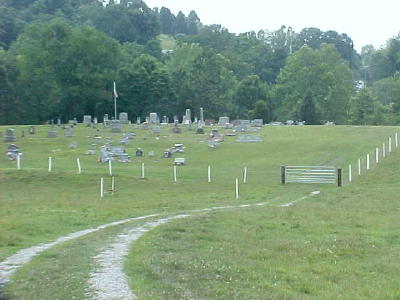 History of Ayers House can be told by the monuments
in the Ayer's Cemetery just across Route 47

Read "SMITHVILLE ONE OF OLDEST SETTLEMENTS - Along The Staunton Turnpike"