By Bob Weaver

Most American's are appalled by the beheadings in the Middle East but such brutal methods of execution, while not common, have taken place in Calhoun County.

Saudi Arabia is much more accustomed, having 50 official state beheadings a year, and then there is ISIS.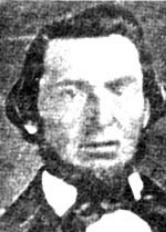 One such beheading reportedly occurred to Peter Augustus Saurborn (pictured left), a Calhoun citizen and member of the Moccasin Rangers, the notorious irregular Rebel band that operated in the area during the Civil War.
Saurborn was killed by Union soldiers on December 15, 1861 at the mouth of Sinking Springs near the West Fork of the Little Kanawha.
"He was beheaded to make sure he was dead. That's the gruesome story that has been passed down from one generation to the next in my family. The soldiers took his wife and children out of their home and burned it to the ground," wrote descendant Pam Drake of Tell City, Indiana.
Saurborn, born in 1819, came to WV and then to Calhoun about 1840 from Prussia, a highly-educated man who withdrew from becoming a priest.
He settled in the "Big Bend" section of the Little Kanawha River below the Annamoriah Ferry.
He married Mary Jane Bennett and had seven children. None of his descendants are now living in Calhoun County.
Historical records indicate his parents were Martin Saurborn and Franziska Flugel. His grandparents were Joannius Saurborn & Maria Anna Munsch & Franz Carl Flugel and Catharina Johanna Hisgene.
Saurborn operated a tannery along the river. Historian Boyd Stutler said he was a postmaster and deputy sheriff. The post office was operated out of his home from 1959-1860.
While some of Saurborn's relatives claim he is buried in Bethlehem Cemetery, it is more likely his body was returned to the Big Bend area with his wife being buried in the Knight Cemetery.
Photo courtesy of Norma Knotts Shaffer's Calhoun History and Genealogy
Note: We acknowledge the contribution of ancestor Pam Drake to this story. She resides at 1815 Pestalozzi St., Tell City, IN 47586.