PHIL PAYNE PASSED IN 2014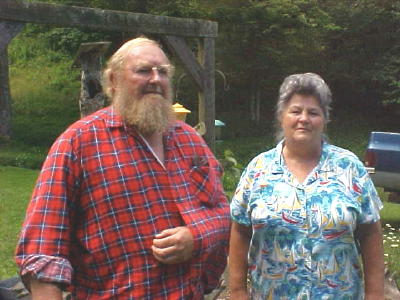 Phil and Joyce enjoy their gardens
on Barnes Run between Mt. Zion and Hur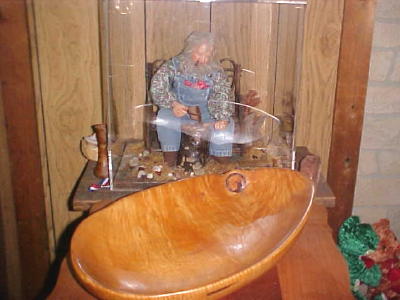 An awarding winning turned maple bowl juried by WV Exposition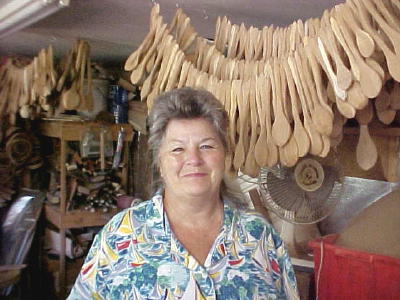 A specialty is wooden spoons, handcrafted, all sizes and shapes
By Bob Weaver
Republished From June 2004
Wood artisans Phil and Joyce Payne of Barnes Run have created some of the state's finest works, in addition to their hand-made crafts that have been sold in 23 countries.
Their juried works have long been displayed at Tamarack and other arts and craft centers around the country.
Among their finest work - handcrafted bowls, recognized as some of the best made in the mountain state.
A life-size stand-up cardboard "Phil" has often greeted a half-million annual visitors to Tamarack.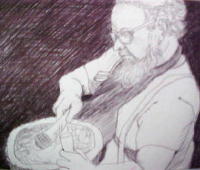 "This year we are really disappointed that we cannot be at the Mt. State Arts and Crafts show at Cedar Lakes," said Phil (pictured left in an artists rendering.)
The couple are still working at their Barnes Run home, getting their stock replenished and creating new pieces.
"We hope it will not inconvenience our many long-time customers, collectors and friends," he said.
"We hope to be back to the shows later this year, if the Lord takes us down that path," said Joyce. "We really want to thank those who have been part of our family these past fourteen years. You have been a blessing and an encouragement, and we praise the Lord for all of you."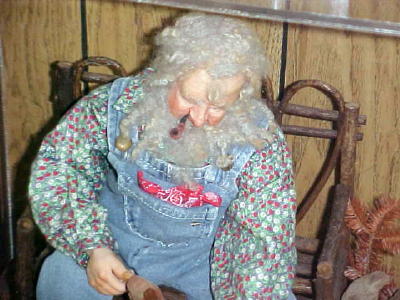 A model of Phil woodcarving, made by an old friend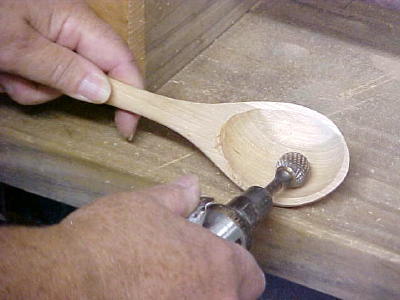 Each spoon is individually and carefully crafted