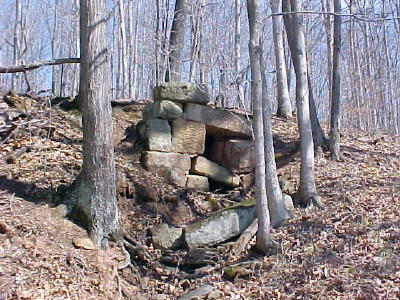 LK Railroad cut stone bridge on right-of-way
below Burning Springs above Rt. 5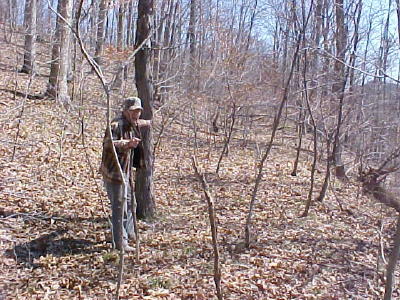 Jim Burrows stands on typical road bed still present along LK River
By Bob Weaver March 2004
RAILS AND ROADS ARE HARD TIME COMING
Transportation through and over the mountains of West Virginia is still a problem that holds backwoods counties hostage to what the greater world calls progress.
A "modern road" to open up Calhoun and other interior counties between the interstate highway system has been proposed for years. The Little Kanawha Parkway ideal was launched in the 1970s and the re-emerging Blue-Gray Trail Highway started in the 1960s. Neither have crossed the political threshold of likelihood.
The Parkway would connect I-77 at Mineral Wells and I-79 at Burnsville, cutting through Wood, Wirt, Calhoun, Gilmer and Braxton counties. The Blue-Gray highway has had several different lives and proposed routes, but would essentially link Jackson, Roane, Gilmer and Lewis counties parallel to U. S. 33.
When the north-south I-79 was proposed through the state, frequent maps displayed a straight shot through Calhoun. Local politicos were lukewarm at the idea, with newspaper editorials saying it was "important to support your local merchants" and keep business at home.
I-79 was not built through Calhoun, and business still did not stay at home.
There once was promise of a railroad to open the area, but unlike the persevering little engine that said "Puff, puff! Chug, Chug! Choo, Choo! I think I can, I think I can," the railroad didn't make it up the Little Kanawha Valley.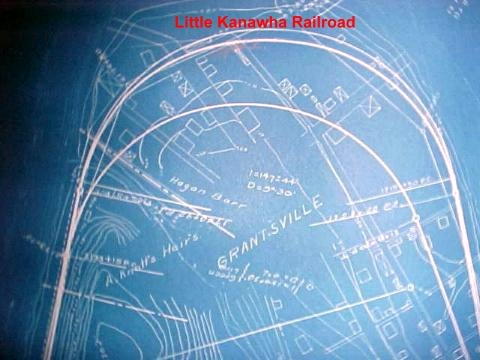 1902 map shows three routes surveyed through Grantsville with route close to River-Mill Street selected (Map from Doyle Hupp Jr.)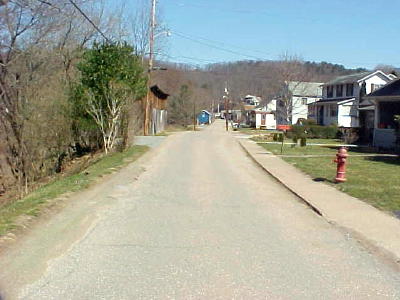 Part of roadbed was on what is current River Street, Grantsville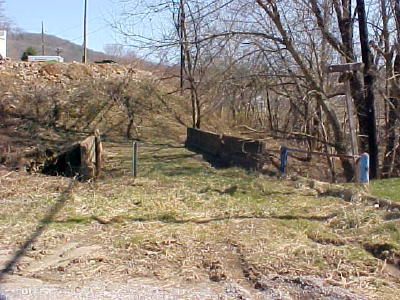 Track would have crossed Grantsville's Simon's Run near this Gilmer-Ritchie Turnpike Bridge, headed upstream toward Glenville
Just over one hundred years ago the opening of the area to commerce was the visionary Little Kanawha River Railroad. The idea burned bright for a few years, linking Parkersburg to the mainlines in Braxton County.
The project got underway in 1895 with the purchase of dozens of rights-of-way from property holders along the Little Kanawha River from the Wirt County line to the Gilmer County line.
Although the railroad did reach Owensport near Palestine, grading, filling, bridge and trestle building continued up the river through Calhoun for several years, but no track was ever laid.
The project took on several different names through several different companies.
Voters in three Calhoun districts, Sherman, Sheridan and Center supported the idea when a levy was placed on the ballot, raising $24,000 toward the project. Riverboat operators and ox-team owners, some owned by county political families were not so enthusiastic, nor was the Baltimore and Ohio Railroad.
The LK railroad had proposed and selected routes, denoted in detailed maps issued in 1902.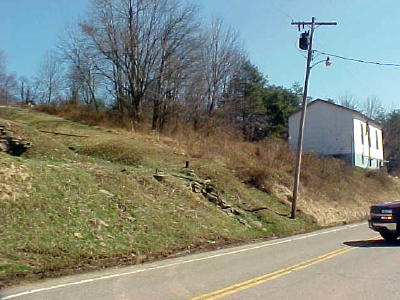 Remnants still remain of track bed where Big Bend church now resides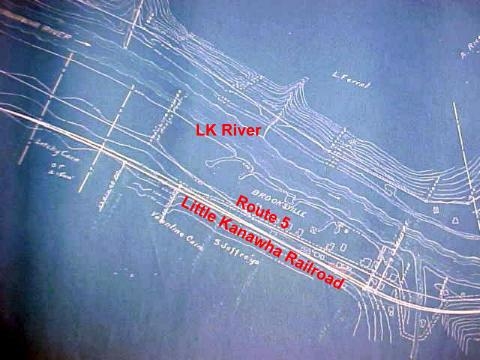 Survey through "downtown" Big Bend (Brooksville) in 1902 (Map from Doyle Hupp Jr.)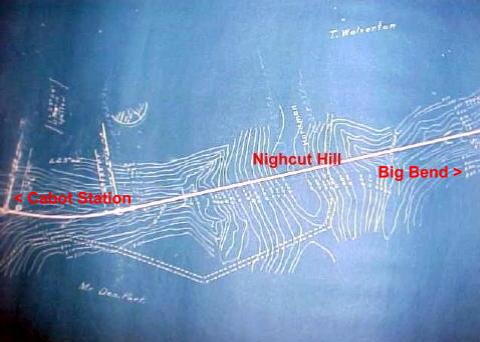 Rail line took a shortcut over Nighcut Hill away from LK River, a steep grade to Cabot Station (Map from Doyle Hupp Jr.)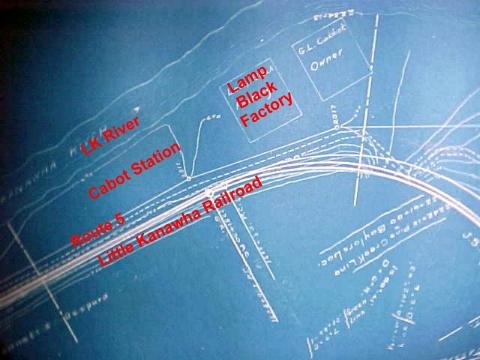 Road was across or on current Rt. 5 at Cabot Station's lamp factory (Map from Doyle Hupp Jr.)
County Surveyor Doyle Hupp, Jr. said "While the right-of-way cut through the hills along the river above Creston with at least one bridge crossing, most of the right-of-way was parallel Route 5."
There are still signs of the early grades along the river and Route 5 at Big Bend, near the mouth of Big Root where the railroad was to take a short cut over Nighcut Hill and in Grantsville, near what is now River Street.
Remnants of a right-of-way and bridge building are still visible on the Gainer farm above Grantsville with stonework for a crossing.
Arling Stutler, brother of historian Boyd Stytler, wrote in the 1960s that the nearest the railroad got to Grantsville was Hamilton Hollow below town, with large amounts of dirt being moved for the grade.
There was a railroad work camp at the mouth of Leafbank with lots of "Negro workers and mules," he said, with another camp near the mouth of Big Root.
"My brother (Boyd) worked at the commissary as a clerk and later he was a water boy," he said, recalling a large number of Italians had worked on the project "baking their own bread."
Much of the grading has been disrupted by the building of houses, roads and other projects.
Farmer and businessman Francis Cain, who lives above Big Bend along the river, said the railroad company purchased rights-of-way with and without reversion clauses. "During the 30s a lot of people got upset because the railroad rights-of-way were stuck," in legal limbo, the company having gone bankrupt.
The Little Kanawha Railroad encountered financial trouble, and began to sell-off its interests to other companies after it was placed in receivership.
A new company launched a project that called for the construction of six tunnels and nine bridges between Parkersburg and Grantsville. Construction began in full in 1903 with grading and building trestles. Once again the project ran into financial problems when the railroad canceled its plans in Gilmer County.
Blaming began, and the Grantsville Town Council offered to assist the project in any way they could. A citizens meeting in Grantsville in 1903 called for completion of the project.
Calhoun residents blamed each other for the failure of the project, but accounts said the county had little control over the ill-fated project.
Charges arose that money was stolen from the $5,000,000 project, and a congressional investigation was launched several years later.
A railroad effort that did materialize in parts of Calhoun shortly after 1900 was the Elk and Little Kanawha Railroad, which came from the Elk River at Gassaway through Rosedale and Shock to run deep into the primitive Bear Fork. (At least eleven articles and dozens of railroad pictures from Bear Fork can be found under People, Humor and History: "Tales of Bear Fork").
The E & LK was a narrow gauge which ran into Calhoun County at least eight miles, both down the right fork of Crummies Creek and down Frozen Run and a short distance up Nicut. It also had a terminus along US 33-119 at Steer Creek, with the ill-fated intention of connecting with a "main line" at Russett.
Winding its way through the backwoods, the Standard Oil financed the train to haul tens of thousands of logs and barrel staves from the sawmills. Read Part Two: Millions Lost In LK Railroad Collapse