THE AMAZING CAL JARVIS CLAN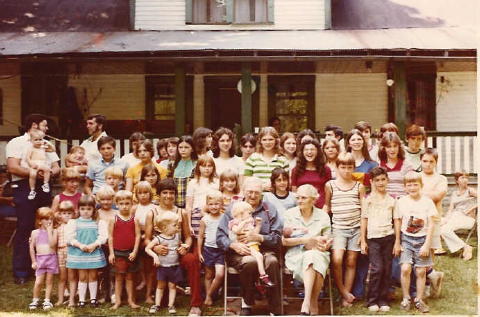 Cal Jarvis and his wife Grace surrounded by a few of their nearly 300 grandchildren, great-grandchildren and great-great grandchildren, taken in 70s. "He loved his baseball and swinging on the front porch, talking to anyone that had time to sit and talk. I never heard him raise his voice or lose his temper. He never met a stranger." - Grandson Chuck Keeton
A Cal Jarvis reunion was generally held every August
This article about Cal Jarvis was written in 1978 by Susan Grahame, and was published in the Times-Record:
Slowly the sun slips behind the lush, green mountain tops promising an end to a sultry, humid day.
The cool of the evening was settled in at the farm on Meadow Run Road.
With the help of his cane, Cal Jarvis makes his way from the house to the porch swing. He sits down, pulls out a pipe and begins to fill it with tobacco.
The porch floor beneath his slippered feet is worn, the gray paint and wood long since rubbed away by the shuffling of his feet. He sets the swing in motion.
A deep indent in the porch post to his left is deepened further as he takes a long, wooden match and with one swipe kindles a flame. The smoke from his pipe floats into the air.
There have been hundreds of such summer evenings for Cal Jarvis, more than his mind can ever recall.
Cal Jarvis is 93.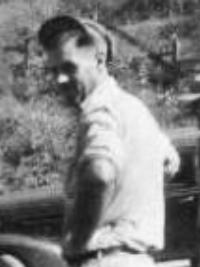 He is a product of Calhoun County through and through. And the story of his life may very well ring true to numerous other Roane and Calhoun folks.
He was born just a short distance from where he will probably die.
But his life has been a rich one - a happy one - and even as the fingers of age grip him tightly, he still finds it easy to smile. His lined face breaks quickly to produce the soft, gentle lines of a young boy as he recalls the past.
This particular evening some of his family have gathered around. Over the years, Cal Jarvis and his family have always gathered on the front porch. Only the faces have changed.
Now the faces of those gathered around him, are faces of grandchildren and great-grandchildren.
"I was born on White Oak in Washington District," Jarvis states proudly as he points across the mountain top, "just over there."
He grew up in what he describes as a gentle, old farmhouse. "We didn't have electricity - oil lights. There were eleven of us in the family..."
"...They're all gone now but me."
"In the evenings, we'd sit around on the porch."
A car drives by on the dirt in front of the house. Nestled deep in the holler miles away from State Road 16, Jarvis admits it wasn't easy to get around or into town when he was a youngster.
"You couldn't get a sled over this road," he recalls, "We used to ride horseback to the main road. A trip to Grantsville took two hours."
Life was centered around the farm and Jarvis, like many others of his generation, worked the farm life. He did,however, find other jobs here and there to bring in cash money.
He spent some years working for gas companies and retired from Hope Gas Company in 1948, and served two terms on the Calhoun Commission.
"Back when I was young there wasn't much to do," Jarvis said, "sometimes I would only make 50 cents a day."
His reminiscing is slow. He's not overly anxious to tell his tales. But he's quick to respond to questions.
"Now, in the winter I make brooms. Well, I didn't make any last winter. I was feeling sick."
But in the past, on cold winter days Jarvis made brooms. His brooms look as good, if not better than the store-bought variety, promising to sweep up every bit of that West Virginia mud and dust.
Are the winters as cold now as they were in his early days? He chuckles, "It was pretty cold last year. But I remember one big snow. I don't know as I recall the date (probably 1913) but the cows had to dig their way through the snow. You had to nail leather onto the bottom of your shoes to stand up."
What did folks do for entertainment when he was young? His eyes sparkle slightly, "We played baseball. We were pretty good for a country team. Ours was the Minnora team and I was the pitcher. Oh, we'd travel. We went to Arnoldsburg and Newton and Tariff."
"I was the pitcher. Don't know that I had a nickname. I guess my fast ball was best."
Cal Jarvis may have slowed down over the years, but his family keeps growing. He fathered 15 children - two died.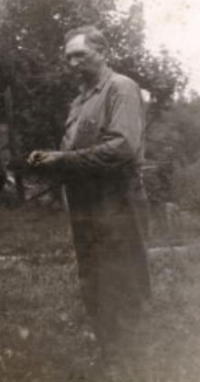 If you ask him about his grandchildren or his great-grandchildren his smile becomes a broad grin. But he can't tell you how many of them there are. And there is a reason for that. "I never counted," he says in explanation, "I never could, there was too many of them."
But nearest count indicates he has nearly 300 grandchildren, great-grandchildren and great-great grandchildren. And while he can't recall the number, let alone all the names, he beams with grandfatherly pride as photographs of the offspring are passed around the porch.
The sun has dipped further behind the mountain. A lone firefly flickers. "I hate the cold," Jarvis states, "But I can't stand the hot weather."
Evening has passed, night has settled in, the family gathering begins to break up.
From his porch swing Jarvis offers his good-byes. It's time to call it another day, another day nearer 94 years of age.
Some photos provided by Mrs. Randy Perkins and Mrs. Geneva Jarvis Badgett
MORE ON CAL (2004)
By Bob Weaver
Cal Jarvis lived four more years after this story was written, passing away at the age of 98 in 1983. He lived from the horse and buggy days through space travel, the Spanish-American War, World War I and II, the Korean War and Vietnam.
Born in 1885, he was one of eleven children born to William "Rusty Bill" and Nancy Jane Hensley Jarvis. "Rusty Bill" was a West Fork blacksmith. His first wife, Ora Alice Parsons, was the daughter of Peter and and Harriett Collins Parsons.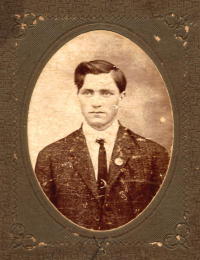 Cal and his first wife had seven children, Cecil Ray, Dessie Pearl, Maysel Lucille, Carl Bernard, Olive Grace, Paris Bruce and Rilma Pauline.
Alice Parsons left the holler to participate in the first election women were allow to vote in 1920. After casting her ballot, she was suddenly stricken and died on her way home.
Cal then married 20-year-old Grace Bailey in 1921, daughter of early West Fork settlers George and Annie Bailey.
Cal and Grace's daughter, Geneva Badgett, said her mother came to Alice's funeral, and expressed concern over the children, saying "I would like to help take care of these kids." Geneva said they had a wonderful life together, bringing forth ten more children. Grace died in 1982 at the age of 80. Both she and Cal's first wife repose side by side in the Clark Jarvis Cemetery.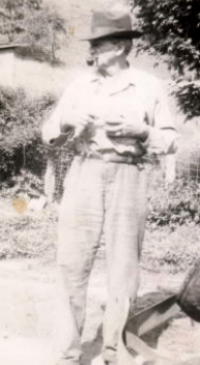 Cal went to work for the Hope Gas Company in 1921 as a driller, and took early retirement because of a health problem in 1948. He often walked six to eight miles a day to work, working twelve hour shifts.
Cal's children: Cecil Jarvis married Nell Arnold, Dessie Jarvis married Carl Jett, Maysel Jarvis first married Greely Badgett and then Euell Stalnaker, Carl Jarvis (still living on Two Lick at age 90) married Margaret Matheney, Olive Grace (Happy) Jarvis married Gail Deweese, Bruce Jarvis married Lillie Scarberry, Rilma Jarvis married Bronce Keeton, Conis Short and Kermit Chandler, Geneva Jarvis married Charter Badgett, Nell Jarvis married Brice Deweese, Curt Jarvis married Pauline Drake and Helen Burgess, Madeline Jarvis married Gordon Deweese and Donald Hardway, Bonnie Jarvis married Jennings Ellison, Charter Jarvis married Sandra Hawks, Bill Jarvis married Naomi King, and Gary Jarvis married Thlema Moore. Two children died as infants.
WHO'S WHO PICTURES FROM THE FORK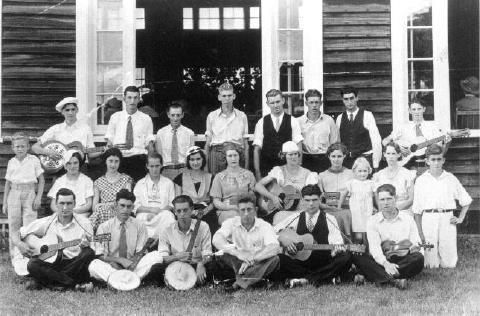 A musical group in 1930's led by Holly Stump that toured the state singing and playing
FIRST ROW (L to R) Carl B. Jarvis, Siers boy, Rector Siers, Holly Stump, Dwight Jarvis, Orvis Davisson
SECOND ROW (L to R) Earl Wayne Stump, Madge Jarvis, Godfrey girl, Virginia Bailey, Mrs. Orvis Davisson, Helmic girl, Ruth Stalnaker, Wanetta Stalnaker, Small child, Erin Ruby Stump, Golda Stump, boy
THIRD ROW (L to R) Doris Jarvis, Jink Jarvis, James Stalnaker, Euell Stalnaker, Monroe Siers, Lonzo Jarvis, Oren Davisson.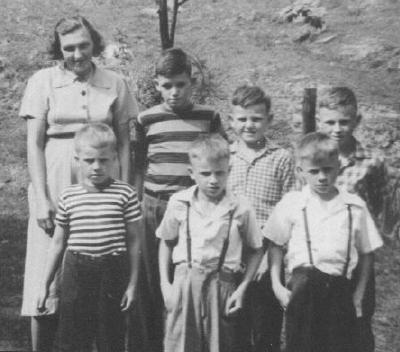 Geneva Jarvis Badgett, daughter of Cal and wife of Charter Badgett, and her six boys FRONT (L to R) Danny, Charter, Charles Lee
REAR (L to R) Ronald, Shirley and Kenneth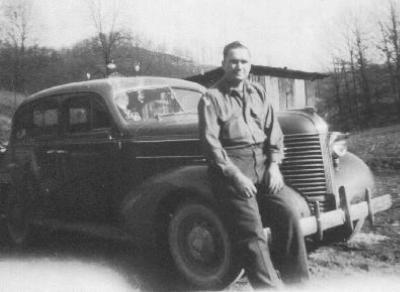 Carl Jarvis, who lived to be over 90, living on Meadow Run, son of Cal (Now deceased)