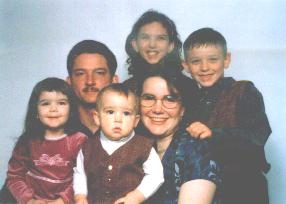 The Stewart Family
By Suzanne Mazer Stewart
MSZFROGGIE@aol.com
I've got two pieces of coal sitting atop my desk. One's the size of my palm, smoothed by the waters of the Tygart River from which I plucked it during a fishing trip several years ago. The other one is rough, angular, bigger than my fist, rescued from beside the railroad tracks near our home, not a mile from the mine which brought it to light after thousands of years underground. During trying times like those we've experienced the last 6 weeks or so, I look to those two lumps of black carbon for inspiration and encouragement.
Now, I know what you are thinking: I've gone beyond loyal West Virginia redneck and turned the corner into Hillbilly Hysteria. That the past few weeks of accidents, injury, illness and computer failures have left me a babbling idiot. Well, in defense of my sanity, allow me to explain.
Coal is pretty much worthless until somebody digs it up out of its bed and puts it to good use in some fiery furnace. People, too, don't really know what they are capable of until they are removed from that place of comfort and contentment we'd all prefer to spend our lifetimes in. You've got to get us hot and bothered before we really know what stuff we are made of. Will we produce steel, electricity or just ashes and soot? I like to think I'm a little stronger than anything the world can throw at me. I prefer to remember that our great cities, battleships and the lights of Broadway are all products of little lumps of coal. That way, there's hope for me, too.
That piece of river coal holds its own source of inspiration, too. It speaks of tenacity, perseverance, and patience. You see, it withstood that green water flowing over it for who knows how long. Sure, little bits of it were washed away over time. It's corners and angles were worn down to a flat smoothness by the relentless currents. But it still held together. It was tougher than that old river. It got a little worn, but it didn't get washed away. I'd like to think that I, too, can withstand the forces of nature, time and troubles, coming away smoother, shinier, more beautiful from the journey. Another glimmer of hope from within the black, unreflective surface of my little lump of coal.
And then there's the ultimate, greatest source of hope, of that light at the end of the tunnel. For what is a diamond but a lump of coal transformed? Time and pressure turn those ugly, dark, little lumps into some of the world's most beautiful, sought-after, cherished items. West Virginia is a diamond mine in the waiting. My little nuggets are diamonds in the rough. Maybe I am, too. Only time will tell.
Coal has brought great hardship and wealth, trouble and triumph to our state and her people. But, like those little lumps, we all have the great potential to shine, to burn brighter, to forge great strength. Remember that, the next time a season of sorrow passes your way. Be a lump. It works for me.