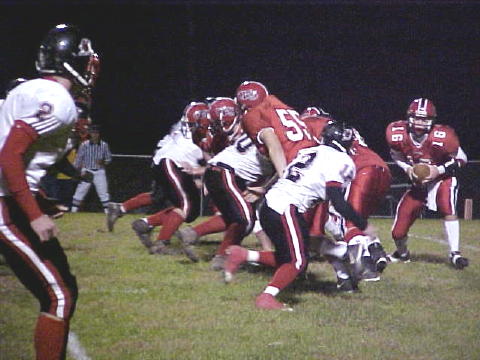 By Gaylen Duskey
Sports Editor
MOUNT ZION - When is a catch not a catch? When the referee says it isn't.
Friday night Calhoun's Derek Roberts caught what appeared to be a long bomb at the Ravenswood nine-yard line. He took two or three steps and ran out of bounds. The referee said he never had the ball.
Roberts said he took three steps with the ball before going out.
"I caught it," the Calhoun senior said.
Even coaches from both teams agreed Roberts made the reception.
Had the referee ruled Roberts caught the ball Calhoun would have had first and goal at the Ravenswood nine with plenty of time remaining.
But the referee didn't, forcing Calhoun to try a desperate pass on fourth down that was intercepted by Ravenswood's Tyler Kelly and returned for a touchdown. Following that Ravenswood held on to post a 20-10 victory.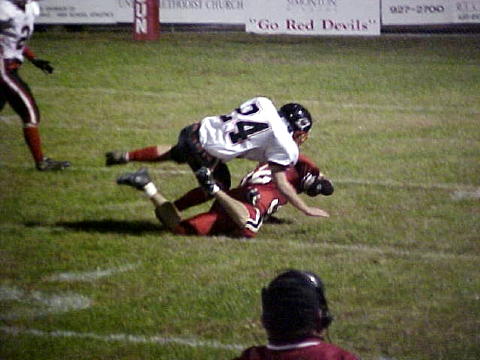 Calhoun played a good game...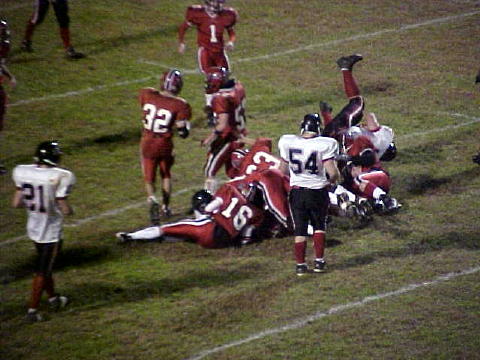 ...but not enough for the win....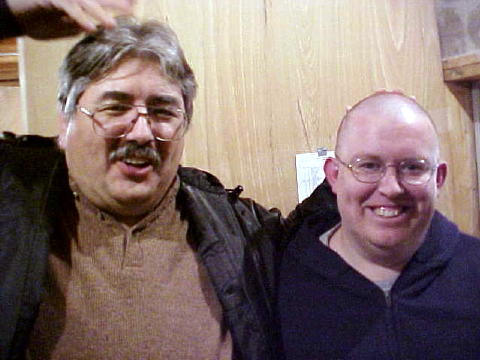 Bountiful hair sports reporter Gaylen Duskey
and hairless WVRC commentator Toby Wagoner,
whose head was shaved after Calhoun lost to Roane
The call ruined what was one of the top individual performances by a Calhoun running back in years as Eric Metz carried the ball 27 times for 223 yards, including 180 in the second half.
"It was my best game," Metz said.
Calhoun gave playoff bound Ravenswood all it wanted all night long, getting on the board first when Roberts kicked a 20-yard field goal.
Ravenswood bounced back with two touchdown passes from Brandon Smith.
First Smith hit Brett Greene from 16 yards out to give Ravenswood a 7-3 lead.
With time running out in the first half Smith connected with Eli Stagg on a 17-yard scoring aerial.
Calhoun got back in the game when Metz 13-10 in the third quarter. That quarter was dominated by Metz, who had 127 yards on nine carries. He had runs of 40, 37, 19 and 12 during the outburst.
But that was a close as Calhoun could get as the referee said Roberts did not catch the ball at the nine effectively ending the closest the Red Devils would get to scoring in the final period.
With the win Ravenswood advances to 7-2 with a season-ending date against Ripley. Former Calhoun All-State player Dick Sturm coaches Ravenswood.
Calhoun, now 4-5, winds up its season on the road against Braxton County next Friday night. The game will be broadcast on WVRC-FM in Spencer on tape delay.
SNAPSHOTS FROM LAST NIGHTS GAME