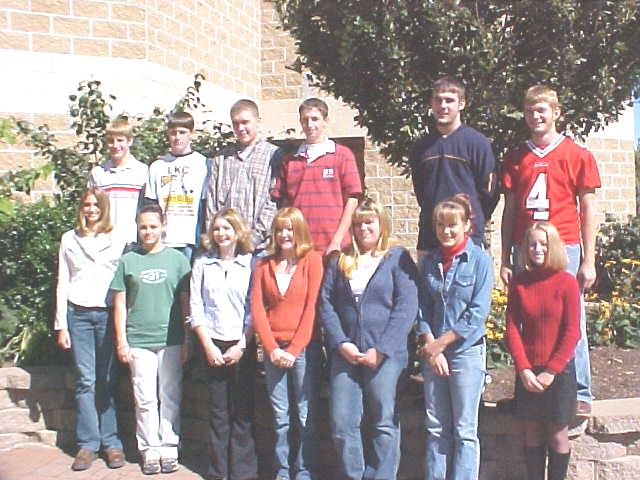 HOMECOMING COURT (Juniors were absent) Front Row (L to R) Courtney McKown, Natasha Shock, Teresa Siers, Brittany Church, Samantha Parsons, Amanda Richards and Casey Westfall; Back Row (L to R) Ryan Snider, Justin Ashley, Jonathan Hall, Ryan Bremar, Chris Sampson and Derek Roberts (Shawn Laughlin, not present)
The Homecoming Parade will be held this afternoon at 2:30 p.m. with students being dismissed from class to participate in the event. Floats and entries will line-up at the Mt. Zion Drive-in starting at 2 p.m.
The parade route will be south on Rt. 16 to the county Board of Education office, behind the school. "There is plenty of room to watch the parade along the school road," said Principal Mike Offutt.
Students will participate in a thuse in the school gym following the parade.
Calhoun High students can attend Fridays homecoming game free provided they make a donation of at least one canned or dried food item. The food will be donated to the First Baptist Church pantry, which serves all of Calhoun County.
The Queen and her Court will be introduced at half-time. The Homecoming Dance will be held at the school following the game. It will conclude at midnight. There is a $2 admission fee.
Homecoming festivities are sponsored by the CCHS Student Council, with the support of administration, faculty and the student body.