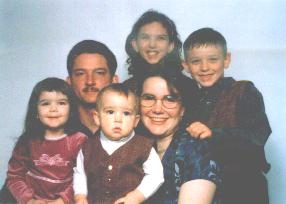 The Stewart Family
By Suzanne Mazer Stewart
MSZFROGGIE@aol.com
I've waited, purposely waited to write this new column. I decided to wait until after September 11th before writing, as I wasn't exactly sure what my reaction would be this year. Here it is, the end of the day, and I've got to live up to my self-made bargain and say a few things. I can't say I'm shocked or amazed at what I've seen and heard and read today, because I guess I've finally been around too long to find most things shocking. I'm still not 100% sure of how I feel, though. Part of me is madder than heck, and part of me is a little bit scared, and part of me is sad and left wondering. In fact, that's very similar to what I was feeling this time 2 years ago.
There's a song on the radio called "Have You Forgotten?" which asks that very question of the listener. From my experiences today, I'd have to say that the majority of Americans could answer that question with a big, resounding "Yes." Where are the flags that flew so high and proud in the days, weeks and even months following those vicious attacks just 2 short years ago? And why, after the president of this country asked, were so many of those that were flying, not at half-staff? Have we grown so callous, so opportunistic in our patriotism, that we simply don't care? Was all that national pride so prominently displayed in late 2001 really that false, that phony? I sit here sadly, and have to wonder.
I read a quote by a young person that they were sick and tired of hearing about 9/11. That they couldn't understand why we had to focus on the tragedy again and again. OK, I'll try to explain it in terms you might be able to comprehend ... ummm, let's see. WE WERE ATTACKED, you idiot!! No, it wasn't a bunch of foreign military, it probably didn't even effect you, in your nice cushy lifestyle out California (I call it Cereola - land of fruits, nuts and flakes). However, and this is the biggie here, it DID effect a lot of us. Some 3, 000 of us were effected immediately. A million or so of us were effected directly. Many of the rest of us were effected emotionally, psychologically, spiritually. It's important to us. Those people were important to us. Our country is important to us. They got our dander up and we want some heads on silver platters. Most importantly to us, we want our lives back. Get over it.
I heard the former Mayor of NY, Rudy Giuliani, say that he was disappointed by what he was seeing. In his opinion, we are returning to normal too much, too quickly. We're moving on, which is good. Healing is always a positive thing. But, and this is another biggie here, we seem to be forgetting the wounds. It's like the old thing where if it hurts, don't do it. It's too painful to remember, so we choose not to recall. Or maybe it's selfishness - that old "me first" attitude. "Didn't happen in my town, to my family or friends, so why should I care?" The scary thing in all this for me is that I can't help but wonder if that attitude isn't part of what got us into this mess in the first place.
This country is the world's largest exporter of the idea that is "freedom." That's the last biggie here. When we are attacked, that idea is also attacked. That freedom allows those young people on the west coast to voice their opinions. It allows me to voice mine. It gives us all a voice. I think, too, in our remembering, we give a voice to those many who have died in the cause of that idea. In freedom they lived, for freedom they died, and we need to be free to remember their needless sacrifice.
So, in closing, to those of you who flew your flags or attended a memorial/remembrance service or program of some sort, to those of you who stopped and took some time out of your busy day for others you've never met and never will - thank you. You are, in my opinion, the true Patriots of Patriot Day. To those of you who wish people like us would go away, well, in the midst of my mixed emotions, I have to say a begrudging "thank you" to you, as well. You remind me that it takes all kinds to make a truly free nation. Even if I do wish there weren't quite so many of you...