Submitted by Diann Clothier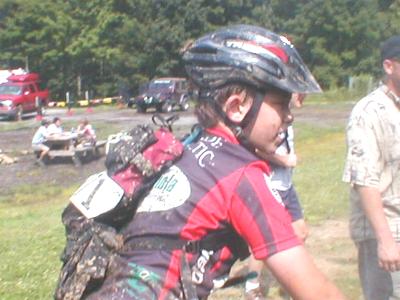 Cai Clothier finished 2nd at the Free Wheeling Bike Race, August 18
Once again, Team WV-BonJovi found itself mountain bike racing the weekend away at two different venues - members of the "A" Team, Nick Waite, Clay Evans, Bryan Fawley, Mandi Riddle, and Steve Thaxton, found their way to Durango, Colorado, for the NORBA National Championship Final Race.
Nick Waite, racing Men's Pro, finished his XC race in 22nd position, and found himself in 19th place for the overall 2003 ranking. Junior Expert racer "Flyin" Bryan Fawley finished 6th, but grabbed a national 4th place ranking for the year! Mandi Riddle, Women's Expert, came in 4th and visited the podium at Durnago, ranking 7th for the '03 season. Clay Evans, Men's Semi-Pro, took a 40th place finish and a 97th overall ranking, and Steve Thaxton, Men's Senior Expert, finished 18th, to rank 88th on his class for the year.
Steve, Team WV/BonJovi's team director and man about the skies, flew back to WV from Colorado with Clay Evans to put in an appearance at Winterplace for the WV Mountain Bike Association's Point Series Race. (A few weeks ago Dr. Steve found himself working with the BonJovi tour in Philadelphia when he really wanted to be in Idaho at the NORBA NCS race... so Jon BonJovi chartered a Lear Jet for him and flew him to Idaho to race, then flew him BACK to Philly in time for the next evening's concert!) The traveling duo joined members of the "B" Team for the daunting ski run climbs that the Free-Wheeling Winterplace is known for.
Clay Evans took first place in the Men's Expert Class, Mark Johnson managed an astonishing 2nd place in the Men's Sport 26-34 Class - astounding because he came in riding a bike with only ONE tire! Andrew Fetty, Jr. Sport 15-18, rolled into a 1st place finish, as did Courtney Dudley in the Women's Sport Class. Cai Clothier, racing Jr-14 and under, placed 2nd, and Steve Thaxton finished up 7th in the Vet Expert Class... might have been jet lag, huh? Other notable West Virginia Mountain Bike news: Sue Haywood, Trek-Volkswagon, once again grabbed the 2003 National Title for the Cross Country Short Track!