By Dianne Weaver 2003

Two hundred forty seven folks were hoping to become California's next governor, but only 135 actually filed candidacy documents, a $3,500 non-refundable deposit and a list of 65 supporters by last Saturday's filing deadline. The re-call election will be held in October.

Among the candidates are, Arnold "I'll Be Back" Schwarzenegger, Gary "What-Chew Talkin' 'Bout Willis" Coleman, pornography publisher Larry "Hustler" Flynt, and various other porn stars, politicians and sumo wrestlers who have qualified to run for governor of California.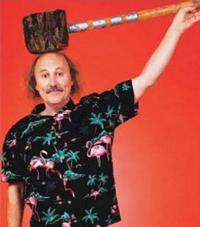 I guess if I lived in California, I'd have to vote for Leo "Sledge-O-Matic" Gallagher, the watermelon-smashing comedian, who peddles around the stage on a giant Big Wheel.
That in itself is not a bad idea, considering California pollution problems. Just get rid of all the cars. He could use "A Big Wheel in every garage" as a campaign slogan.
Gallagher has come up with a winning platform, which includes expanding the indecent exposure statutes to include kids walking around with their butts hanging out of their pants. He also thinks newspapers should run obituary notices for businesses that are dying in the state.
But enough about California, we have our own gubernatorial race to think about.
Gov. Bob Wise will not seek a second term, dropping out of the 2004 race three months after acknowledging an extramarital affair. Wise was linked to Angela Mascia, who oversees European projects for the West Virginia Development Office.
Enter, Icky "I'm Not A Politician" Frye.
Phillip "Icky" Frye was married to Angela Mascia at the time of the affair, but has since divorced.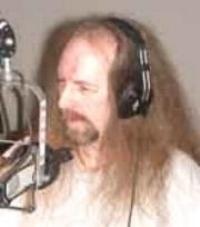 Icky vowed to remind voters of the affair, even if he had to run for governor himself to do it. "It's not just because of what he's done to my marriage," Icky said. "I think his record speaks for itself." Icky seems to have softened a little toward Wise, calling him "Weasel Boy" instead of "Weasel-faced bastard," as he did when he first learned of the affair.
Gov. Wise has announced he's not running for re-election, but apparently Icky has caught the bug and is running anyway. "West Virginia needs a change," he said, "I can be that change. We need someone in there who's not a politician, and I'm not a politician."
Well, every politician has to start somewhere.
Icky plays bass in local bands and says he doesn't plan quitting, if elected. "I'll probably play until I fall over," he says.
"I've got it in me, I guess." He said he wouldn't put music over running the state.
That's OK Icky, Senator Byrd fiddles and Gov. Wise clogs.
We like multi-talented officials.
Icky also repairs TV's and computers.
Apparently he's really good with computers.
Icky said on a radio talk show that he secretly intercepted e-mail and instant messages exchanged between his former wife and Gov. Bob Wise. "I captured all the computer instant messages ... I was about to capture all the e-mails that was sent back and forth."
Uh-oh!
The federal Electronic Communications Privacy Act of 1986, often called the Federal Wiretap Act, is the primary federal law prohibiting intercepting electronic messages. The West Virginia Wiretapping and Electronic Surveillance Act, has almost identical provisions. Violation of the statute is a felony, punishable by up to five years' imprisonment, $10,000 in fines or both.
Icky could be a candidate for jail, as well as governor, but that is not new in West Virginia politics.