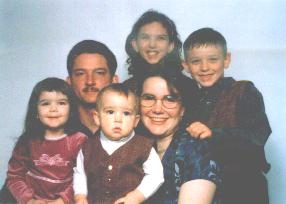 The Stewart Family
By Suzanne Mazer Stewart
MSZFROGGIE@aol.com
Ahhh, those slow, hazy, hot days of Summer are upon us once again. Time for taking things at a more relaxed pace. For kicking back in the porch swing and watching the approaching evening thunderstorm with mild amusement, perhaps even apathy. They are, after all, an all too common ending to these late Summer days. A season of slowness, a time of last-minute joys before Autumn and school work and raking leaves and all that.
YEAH, RIGHT!
You see, dog days have taken on a new meaning here in Frogpond with the arrival of our newest resident, Sam. Sam was rescued during one of those dark and stormy nights in July from the middle of the road in a most desolate and lonely spot. He's part coon hound, part Labrador, all ears, tail, tongue and puppy teeth.
Oh, he's made a wonderful companion to our sons. The old poem about a boy and his dog has probably never seen a truer life than in the sight of our barefoot 2 year old traipsing across the backyard with Sam close at his heels. Sam has even bonded with my Mom and Dad, who bring him treats just as if he were one of the grandchildren. Sam and Brian have spent many a Sunday afternoon snoozing on the couch, competing snores filling the room. The only one who has a problem with Sam, it seems, is me. And the cat.
So far since his arrival, Sam has developed a taste for Matchbox cars, cat food and the couch. Now, if you've ever stepped on a small stone, you'll know why the cars are such an irritation. Tiny pieces of sharp-edged metal and plastic are now found in the most inconvenient places with random abandon, lying in wait for the unsuspecting feet of passersby. The kids can somehow walk through this minefield of debris without even being aware of its presence, apparently. I'm always the one with the tire stuck between my toes, or the axle sticking into my arch. The timing of these incidences, too, leaves me to wonder about Sam's innocence in all this. You can only step on these bits and pieces of last year's pick-up trucks and convertibles in the dark, in the middle of the night, on your way to the bathroom, when noise and hopping around on the uninjured foot is sure to bring howls from somebody besides yourself.
Sam and Miss Whiskers have yet to come to terms. I'm thinking maybe there will peace in the Middle East or Northern Ireland or Capitol Hill before the two of them can share the same floor of the house without conflict. You would've thought that getting his nose raked by her razor-tipped toes just once and Sam would learn not to stick it so close to her. Nope. Not Sam. Not that easy, anyway. He has to bark and she has to growl. Then it moves into the dog-head-down-between-his-paws bowing and the cat-back-in-the-air-tail-fluffed position. Next comes the hissing and spitting and more barking. Lastly, she strikes with a good right hook to the nose and he goes yip-yipping through the house like his tail were on fire instead of his leading edge. And all this while you are on the phone with the preacher's wife discussing why your son was barking and growling at her during Sunday School last week.
As to the couch, well, Sam has now pretty much eaten his way down to the wood on one arm. Granted, Miss Whiskers had claimed that very same spot as her scratching post until I sprayed it with some of that kitty deterrent stuff. Still, Sam didn't have to finish what she'd started. Maybe he thought she'd take the blame. Maybe he needed some extra fiber in his diet. Maybe he thinks it looks better that way. All I know is that no amount of repairs are possible, and a new sofa is in need. That and some doggy dentures because I'm about to pull every tooth out of his head.
A wise old lady I once knew taught me many things of a useful nature to Life and the living of it. She even told me a thing or two about pups and dogs. Her house training techniques are working beautifully. Her leash training advice and other obedience school stuff was right on the money, too. But in dealing with Sam, I can't help but think of something she said once regarding an old hound of her husband's. She said that the larger the knot on the top of a dog's head, the smarter and more sensible he would be. Alas, Sam is a smooth-headed soul!