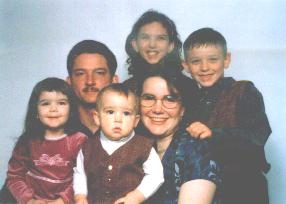 The Stewart Family
By Suzanne Mazer Stewart
MSZFROGGIE@aol.com
Well, it seems like just yesterday I was preparing for Easter. Now, the first of June is upon us, and I look back wondering where it all went. Spring seemed to come and go in a flash this year, filled with baseball games, Spring cleaning, digging and planting and always too much rain getting in the way.
Spring is one of my favorite times of the year. I love watching the Earth revive after the long Winter's sleep. I usually enjoy the soft, gentle rains, though after weeks and weeks of them I'm not too thrilled anymore. I relish in the return of the birds and flowers. Spring, to me, has its own tempo, its own way of measuring time. Things are typically hurried; one day the ground is cold and hard, the next, soft and warm. One day, trees are barren and brown, the next day finds colorful buds and tiny leaves scattered among the branches. Yes, Spring is a time for hurrying, for speeding up after Winter's sluggish pace.
This year was no exception, I suppose. The thing that bothers me is that I had too little time to enjoy the Springtime. Maybe it was all the hustle and bustle of family life, perhaps it was all the rain keeping us inside, or possibly because I didn't make the effort to find the time to just stop and take a look around. I suppose I didn't heed one of my favorite pieces of advice to others: SLOW DOWN AND LET IT SINK IN. I'm thinking that, truthfully, it was a combination of the three.
Summer is typically lazier, laid-back, slower of pace. Oh, there will be picnics, reunions, day trips with the family. There will be work in the garden and flower beds, laundry on the line and dirt in the house. I'm going to promise you and myself one thing, though, before it starts. No matter how busy I get, no matter what chaos Life throws our way, I plan to stop at least once a day and let the beauty and brightness that is Summer sink in. My soul will be the better for it come Fall.