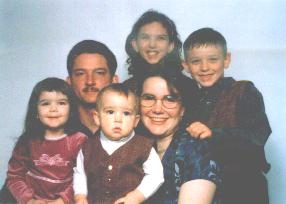 The Stewart Family
By Suzanne Mazer Stewart
MSZFROGGIE@aol.com
Recently, I did something I've never done before. In all my life I've never joined a fan club for anyone. Well, OK, there was that time in high school when I joined this one band's fan club just so I could get the "cool" satin jacket and discounted tickets to the shows. Turns out my student ID card would've gotten me the same discount, and the concert hall jackets were way cooler. But, I digress from the present.
I had asked for the "Band of Brothers" set of videos for Christmas. (W.W.II miniseries about some guys in Dad's old outfit, the 101st Airborne.) Turns out, I got the DVD's and a new DVD/VCR combination for my birthday last month. After watching the miniseries about half-way through, I decided to watch the "extras" disc. Turns out the guy I thought was doing a heck of a job playing the all-American war-hero-company-commander was actually British!! OK, so I'm intrigued. I decide to do a little internet snooping on this guy. I find this fan club of his. Only problem, I've got to be a member to get to the good stuff. So, I join. That's when the fun really began!
To my surprise, this is a great bunch of ladies, well, mostly ladies anyway. We call ourselves the bunnies because it's supposedly a shortened form of "gutter bunny," which is British slang for "someone with her mind in the gutter." Now, I try to keep my mind out of any gutters, honest I do. But it really is fun to read and chat back and forth across cyberspace. And we do have a lot in common, besides being attracted to a man we know we'll never have a snowball's chance of getting close to.
Something else that strikes me as interesting is that this fellow has a ton of women fans who are older than he is, myself included. Now, I know there are men out there who would leave Ma and the youngens and six dogs for a younger woman. I just guess I never thought I'd meet a bunch of women who would contemplate the same sort of misbehavior. We're supposed to be more sedate, I reckon, more settled, once the husband and the kids and the mortgage come along. Not this bunch of bunnies, let me tell you now!
We've got bunnies from England (makes sense - he's a hometown boy to them), Australia, Canada, New Jersey and a lot of other states, and at least one from Frogpond. We include retired school teachers, stay-at-home-moms and health department officials in large cities. We come from small towns and London, from married life (where we are secretly bunnies, to be sure) to divorced and living it up. We all seem to be new comers to the whole idea of fan clubs and star worship. And we all agree that it would take something pretty drastic like child abuse or drugs or Wynona Rider shopping syndrome to make us stop adoring this man. Let's just say that for us, this guy is like new mud tires on Christmas morning for a red neck boy. (Understand what I mean?)
Why am I sharing this secret little side of my private life with you all? Well, I do have a couple of points to make. Really, I do. Point number one is this: You are never too old to try something new. One of my dearest bunny friends is in her 60's and this is HER first time in a fan club, so don't tell me about senior citizens being set in their ways. There are any number of opportunities to give strange and different things a go. Especially on the internet, to be sure. Don't get stuck in a rut the rest of your life. Take a chance. You just might surprise yourself. You also might make a bunch of new friends in the process. Now, who out there is going to tell me they are too old for friends, hmmmm?
Second point is this: Never underestimate the power and attraction of anyone. Many folks don't think our particular gentleman is very good-looking. There's even some who think he isn't that great of an actor. We say "Who cares?!?" We like him. Go turn on Baywatch for fine acting and superior plastic surgery. Better yet, isn't wrestling on right now? You wouldn't want to miss it. I feel this way about most folks, not just movie stars. There's more to everyone than meets the eye. And everyone's eye seeks its own beauty. The lady at the grocery store may not be a raving beauty to you, but her husband or father or son may think she's the best thing since sliced bread. We're all entitled to our own opinions. Just keep your negative ones to yourself, though, please.
Lastly, just because she's your mother, or even your grandmother, never forget she's a WOMAN, first and foremost. A living, breathing, red-blooded, female being. She's got a side to her life you may never get to see, or only get a glimpse of every now and then. And that's her right. Husbands and children will always have the biggest portion of her heart, and they may dominate the hours of her days. Deep down inside her, though, there's always going to be a little place she can go to and just be herself. Maybe she prefers tall red-headed men even though she married a blonde, maybe it's a secret fantasy about a bath tub in Paris. Maybe she just has dreams and hopes and desires she doesn't want to share with anyone. Maybe she's a gutter bunny, too. Just remember, without that side of her, even though you may never see it or know it, she wouldn't be the person she is for you.
So, all in all, I'm proud to be an over-the-hill bunny, even if I'm not that far down the other side of the hill. I've met some wonderful new people. I've tried something new and taken great pleasure in it. As for that bath tub in Paris, well, if you see me staring dreamily out the kitchen window while washing the dinner dishes, you'll know I'm probably not thinking about my next column.