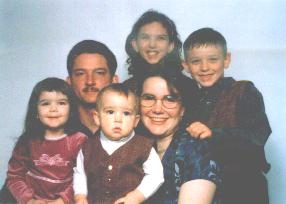 The Stewart Family
By Suzanne Mazer Stewart
MSZFROGGIE@aol.com
Ah! Spring at last! No more snow. No more arctic blasts shaking the shingles. No more dangerous icy roads. Just welcome sunshine, budding trees and Life returning anew to the world around us. Oh, and don't let me forget the vampiric bunnies.
I'm not exactly certain just when or how the rabbit became associated with Spring's major Christian holiday, Easter. I certainly can understand why, though. This time of year, my yard is literally hopping full of them. They love to nibble on the new shoots of grass, the succulent violets, the tender young dandelions, all popping up out of the freshly-warmed earth. Every morning, I can look out my kitchen window and watch their little furry figures merrily munching away. Apparently, however, these sweet, innocent harbingers of Spring have, like many of us, darker, sinister members in their family.
All of which brings me back to my point. One evening not too long ago, we were having one of those Springtime rains. I suppose you could call it a storm, but without the the thunder and lightning. There was lots of wind and more than enough rain, though. Now, I don't scare too easily, but the little ones were pretty worked up about it all, hearing all sorts of "strange" noises outside, and having great amounts of trouble getting to sleep. By the time the last one was finally tucked in, I was tuckered out. That's when the vampire bunny struck.
I had taken the flag poles off the front of the house, rolled the flags, and placed them in the corner by the front door, all in an effort to keep the flags dry and out of the storm. Apparently, one of our rabbit inhabitants had chosen that same protected portion of the porch to seek shelter from the rain. Just as I was settling with a good book into a cozy corner of the couch on the opposite side of the wall, Count Rabbicula must've decided to make his move.
CRASH! BANG! THUMP! THUMP! SQUEAL! THUMPITY-THUMPITY!
When I had collected myself enough to come down from the ceiling fan and switch on the outside light and open the door, all that remained of his presence were two flagpoles lying across the porch floor, a half-eaten dandelion and some wet rabbit tracks across a dry portion of the porch floor.
Now, why, you ask, am I so certain this little guy was a vampire, and not just some poor hapless bunny caught out in the storm? Well, let me explain a few things: First, what poor hapless bunny would be out in that kind of pouring rain, at MIDNIGHT, unless he had some devious plan in mind? Hmmmmm? Secondly, only the undead could have survived that fright and been able to just thumpity-thump away as if nothing had happened. I mean, he didn't even leave any tail fur behind him. Lastly, that half-eaten dandelion was WHITE, not, I repeat, not normal dandelion yellow. It was as if all the color had been drained from its poor soggy form. Either that, or the porch light was playing tricks on my eyes, but I don't think so.
So, when Mr. Easter Bunny comes hop-hopping along into Frogpond this year, I hope he isn't allergic to garlic. Otherwise, he might have a bit of trouble hiding our Easter eggs!