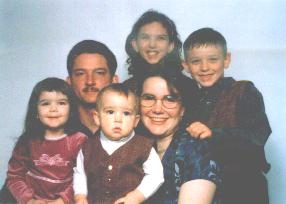 The Stewart Family
By Suzanne Mazer Stewart
MSZFROGGIE@aol.com
I remember my grandmother telling the story about one of her great-uncles carrying his brother home from the battlefield at Gettysburg. My mother's father left everything he knew - family, friends, home - when he left Ireland to cross the Atlantic to join the US Army during World War II. My father signed up right after high school, and served in Viet Nam 5 years later, only to come home to a country that didn't want him. My husband almost regrets that while in the Marines, Persian Gulf War Part 1 was over before he could be deployed. He is one of the few of his Marine Corps "buddies" that didn't go.
Perhaps it is the long history of military service in my family. Perhaps it is my father's experience of coming home to a country that wished he'd never gone. Whatever it is, I can't help but feel sorry for the men and women now involved in Persian Gulf War Part 2. People around the world are against this war. That's OK with me. As a mother, I hate even the thought of a deadly conflict. As a human being, war and all its horrors frightens and angers me. In my view, war is useless, senseless. (We expect our children to play nicely with each other, but hold our nations to a lower standard?) However I may feel about the fighting though, I feel we can and must support the troops doing the fighting.
I've seen some folks around our corner of the world who have taken down the flags that have flown since 9/11. I've seen a few protest signs crop up in yards, and along the road. I've also seen hundreds of yellow ribbons, displayed just as prominently. If I could find one, I'd put it on the mailbox out front, for everyone to see. Apparently, yellow ribbon is hard to come by around here. And that's all right by me.
You see, I believe that the men and women of our military need our support, our prayers, and our encouragement. They certainly didn't want to have to go into a war zone. Many of them joined the military service to earn money for education, or to get an education. Heaven only knows how many young West Virginians have joined up just to get out, to get somewhere, to better themselves because their opportunities to do so here at home were strictly limited. They aren't the ones making the decisions. They are the ones carrying out the decisions made by others in higher places. They are the ones who will bleed and die for a people who may or may not even care about liberation. They will certainly bleed and die for commanders sitting safe and sound behind the battle lines.
Our troops need to know that wherever we are, we are thinking of them, wherever they are. They need to know that no matter how we feel about the war itself, those doing the fighting are not to blame. They should not be made to feel ashamed for going when they return. So, tie a yellow ribbon somewhere. Let them know you care about them, if not about this terrible thing called war.