By Jack Cawthon
Barbecuerun@aol.com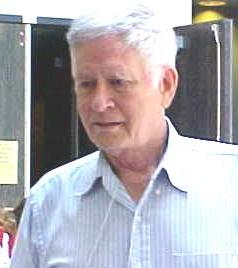 The front-page banner head in the Braxton Citizens' News of Feb. 18 screams: "Winter Reeks Havoc on County." Now, a lot of English majors and other n'er-do-wells are going to scoff and say the editor meant "wreaks" instead of "reeks." Notso, my friends. The editor used the only appropriate word to describe the weather: It stinks!
But in between the curse of that rodent up in Pennsylvania and the first ramps pushing through the snow there is the Gardner Music Festival in Morgantown to offer a respite from all the winter stench.
The Fest was held the past weekend, beginning with an evening program on Friday, Feb. 22, and all-day lineup on Saturday and a Sunday morning gospel sing. By far, the biggest day was Saturday when 12 hours of music and musicians filled the stage at South Middle School. For an admission price of four dollars one could stay the day, with good food available, or have a hand stamped and take a break on the outside.
This is the fourth year for Shirley and me. The Festival was begun 25 years ago by Worley Gardner, the hammered dulcimer expert. After his death, his wife continued the tradition. Now that both of them are gone, it's simply called the Gardner Music Festival.
I am a strong believer in genetics. Somewhere kicking around on the double helix is a music gene. My granddad played the fiddle, as I now have that old instrument, but he died long before my time. My dad was a gifted musician who taught old-time singing schools, and our son, Jeff, has that talent that gained him considerable recognition around the Morgantown area.
As for myself? Well, let's just say something mutated. Maybe mine was lost in the woodpile, so I had to make do with writing. And those of you who have followed this stuff for any length of time know that I have enough trouble carrying a sentence in a couplet.
Jeff, our son, plays a mean harmonica, but he will only play the blues. No coaxing, incentives, or threats to disown him will get him into the only decent music, which is country and its kin.
But in retaliation for his lack of respect for his poor old dad we have gravitated to a harmonica player who knows what winds in and out of the hills and hollers. This guy does with the harp what George Jones does with his voice. If you've heard ole George do that whine on a sad country song you know it's something that will never come duplicated with a "Made in China" label.
Ed, the harmonica man, also known as "Doc" and "The Wild Man" has that trait to make French harp sound both like George and Hank thrown in to boot after hearing the lonesome whippoorwill, or coming to the conclusion he'll never get out of this world alive, or maybe then beginning to see the light.
This year, Doc was in a band that let him do his thing. In with the mix of banjo, fiddle, guitar that harp stood out enough to make the hair raise on a Yul Brenner scalp.
But the harmonica man is only one of the many, many gifted musicians who fill the stage, and I wonder why there aren't talent scouts from the recording companies obtaining signatures.
A group calling itself "Lonesome Ride" was one of those professional-sounding bands. The mandolin player was tops, and afterwards I talked with him and the guitar player and asked if they had performed professionally. That brought a laugh and the reply that if to be considered professional pay was received then they were thoroughly amateurs. I reached out my hand and said, "Shake, brother, I'm an amateur writer myself."
We couldn't do the whole 12 hours, so I'm sure we missed a lot of good acts. In fact, we didn't hear any bad ones, and I think this year was the best of all we have attended.
Mostly, it's musicians who turn out. The jamming sessions seem to provide them with the most fun. This is something unique among musicians, who seem to enjoy the company of each other. Put two writers in the same room and the first thing they do is try to tear up the work of each other. Also, writing is a poor second to music in that musicians attract groupies who are willing to demonstrate affection far greater than that ever shown to a writer, although I do have a cousin who thinks the stuff I write is great.
Speaking of becoming a groupie, there is, even at my advanced age, a certain siren calling to the voice of Connie Townsend, with its soft country hush, and that of another woman who has the ability to lure sailors onto the reef: Jenny Menna. You can have Patsy Cline, Tammy Wynette, the growl of Wynonnie, or, gulp, my favorite, Barbara Mandrell, but I have never heard a voice so sexy-throated as that of Jenny Menna. After her performance, we looked around for her, but she was no where to be found. Most of the other musicians were jamming or milling around, but she had disappeared. We asked about her at the front table, but no one knew her and said that she had been a replacement for someone who couldn't appear. She had just been there-and then gone.
My theory is that she is an angel. Maybe we were touched by one, and just maybe it was all a religious experience. I do know it's enough to make me try to change my ways, because if Jenny Menna is singing in the heavenly choir I most surely want to go to heaven.