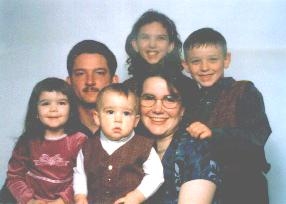 The Stewart Family
By Suzanne Mazer Stewart
MSZFROGGIE@aol.com
Winter -- season of beauty. How the heart thrills at the orange-pink glow of the setting sun on a pristine snow-covered hillside! There's sheer magic in the scarlet-red of a male cardinal perched on the fence against a backdrop of monotone grays, blacks and whites. The nights are so crisp and clear that you wonder if you really could pluck a twinkling star right out of the sky and take it home with you. Cold mornings spent snuggled under thick comforters melting into long evenings in front of the fire, sipping hot cocoa. Ahhhhh, Winter.
Well, I'm sick of it!
I've had all the snow and ice I can possibly stand. I heard the weather forecast was calling for more snow. I turned it off before the meteorologist could even get to the predictions as to how much more white stuff we can expect to fall. After 30 or so inches, who cares anymore? The fire loses its romance when keeping it going requires slogging through hip-deep drifts to get to the woodshed. I've burned the skin off my tongue so many times on hot cocoa, I'll not be able to taste properly until at least May. The cardinals and their other feathered friends are starting to eat me out of house and home. Have you seen the price of bird seed lately? And does anyone out there have any inkling the effect of being trapped inside the house for yet another snowstorm can have on four children? Please, brother, can you spare a warm front?
I know I should be thankful right now. We live too far north to have been ravaged by the ice storm experienced in Hur. We haven't had too many power or phone disruptions, although I wasn't quite sure any of us would survive the day the satellite frizzed from the snow built up in the dish. However, our garage wall is buckling from the weight of all that snow on the roof. And the retaining wall that keeps the road from landing in the front yard is slowing and ominously leaning more and more toward the house. Things have gotten so bad here this winter that the mail man did not deliver for four days. (Through rain, snow, dead of night...yeah right!) We even lost one of the kids in a snow bank last week. All that could be seen of her was her mittens and boots sticking up out of the snow where she had fallen. And yes, we pulled her out, though not without some discussion on the part of her siblings as to whether or not to leave her there.
Everyone tells me that you can't do anything about the weather but complain. Well, now, something else occurred to me the other day. Supposedly, all this bad weather was predicted by that there ground hog up in Pennsylvania. Now, I got to thinking that I might not be able to change the forecast, but I might just be a little happier if I didn't know what was coming, right?
So here's what I propose we do. If you're of a like mind, and you're just as sick of all this cold, nasty weather, take some action. First, turn off the perpetually smiling lady on the TV Weather Channel. She lives in Atlanta, and if they get so much as 12 snowflakes falling, the whole dang place shuts down. What's she know about snow and ice, anyway? Next, throw out the farmer's almanac. Who needs to know that this coming Summer could possibly be hotter and more humid than last year? That's just misery in the making, I say. Then, last but not least, I say we find that ground hog and send him off to whistle pig heaven. We don't need some rodent with bad eyesight bringing us more bad news, do we?
Now understand, none of that will keep the next snow storm from happening. None of it will make us any warmer, or replace the skin on our tongues. Nothing we earthly mortals do, think or say will have any effect whatsoever on when, or at this point I'm thinking if, Spring arrives. But, as they say, ignorance IS bliss, and not knowing about it takes the dread out of the next big snow. And, I've heard, ground hog makes some mighty fine stew.