By Jack Cawthon
Barbecuerun@aol.com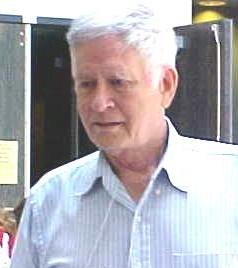 When I turned on TV a fateful Saturday morning recently I knew something momentous was about. Dan Rather was on camera, and when ole Dan goes on we all listen, especially early in the morning with his mourning voice.
It took a few minutes before I knew. Nowadays, we never know whether we have come under attack, or whether another professional jock has gone off his game, killing a few or committing fouls of another sort that may banish him from his sport for a year or so.
I shortly learned that the space shuttle had been destroyed in its reentry. Just on a hunch, I turned to ABC, and my hunch proved correct. Jim Slade, ABC TV science reporter for many years and a Morgantown native, had been called in as a special space consultant for ABC. I figured with Slade on hand there was no need for the talking heads who were spinning their wheels waiting for developments. If anyone knew the space program it was Slade.
Slade and I crossed paths several years ago. He would never have heard of me had it not been for Jim Comstock's West Virginia Hillbilly, and for a few years of his life he no doubt wished he hadn't.
Slade, whose real name is Jim Snyder, was elevated to ABC TV's top science post after the late Jules Bergman hung it up. Bergman was the first reporter I remember back when the Mercury program was in its infancy. I'm not sure when Slade began, but it was quite early in the fledgling attempts at manned travel.
It was during one of those early launches that Jim's personal phone rang. On the other end of the line was Jim Comstock in Richwood, West Virginia, asking for a report for his Hillbilly publication. Slade was so taken aback that his personal phone number had been breached that he agreed on the spot. He never discovered how Comstock got that number, but there was a guess later that a high level politician who still sends us the manna from heaven might have provided it.
Slade began faithfully providing a Hillbilly column each week, hardly ever missing a week, and he was at it when I became a more-or-less an irregular regular in the early 90s. I remember one week I had sent Comstock some babble that I considered rather trivial that I received a banner head announcing that I was filling in for Slade that week. I assumed that was Comstock's method of letting Slade know that if he slacked off he could be replaced by far less vital material.
Sometime after beginning my column, I wrote a note to Comstock telling him I thought I would needle Slade and begin one of those friendly feuds that have entertained readers ever since newspapers began trading over the counter. There was one hitch: I knew, and Comstock knew, but Slade, alas, didn't.
At first he ignored me. Then, like a gnat buzzing around an elephant, I began to become an annoying pest. No doubt, he wondered, just who is this guy and why is he doing this to me?
The game went on, off and on, until Comstock gave up the paper to Sandy McCauley. It was after Jim's death in 1996 that I finally let the cat out of the bag and expressed my true awe and gratitude to Slade for his part in contributing to Hillbilly and letting him know that he had been had.
A few months later, I met Norm Julian, Morgantown columnist, who had Slade in tow at a Morgantown event. I blushed, hemmed and hawed, and shuffled my feet, but Slade seemed to think the whole thing hilarious. From then on, I knew we had greatness in our midst.
Slade had begun his radio career on several West Virginia stations, the most notable being WPDX in Clarksburg with such giants as Russ Gardner, John Peters and Dee Wyatt. There had been another Snyder on one of the stations, so Jim Slade was born.
A few years ago, Jim, at the invitation of some of the town's prominent citizens, presented a lecture-slide presentation on the space program. Shirley and I were among the guests. Jim was most gracious to my wife, saying at long last he was honored to meet the "Little Woman" he had read so much about. Although he had dealt with the far reaches of space and those who went there, you couldn't have found a more down-to-earth gentlemanly gentleman than Jim Slade.
Jim's mother lives in Morgantown, and he returns often to visit her. When growing up, his family and the Claude Kemper family of bird carving fame were close, and he told me of the many camping experiences he had enjoyed with them as a kid.
As if all his reporting achievements weren't enough he co-authored a coffee table-sized book on the Civil War battle of Gettysburg. In it are rare photos and personal letters and accounts of people who were living through those awful days. My copy is a prized possession in which Slade was kind enough to autograph: "For Jack, my old friend. Here are some stories we didn't get in history class. Come to think of it, some of YOURS fit that bill. With great affection, Jim Slade, 11/10/2000.
For some time I corresponded with Jim through e-mail, and he was kind enough to answer some of my questions about the space program. He had known the original seven astronauts and the later crews and was a personal friend with some of them.
He had grown disillusioned with the way TV news was heading, and in later years I heard him on several radio reports over national networks. He still covered space launches.
It was no surprise when Peter Jennings turned to Slade for comments about the space shuttle disaster. I knew that Jim could have handled the whole report by himself far better than some who were babbling on and on. But I have a feeling that he is happier with his own direction and the medium that began it all. I think he proves that a man can make a great leap into space and still be down to earth.