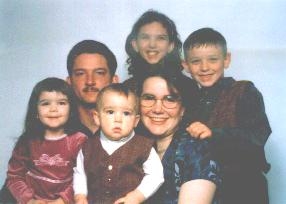 The Stewart Family
By Suzanne Mazer Stewart
MSZFROGGIE@aol.com
This article is more to assist the gentlemen readers out there, but you ladies might want to read it anyway. It may help you to understand your man a little better.
OK, for those of you who don't know what that big word in the title is, procrastinators are people who wait until the very last minute to do something. You know who you are -- you're the one out shopping on December 23rd, or worse, Christmas Eve. You wait until the snow has started to melt before shoveling the walk, and you have to choose each year between buying your gal something for Valentine's Day on the way home from work, or losing your hide when you get there. I know I can't change you; you'll still put off the gift buying know matter how many hints, reminders and count down calendars are put into use. So, I've decided to try and help you out. Just follow these few simple suggestions. She might not be tickled to death with her Valentine gifts, but you probably won't have to sleep on the couch again this year.
1. Forget the florist. By the time you get off work, the price of flowers has doubled, if not tripled. And all the nicer ones have, typically, been purchased. Instead, stop by the Feed and Seed and pick up some packets of pretty flower seeds. You'll probably have to invest some labor in the gift at some future time, preparing the flower bed. But, you can present them to your honey with some sappy line about giving her a whole garden of love, or some such nonsense. Under NO circumstances, however, should you get the mulch and fertilizer to go along with them.
2. Don't even think about the jewelry store. Jewelry clerks can smell desperation a mile away. Besides, unless you want to put off getting that bass boat in favor of a tiny shiny trinket, once again the price is out of your league. You might try the jewelry counter at Wal-Mart, or stop in your local second-hand/flea market/junk shop for some pretty bauble more in your price range, if she just has to have something to put on. However, a nice heart shaped key chain from the gas station is enough to save your skin.
3. While you're at the gas station, check the candy counter for her favorite sweet-of-choice. No need to try and wrestle some other glassy-eyed, completely desperate guy for the last box of chocolates. Whatever you do, DO NOT go home empty handed in the candy department. No weight-loss plan, no swearing off the sugar, no self-imposed denial of all things chocolate, unless for medical reasons, is EVER to be used by YOU as an excuse to not bring home the goods on Valentine's Day. If she's got the will power to stick to her guns, you'll probably get to eat it. You may want to keep that in mind when making your purchase.
4. Unless you are ABSOLUTELY, POSITIVELY sure of her size, and the ability of your other gifts to keep you in her good graces, stay out of the sexy under things department. Nothing will disappoint you more than spending your hard-earned money on something you're never gonna see.
5. You have several options when it comes to cards. If you're a high-tech redneck, you could always whip her one up on the computer. If she is also a high-tech redneck, you could send one of those email greeting cards. That way, if you do wait too late and she doesn't receive it until the 15th, you can always blame the Internet. If you're more of a low-tech kind of fellow, find a piece of paper and a writing utensil (the waitress's red pen works well for this occasion) and scribble something sweet and sentimental. If none of those are available to you, while I do not condone this kind of behavior mind you, that can of spray paint rattling around under the seat of your truck could be put to use on the water tower or nearby highway overpass. Please be sure to spell her name right. Or better yet, just stick with initials. Quicker, and less incriminating should the police consider you a suspect.
Lastly, right before walking in the door, put on your goofiest grin and remember to wipe your feet before going in. If all else fails, and she gets that mean look in her eye, before she grabs the rolling pin or fry pan, or tells the dog to make room in his box for you, fall at her feet and declare your undying devotion to her. Then take her out and show her what you and your spray paint have rendered.
I can't guarantee complete and total satisfaction on her part, but we gals are somewhat soft when presented with your goofy faces and public displays of affection. There's a certain bridge not too far from here that can attest to my experience in this area. Ah, love. Ain't it grand!