By Jack Cawthon
Barbecuerun@aol.com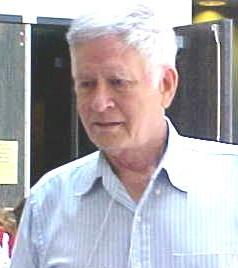 I had an excited telephone call from Burvil down in Big Puf. The call was exciting for both of us: Burvil with his news of the moment; and for me, in that I was paying for the call and when Burvil has news he can go only from point A to point B by way of Muddlety.
One of "them there unreality TV shows" had chosen Big Puf for its location, as Burvil told it, and it was to be based on the "survivor" experiences that have served so well as themes.
The participants were to be chosen from Beverly Hills, which Burvil throught was some "furrin state out west," and they were to be placed in Big Puf for one year. Of course, they would be called "Beverly Hillbillies" in the genius of originality that TV is so well known today.
It seems that after all the bad publicity of taking some West Virginians to Beverly Hills in a revised show of years ago, the reverse would take place. Burvil said he had hoped he would be chosen for the warmth, good food, "good-lookin' wimmin," and "swimmin' holes in the ground and two holers in the house." He added he was mad at the Herald's Dianne Weaver, who criticized the proposal, for ruining his chances.
The best I could determine about the new TV show, provided there is one, as Burvil is prone to exaggerations, as well as hallucinations, is that participants will be required to survive a year in Big Puf under conditions that the natives face daily.
They would be required to come in jobless, apply for food stamps, and hope they didn't become sick as Medicaid might never kick in. If they really wanted to get ahead in the only way possible, they must marry into a political family. The best possibility for that was some branch kin of Bobby Gene Bubba, Big Puf's big (over 300 lbs.), long-time delegate in the state legislature. Bobby Gene has served many years, and with his seniority there was talk of Big Puf receiving a college after the closure of some of the other state colleges, much in the fashion of the one in Moorefield that was recently opened through the power of some Eastern Panhandle delegates. However, Bobby Gene might have to settle for a DMV office, but that would still be welcome news for the community's 65 percent unemployed.
I asked Burvil how he thought citified outsiders could survive the rigors of Big Puf living. He giggled uncontrollably, which sometimes causes me considerable concern about his mental health, and finally said, "Let 'em eat hillbilly sushi!" Well, this was a new expression for me. He explained that the Orange Roughage Catfish serves as the catch of the day for emergency rations.
I know that the Orange Roughage forages on only the most noxious and hazardous pollution, and I pointed that out to him. Again came the giggles, as well as my concern, when he sputtered, "they'es only got to go a year afore the shakes over take 'em." I assumed he was talking about convulsions of some sort and shuddered myself.
What about medical treatment? I, foolishly, asked. "They have to go through what the relief calls spend down," he said, and then explained that somehow that was how one obtained Medicaid. He added he thought that you had to go six months with no money and see if you were living and really needed help at the end of that time. He also thought that there "wuz a right smart" number of forms to fill out and then you had to swear on a Bible and recite some sort of casting out of demons. Burvil always exaggerates, and I figured the part about the Bible was such.
I also wondered what the lucky ones who were still alive would receive after a year in Big Puf. Burvil thought they would be awarded a house and a patch of land near a coal impoundment, donated by the coal companies. He had heard that there was a writing in the deed that allowed as if the dam broke it would be blamed on God, but that if the lucky winners were washed downstream, and still alive, they would be first on the list for a government trailer.
I couldn't imagine anyone in his or her right mind wanting to share in those experiences which face the Big Pufers daily. Only after I checked with Arley Cleeter, himself an outsider who had chosen Big Puf over Pennsylvania, did I begin to understand. Arley said he didn't want to live in a state that was so backward it didn't sell beer in a supermarket and still maintained an office called a "prothonotary." I guess you can never judge what will motivate human nature.
"By the way," Arley said, "Could you spare a couple of dollars; my food stamps are late this month and I'm tired of eating that danged fish."