Submitted by Brian and Jessica Evans

Photos courtesy of Rick Brewer, submitted by Donnie Price

Chris Morris is the 2001 119lb State Champion. Chris is a junior at CHS with a season record of 40-1, his only loss this year was to the 2001 AAA 112lb. State Champion, Matt Easter, of Nitro.

Chris went 4-0 this past weekend at the State Tournament. He beat Kimble of Petersburg, then a major decision over Bell of Greenbrier West, 14-5. Chris went on to the semi's and beat Whitman of Hundred, 6-1. His final match against Cory Auvil of Grafton (senior with a record of 40-1) with a win of 4-3.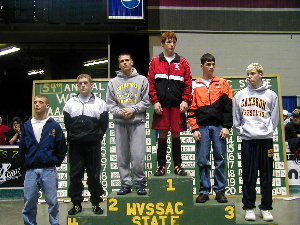 Chris Morris receives award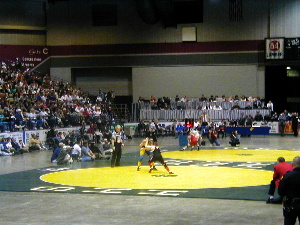 Chris Morris in action in the championship round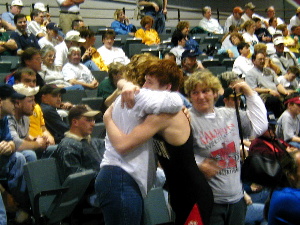 Chris and Mom after match

Everyone from the Calhoun crowd was emotional in congratulating Chris on his win. The dedicated fans, and wrestlers have watched him these past 3 years in working toward one of his dreams. Chris has such heart and determination. He has made this county proud, once again.

Congratulations to You Chris, all of your hard work has finally paid off. Eat 'til your hearts content!

We would like to also congratulate other fine Calhoun wrestlers who participated in the States.

Jared Brewer, 112lbs
Eric Metz, 6th at States, at 125lbs
Derek Metz, 130lbs.
Moe Riddle, 135lbs.
Jeff Morris, 140lbs.
Casey Stewart, 6th at States, at 145lbs.
Jason Valdez, 152lbs.
Denny Cottrill, 5th at States, at 160lbs.
Ray Burge, 4th at States, at 171lbs.
Pat Mace, 189lbs.
Charlie Gibson, 215lbs.
Jeremy Laughlin, 5th at States, at 275lbs.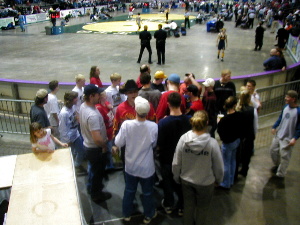 Calhoun fans greet Morris after championship win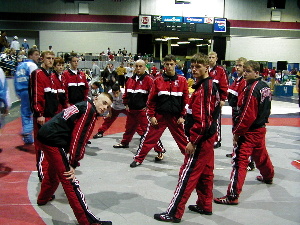 Team before Friday night's first round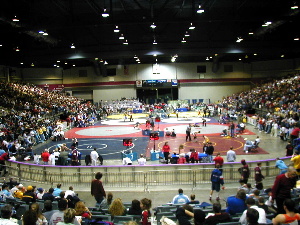 "Big Show" Huntington Civic Center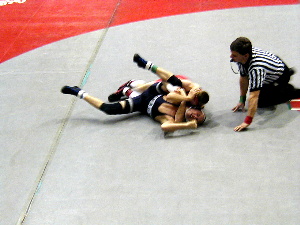 Jared Brewer getting the first team win, Friday night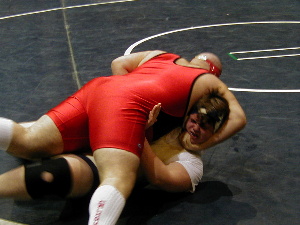 Jeremy Laughlin pinning his opponent in 1st. round of competition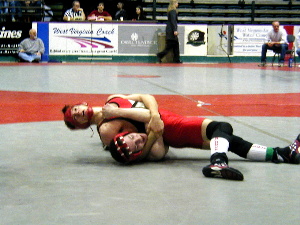 Derek Metz in a controversial loss in 2nd. round