Reprint: Charleston Daily Mail February 22, 2001

West Virginians have endured the pain of consolidating high schools, hospitals and even jails. Isn't it time to look at county government as well?

The state has 55 county governments. Twenty-two of them have fewer than 18,000 people, and are not big enough to qualify for a House of Delegates district of their own.

Many of these counties splintered from larger counties in the 19th century when travel was more difficult. Now they are expensive and inefficient relics of an agrarian past.

Seeing a county fade away is sad. Wirt County, the state's smallest, was never much of anything. One-fifth of its population receives Social Security. Its per capita income is two-thirds the state average.

The county government makes ends meet by running a jail.

Wood County and other government agencies put female inmates in the Wirt County Jail, giving the county an infusion of money. But that source of revenue will end when the regional jail opens in Doddridge County.

This presents Wirt County with a major problem. Even after cutting the one sheriff's deputy, after doing without a janitor for seven years, even after having the county commission president change the light bulbs at the courthouse, Wirt County government could go broke. It cannot afford a budget of less than $700,000 a year.

Sorry, but Wirt County needs to merge with Wood County. Wirt is a county in name only.

Sen. Frank Deem, R-Wood, whose districts includes Wirt, complained that a formal consolidation would hurt the county seat.

"Elizabeth would wither," Deem said.

Sorry, but its already dead on the vine. The county commission president says that even if Wirt County laid off all county employees, it couldn't make its budget.

Sen. John Mitchell, D-Kanawha, has proposed the formal consolidation of counties. He's right. The studies should begin as soon as possible.

EDITOR'S COMMENTS
It is disgusting how easy it is for the arrogant editor of The Charleston Daily Mail to sit behind a desk and demean rural counties in West Virginia, a basic lack of respect for the dignity of hard-working country people who represent our states history and pioneer spirit.

The integrity of communities like Wirt County and how people connect to one another is a precious commodity given away in consolidation and centralization, always with the promise to save money, although it never does.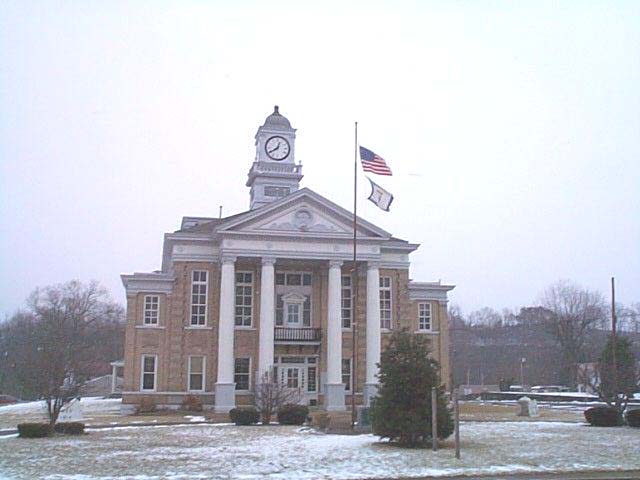 (photo: John Griffin)

Wirt County was formed in 1848, originally settled in 1796 by William Beauchamp. Wirt County was a pioneer in the oil and gas industry in West Virginia since the development of the spectacular Burning Springs field, one year after Col. Drake discovered oil at Titusville, PA. Named for William Wirt distinguished lawyer, orator and author, who is best known for the prosecution of Col. Aaron Burr.

How many urban county commissioners could say they are willing to change light bulbs to help keep things going?

Personally, I think Kanawha should merge with Clay so residents of Charleston can drive up I-79 to transact their business at the Clay courthouse.

The Charleston Gazette also ran an editorial, not as degrading, which we will reprint tomorrow. -
Bob Weaver, The Hur Herald