COMMENT Bob Weaver

Perhaps the most complicated thing the WV Legislature did in making changes to WV magistrate's election law, was a loose-end involving unexpired terms.

Magistrate races are non-partisan with the Primary Election starting this year.

While several regular candidates are running for the position, the unexpired period between the May Primary and December 31 requires a write-in candidate to be elected just for the 8-month period.

That candidate can be someone other than a regular candidate, in Calhoun's case, like businessman Tom Ullum.

The short term clearly requires write-ins on the ballot.

All the codified rules likely makes the candidates and voters heads hurt.

Of all regional counties, Calhoun leads the crop with political campaign signs.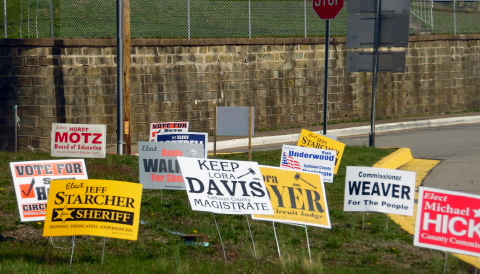 They're everywhere.
Signs, on the one hand can be viewed as clutter on the landscape, but they have become part of the process.
They cost candidates a lot of money, generally about $4-$5 each, and in most cases a pretty big investment that is difficult to afford for most.
In the sign wars, the last time I ran for county commissioner, about 250 of my campaign signs were taken down in one night.
So far this year, about 60 have been taken down, including one stretch from Cabot Station on Rt. 5 west to the Wirt line, all went missing.
Just for fun with the sign wars, during the last political season and this one, we have caught the culprit on a game camera, but we did not post the photos publicly, mostly because the public doesn't care, just the candidates with their financial investment.
But maybe, with the current take-downs, and just for fun, we'll do so.
Perhaps the most intense race in Calhoun is for sheriff, with five candidates.
During the election season, we usually publish the epistles for political control, most of which were given to me by a southern WV politician years ago, and most certainly apply to the current cluster of politicians running for president, and in the last state election cycle, filtering down to the Mountain State.
The current political season has given a new meaning to "negative campaigning."
Personally, in running for county commission, I have yet to utter a negative comment about my opponents, nor will I. I guess I'll cling to old school respect.
The rough and tumble revelations about Calhoun candidates can be found on Facebook and social media.
In the pre-Facebook, social media days, during one campaign season, a website called "Up Your's Weaver" was created, abjectly attacking me.
I think my skin got a half-inch thicker, a good character builder, maybe.
But if you happen to think that politics were not rough and tumble in "the good ole days," consider what happened in the Village of Hur in 1928.
See SUNNY CAL JOURNAL - Hur's 1928 Election Day Riot, "Fists, Rocks,Clubs"
Thankfully, in local politics, there are no longer political families that produce slates, and vote buy with cash and whiskey, going away years ago.
Now it's just a free for all.
My favorite vote buying story written for the Hur Herald reflects on how elections were won.
It was on the porch of the Rainbow Hotel that attorney Lorentz Carr Hamilton met with Robert Kennedy to help JFK win the county in the 1960 presidential election.
They sat on the old swing and hatched the "winning deal."
Hamilton said years later that every election cycle, politicians and political factions, would put up money for vote buying, a practice that continues in southern West Virginia.
"Vote buying was a necessary part of the deal," Hamilton said.
He said Robert Kennedy asked how much money would be needed for Calhoun, after which Hamilton said he was uncertain.
Kennedy went to a car trunk and came back with $10,000.
Kennedy also promised a Washington DC job to Hamilton if his brother was elected. Kennedy did carry the state, a turning point in him becoming president, and Hamilton went to Washington.