By Jack Cawthon
Ccatharsis@aol.com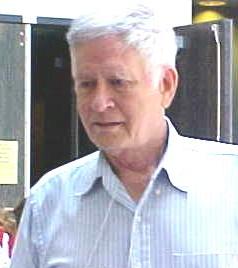 The wind comes roaring down from Cawthon's Crown, a high knoll on my Preston County land which can be seen for miles and which I have modestly named for myself in the hopes that future topo maps will record the same to ensure my immortality, as I will never achieve it through writing. However, the wind in all its fury skips right over the old house down below, a feature its builders deliberately designed into its installation.
That old house has its own moans and groans, but not as many as I would have, were I 115 years old, as it is. Over my head I hear the winter occupant, a small red squirrel, known by us hill folk as a "fairydiddle." For something so small it sounds like an elephant, as it rolls a hoard of nuts over the floor, jumps and runs, chatters in squirrel language, probably at me, and generally makes the noise of an exercise gym. A few years ago I came in and found a whole panel of sheetrock from the ceiling lying on the floor and hickory nuts scattered all over the floor.
The little red devil had stored his food supply on the panel and weighted it so heavily it broke. My wife and I picked up all the nuts and placed them into a large box. There was a good bushel or more. When I came back a few days later they had all been moved, and stored again, I'm sure. That squirrel has become my wintertime buddy, so much more likable than the summertime occupants who crawl on their bellies like a reptile, which they are, but that is another story.
That little squirrel has been with me for years, although if it is the same one, he, or it, must be 200 years old in squirrel years. I let two fearless, husky hunters stay in the house one night during hunting season and forgot to tell them about the upstairs host. The next morning I found them packed and ready to move on as they thought the place haunted.
The squirrel is only one of the unusual happenings in that house. Shirley and I began looking for a place to escape our yuppie environment when we moved to Morgantown. Most hill boys have a fascination with the land, and we liked the Preston County back country.
An ad in the paper caught our attention one day. In a community called Pisgah, but as every hill person knows is pronounced "Pisgie," we discovered what was to be our promised land. We could have for our own, with a small down payment, what Moses had never had. With small monthly payments, financed by the owner, we were in, and the seller must have snickered to himself at some flatland suckers, as he could always have it back by default, which I'm sure he expected.
For that reason, I'm certain, he didn't tell us about the occupant of the old house, or he didn't tell us much. It wasn't a squirrel, but they were both qualified on the nut side.
We were told only that Hank, we'll call him, was moving soon. Right!!! We didn't even look inside the house because it was always padlocked shut, and when it wasn't, well, there was another good reason.
The house looked like it might topple at any moment, and we were told by the seller that we should have a dozer shove it over. He had recently burned the old log barn to get "rid of snakes," and I would shed tears later over that move.
We didn't bother the house, but when I would park and walk down the driveway I would sometimes hear movement and the door would open a crack. Little by little, I began to make conversation with the house. The door would begin to open wider and I would see arm movement as something was placed to the side. I found out later it was a rifle, and there was a story along with it.
Hank's mother had married into the family of long standing who had built the house. She brought a brood with her, of which Hank was one of many. She had one child by the later marriage. After her husband had died, hard feelings had developed with the son, and the court had been forced to grant her dower, or lifetime interest, in the property. After her death, Hank had no legal claim, but as often happens in the hills title can sometimes be established by a section of common law known as 30 ought 6.
Little by little, Hank and I began to talk, but still he never invited me in to what some, including the sheriff, might have considered "my house." He told me how he hated the so and so who had sold to me-he stole it from him while he was away-and I didn't argue any points of law, as you know the old saying about possession. Sometimes in the evening, after he had finished work and a few after work at the hilltop bistro, he would come staggering up the road cussing his misfortune and those who had brought it about. He never named me by name, maybe that was the beauty of having a name no one could remember, but I hoped I didn't fit his name calling, as I'm a sensitive sort.
Then, one day he was gone. Just like that. No notice, no nothing. He had moved a short ways down the road to a deserted house and took with him the contents of the house, which I had heard were valuable antiques. However, he left the "junk," which to me was more precious as it contained old newspaper, magazines, and best of all, many, many letters of the original occupants.
I was able to trace by those letters a family long gone, and then, some would say, including my wife, become a part of it extemporaneously. A woman now sits looking at me from an ornate frame, a woman whose picture I dug from the ground, which must be another story later. She surely is of royal blood, because there is something about her that demands the respect and awe that such people demand. She was of Irish stock, as was her husband and she came from a prominent family as her education from a female academy would indicate, rare for a woman in pre-Civil War days. All this I learned from the writings. I'm not sure why she came into this cold, severe mountainous clime, but possibly because relatives had already arrived and land was granted to her.
In all, she was to have five children: Two girls, with one feisty and somewhat shocking for Victorian years, and one who was reserved. There was a boy who later married Hank's mother. Then there was the sad story of the little seven-year-old who died a "tragic death," all that I could learn from the letters. He lies beside his grandmother on that high hilltop cemetery. Perhaps because of this loss she had one child late in life, and one the locals would call "not right," maybe a Down's Syndrome child.
I can only guess at her hardships. When I sit in that old house with the wood stove humming and the squirrel chattering, I can picture past Christmases with joy and happiness of a large family. I try to picture a tree with homemade ornaments and the children gathered around it. Then, I can imagine the sadness of loved ones dying and lying in state, as was the custom, in that house before their trip to Mt. Pisgah's lofty heights.
Over the years the house has stood, as if protected by unseen forces. I have aged, but it hasn't in the more than 30 years we have been there. It still looks bedraggled on the outside, but its wooden pegged beams hold it secure on the inside. I propped the foundations up in my early days, almost achieving my glory land when a jack handle flew loose and struck me upside the head. Later, a hunting club installed electric and made inside improvements, which I enjoy today.
Now it's just me and that squirrel in the wintertime. Maybe I wake him up when I fire up the wood stove and he thinks spring has arrived only to find otherwise after the embers grow cold. I am a fair weather visitor, and he has to face the brutal winter on his own. For that reason, I have a dish on the porch that I fill with chips, cereal, or other items. When I come back the dish is always empty. My wife says I'm feeding the mice. Maybe I'm just following an ancient pagan custom of leaving food for the gods. I know that sounds blasphemous for someone raised as a good Methodist, but I don't think it hurts to be a little on the safe side.