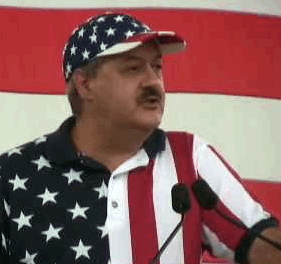 By Bob Weaver
Follow the money is a catchphrase popularized by the 1976 drama-documentary motion picture "All The President's Men," which suggests a money trail or corruption scheme within high political offices.
The scandals, the corruption and back-door deals have plagued West Virginia politics for decades, a state mired in the muck, even accepting deadly outrageous conduct as the norm.
Coal titan Don Blankenship was just convicted of a misdemeanor safety violation related to 29 workers being killed at the Upper Big Branch mine in 2010. He is appealing the conviction, which could mean one year in jail.
Blankenship argued that federal regulators and an act of God - a sudden release of methane from the rocks - were responsible for the mine disaster. Investigations contradict that.
Blankenship's political efforts, sparked by millions spent in state elections continues to polarize WV voters with "Obama's War on Coal," and was the major campaign theme that elected Republicans in obtaining control of the WV Legislature.
Former Upper Big Branch employees did not fare well in court. Thomas Harrah was convicted of falsifying mine safety records and was sentenced a 10 month prison sentence.
Hughie Elbert Stover, ex-mine UBB Security Chief, was sentenced to three years in prison.
Massey Energy was a company that had thousands of safety citations, the most recorded of any company in the nation, with the feds MSHA often playing a song and dance over the violations, although they and and the EPA were declared as drivers in the "War on Coal."
The company amassed a staggering $2.5 billion in fines.
Blankenship was salaried at $18 million a year, with other perks.
During the 2004 Judicial campaign, Blankenship spent $3 million in a statewide ad campaign to defeat then West Virginia Supreme Court Justice Warren McGraw, with Brent Benjamin being elected to the court.
In June 2009, the United States Supreme Court ruled that Benjamin's refusal to recuse himself in a multi-million dollar case involving Massey constituted an extreme conflict of interest resulting a denial of due process.
The WV court ruled in Massey's favor on an appeal, with Justice Benjamin tipping the decision in Massey's favor for a second time.
Benjamin's election and his involvement in Caperton v. Massey became the inspiration for the best-selling 2008 novel "The Appeal" by John Grisham, a dramatization of the dangers of conflict of interest in an elected judiciary.
Then Supreme Court Justice "Spike" Maynard was photographed with Blankenship partying and enjoying each others company in Monaco while Massey had a high-profile $70 million case before court.
The justice had helped decide at least eight cases in the Supreme Court against Massey Coal. Maynard voted in Massey's favor in all eight.
The recent verdict was, by most measures, a defeat for the Justice Department, which had pursued a prosecution that could have led to a 30-year prison term for Blankenship.