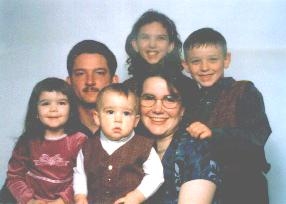 The Stewart Family
By Suzanne Mazer Stewart
MSZFROGGIE@aol.com
I wrote a column back in February regarding, in part, redneck gift giving. Judging from reader response, that piece was found to be very helpful, and in at least one instance, saved a good ol' boy from a frightfully embarrassing experience. Seeing as how Christmas is the biggest gift giving/receiving time of the year, I thought perhaps we should once again review proper redneck gift ettiquette.
We'll start with the ladies:
1.) Gals, I can't repeat this one enough. Unless you actually use his firearms yourself, take the ammunition boxes with you when buying. Nothing frustrates a man more than a box of shells he can't use. (Also, they have been known to go out and get a NEW gun, just 'cause they've got the bullets to go in it.)
2.) Plaid flannel anything is always in fashion. Same thing goes for denim and camouflage. Hunter orange may or may not be appropriate, depending on the man. Also, in some cases, baseball caps are a much-needed and welcome all-purpose accessory.
3.) Not all fish like the same bait. Not all fish like the same lures. When purchasing for your fisherman, variety is the key to Christmas morning success.
4.) Not all race car drivers have the same fan appeal. Not all wrestlers are equally liked. Not all beer tastes the same. Enough said about that.
5.) If the movie has car chases, shoot-outs, explosions, fist fights, or half-naked women, buy the video. He'll love it and watch it over and over. It's the gift that keeps on giving!
6.) Finally, ladies, please remember that anything he can tinker with, soup up, share with his beer buddies, spend hours getting dirty doing, or take to the woods with him is sure to be a big hit. As long as it has nothing to do with home repairs, that is. He's likely to consider that too much like work.
Now, fellas, listen up:
1.) Unless her truck is as big or bigger than yours, it's a good bet mud tires will not be appreciated.
2.) A new set of skillets, a new laundry basket, or that new trash can for the kitchen we discussed in February are really not appropriate for Christmas. Not even with fancy paper and bows. Unless she asks for them.
3.) That poster of Shania Twain in that skimpy little number would not be a good idea, regardless of how big a fan she is. Buy her a new CD instead.
4.) Even if she does hunt and fish and work on the truck right beside you, underneath it all, she's still a girl. Jewelry, candy, flowers and other "pretty things" should, in most cases anyway, be greeted with smiles and thank you's.
5.) Never, ever, ever use duct tape when wrapping gifts. This is one instance where it is not the best tool for the job.
6.) Finally, guys, remember, include at least one thing under her Christmas tree that makes her feel special, that shows her just how much you really feel. It doesn't have to be expensive; baby-sit the kids so she can go out with the gals, wash the dishes after dinner one night, fix the leak in the kitchen sink, take her out dancing and don't get too drunk to take her home. Give from the heart; she'll love you for it.
In closing, a word of advice just in case you do mess up: remember, it's the thought that counts. You'll get a second chance come Valentine's Day.