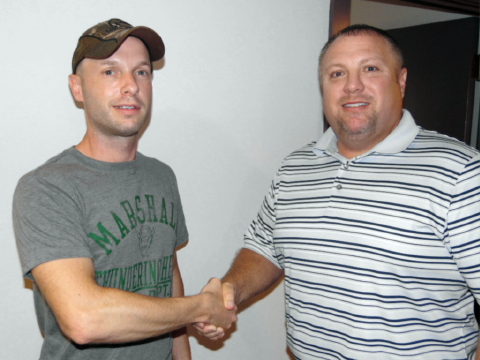 "Homeless veterans need stepping stones to lift them,"
says McGuire, with SSVF outreach worker Thomas Ramey
Supportive Services for Veterans Families (SSVF), a service of Southwestern Community Action, partners with many agencies to help homeless veterans.
Kevin McGuire of Huntington's McGuire Realty said, "Our participation in providing housing for veterans with problems, is our part of giving back to soldiers who protect our freedom."
Outreach Coordinator Thomas Ramey said, "When a veteran comes to SSVF/Southwestern, all preconceived notions of why they are homeless goes out the window."
"It is vital that we meet them where they are, not where many would think they should be," Ramey said.
"Having realtors like McGuire who understand the need, makes it work."
The Supportive Services for Veteran's Families (SSVF) program in Huntington, which also serves several West Virginia counties, is designed to lift very low-income veteran families out of homelessness and into stable permanent housing.
Through this program Southwestern Community Action and their SSVF program provides comprehensive assistance in the areas of case management, outreach, temporary financial assistance, and referrals to help in obtaining VA benefits.