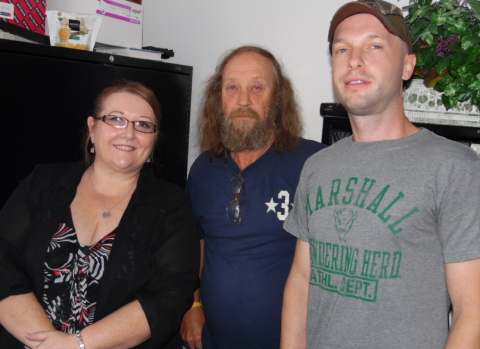 Helping hands (L-R) Carla Ferguson, housing director; homeless vet with new home Steven Pelfrey, SSVF outreach worker Thomas Ramey
Carla Ferguson, Director of Lincoln Unity Apartments in West Hamlin, said "Helping veterans, and providing housing through SSVF is a way I can feel good about my job."
"We can make a difference in their lives," she said.
Ferguson provided housing for long-time Navy veteran Steven Pelfrey, 62, who also served in the Marines for three years.
Pelfrey, a truck driver and baker, said following a conflict with his daughter, he found himself living under a bridge.
"Although I had an income, I couldn't meet the deposits," he said.
Pelfrey says he spends part of his day helping around the housing development.
SSVF Outreach worker Ramey said, "Most community agencies have warm hands and warm hearts," praising the housing development for their help.
Ferguson said housing agencies help keep money in communities.
"We are grateful to have a working relationship with SSVF," she concluded.
The Supportive Services for Veteran's Families [SSVF] program in Huntington, which also serves several West Virginia counties, is designed to lift very low-income veteran families out of homelessness and into stable permanent housing.
Through this program Southwestern Community Action and their SSVF program provides comprehensive assistance in the areas of case management, outreach, temporary financial assistance, and referrals to help in obtaining VA benefits.