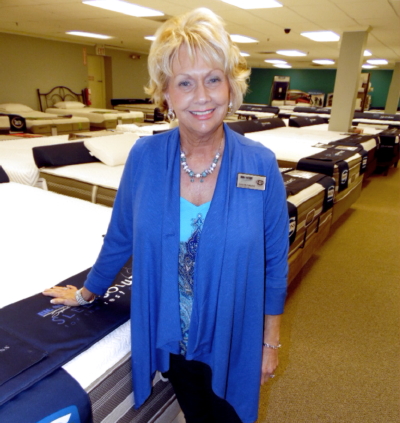 Suzanne Campbell "The Matress Woman" works with
SSVF to quickly provide homeless vets with a bed
Supportive Services for Veterans and Families [SSVF] is designed to lift the very low-income out of homelessness into stable permanent housing.
Outreach Coordinator Thomas Ramey said, "When finding housing for homeless vets, one of the things we do is provide a mattress for them to sleep".
"Having a mattress and a pillow on which to sleep is something most of us take for granted," said Suzanne Campbell, who manages the mattress department at Big Sandy Furniture.
SSVF works to get a mattress delivered to the veteran's apartment when they're moving.
SSVF praised Big Sandy for their support of the homeless program, quickly delivering the mattresses without charge.
"In our small way, we are glad to be helpful," said Campbell. "Being a small part of the program, we believe when you give, you get."
"I admire this agencies work, treating the veterans with respect," she said. "Big Sandy thanks them for their service."
In many apartments of newly placed homeless veterans, the center of the apartment is the mattress, with few other furnishings.
"Without the cooperation and efforts of many community services, real estate holders and agencies, this program would not work," said Ramey.
The Supportive Services for Veteran's Families [SSVF] program in Huntington, which also serves several West Virginia counties, is designed to lift very low-income veteran families out of homelessness and into stable permanent housing.
Through this program Southwestern Community Action and their SSVF program provides comprehensive assistance in the areas of case management, outreach, temporary financial assistance, and referrals to help in obtaining VA benefits.