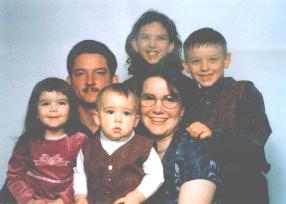 The Stewart Family
By Suzanne Mazer Stewart
MSZFROGGIE@aol.com
Recently, I asked my 4 and 5 year olds at Sunday School if anyone could tell me why we celebrate Thanksgiving. Some of the answers were:
"So's we could have Christmas. Ev'body knows you got to have Thanksgiving so's you can have Christmas."
"'Cause a long, long time ago these guys and the Indians got together and went hunting and then the mommies had to cook it all and then everybody had to eat it."
"So we can eat turkey. We don't get turkey any other time. But you have to eat that nasty, sour cranberry stuff, too."
"Because the Pilgrims were so happy the Indians didn't eat them, they had a big meal and ate WITH them."
"'So daddy and grampa and 'em can go huntin' and then fall asleep watchin' football."
Now, personally, I thought those answers weren't half-bad for the little ones to come up with. The thought of "nasty, sour cranberry stuff" brought a round of nods and knowing "icks!" from several in the group. They were rather upset when I told them that the first Thanksgiving meal probably didn't include cranberries. Oh, the irony of holiday traditions!
That first Thanksgiving, the Pilgrims did indeed have a great deal to be thankful for, other than not being eaten by the natives. We, in turn, have much to be thankful for in following their example. We, too, are free from the oppression of tyranny (except the "eat your cranberry salad" kind), and we, too, are relatively free from sickness and privations. We've come through the hardships and sailed into a brighter tomorrow.
Many this holiday season would disagree with me, I'm sure. What about the Middle East and Iraq and all that? What about Osama's boys and the possibility of another attack? What about our home-grown loonies like Malvo? Well, I say, what about them?
We do live in dangerous and frightening times. But, then, so did our Pilgrim fathers. So many of the women had died in that terrible first winter, only 4 full-grown ladies were left to prepare that original feast. Only a portion of the Natives were friendly. Others wanted to wipe the European presence from the continent. There were dissenters among the group itself. In fact, several of the Mayflower group returned to England on the Fortune, only a short time after that grateful gathering took place. Their departure threatened to tear the group apart, endangering the very survival of the colony. Ah, troubles, they had aplenty.
And, yet, they still found the time, the desire, the NEED, to pause and give thanks for all that they had. The Pilgrims were not too busy, too frightened, or too tired to remember their Creator and to Whom they owed their good fortunes.
Many look upon Thanksgiving the way some of those little Sunday Schoolers do: as a way to start the Christmas season. Something to merely be endured, gotten over, so the real fun can start. To some, it is only a time to eat, hunt, or watch football. So many have lost the true spirit of the celebration, it's name is the closest they get to being thankful.
Let us pause, in the midst of our worries, in the midst of our work, to give a thought to the true meaning of the day. Let us, too, remember to Whom we owe our good fortunes and freedoms. Let us all find the things we need to be truly thankful for. Give a thought, give a moment, give thanks. Even for the cranberry salad.